Short Feature Article with Tim Haynes
Just before we get started, here's a look at how she turned out…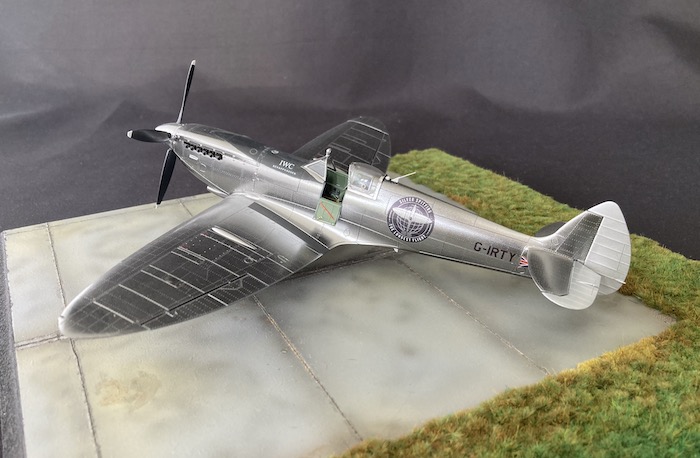 Having seen and read about the "Sliver Spitfire – The Longest Flight" sponsored by IWC, and flown by Steve Boultbee Brooks and Matt Jones, I was impressed by how wonderful the form of the Spitfire is when in a bare / polished metal finish. So when I saw a package advertised utilising an eduard 1:48 set of over trees (8289x) for the Mk.IXc Spitfire Late, coupled with a set of decals (which I got from a well known auction site) representing G-IRTY I thought what a great opportunity to build something different. Also to try out the quality of the eduard kits that I had read about, and use the Alclad Polished Aluminium and chrome lacquers.
The Silver Spitfire MJ471 is de-militarised and civil registered as G-IRTY. You can get more details on this aircraft and the fantastic round the world flight on the web site silverspitfire.com
I gathered a few extras for the build (as you do), which included the following:
Eduard etch sets 49 639 & 49 674 (this gave me choice of items to use)
Brassin Rounded Exhaust Stacks 648 121
Brassin Top Cowl Late 648 306
Brassin Wheels Four Spoke 648 115
Eduard Spitfire Mk IX Stencils
Eduard pre-cut masks
There are lots of builds of the eduard Mk.IX (also in SMN) so I won't go into any great detail so as not to bore you all to much. The only thing to mention is that as this was a set of over trees there were no instructions, but this was easily solved as you can download and print instructions from eduard's web site.
While researching this project I noticed that G-IRTY appeared in two distinct variations in photos. In early publicity shots it has the rounded "small" rudder, a shorter squared off anti glare panel and teardrop gun blisters on the wing upper surfaces. However in photos taken during the round the world trip it has a larger pointed rudder, a longer slightly pointed anti glare panel and no visible blisters on the upper wing surfaces (I assume they were removed to reduce drag and improve fuel burn, but have not been able to confirm this).
It was this second configuration I intended to build, however after close inspection I decided against the extra work of modifying the wings to remove the moulded in blisters as it would be very difficult to disguise this later when the Alclad Chrome was applied.