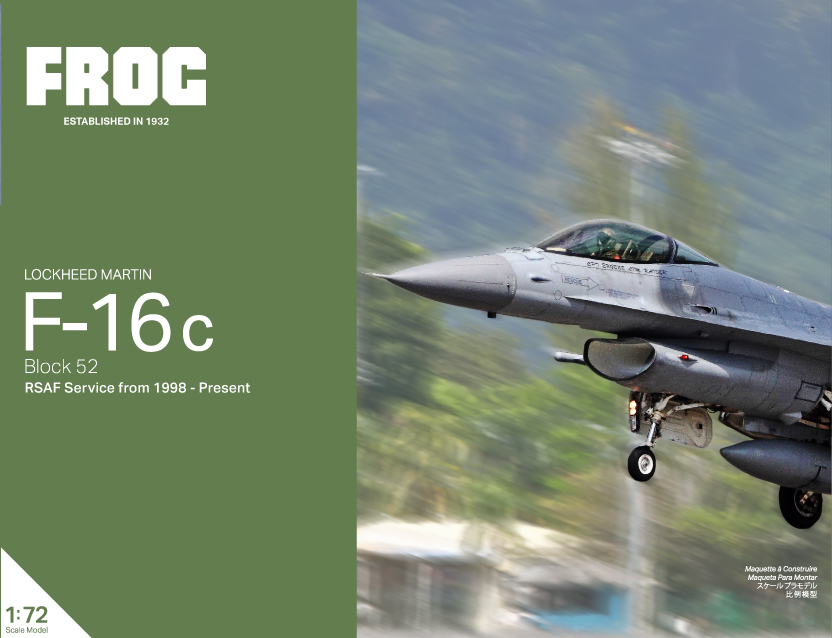 Full Review with Mick Stephen
Thanks to Hobby Bounties – Singapore for the review sample.
Background
On the 50th Anniversary of the RSAF, an old friend (Frog) made a reappearance after a long absence. You will find a full in-box review in the Here Now area.
The kit allows the option of either of the two squadrons operating these aircraft, No 143 Squadron "Phoenix" of the Republic of Singapore Air Force currently operates twelve F-16 Fighting Falcon of the F-16C/D Block 52 version. Based at Tengah Airbase, it specialises in intercepting aerial targets and assisting the air-to-ground operations of sister No 140 squadron.
Named after the Phoenix, the squadron goes by the motto "We Dare".
143 squadron was the first RSAF squadron that flew the more advanced F-16C/D block 52 version. The earlier A/B versions being gifted to the Royal Thai Air Force. The decision to order more F-16s was already taken in 1993, with a contract signed in 1994, however the first aircraft were delivered only in April of 1998. The entire order for 18 F-16C/Ds in the 'Peace Carvin II' order was completed by December of the same year.


These F-16s started replacing the upgraded A-4SU which was coming to the end of its flying hours. Together with the purchase of these aircraft, a complete weapons package was also ordered. This contained the LANTIRN system, a batch of approximately 100 AIM-120 AMRAAM missiles and the possibility to carry the AGM-84 Harpoon anti-ship missile. Singapore became one of the first countries to incorporate this missile onto the F-16.
The kit is the Academy version released in 2008 with a new tooling and remains in my opinion the best in class on the market in this small scale. The plan is to build completely OOB with no additions or embellishments, what you see is what you get.
As this is a kit that has been reviewed many times before, I see little point in a blow by blow account of the build, so I will keep this short and sweet and point out any issues.