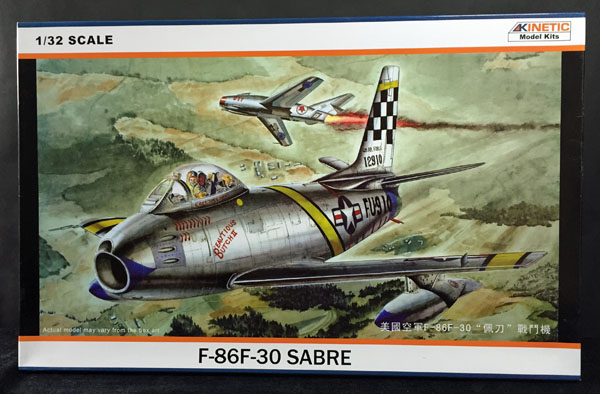 Kit Ref: K3201
Feature Article by Geoff Coughlin
Introduction
This feature article has come about as a direct result of SMN's first Modelling in a Day Workshops held at Whittlebury Hall, Northants UK on Sunday 21st June 2015. This was a fantastic day and opportunity for modellers of all levels to get together and work with experienced Tutor modellers like Mig Jimenez, Jamie Haggo, Dave Coward, Julian Seddon, Ian Ruscoe and myself.
I planned to cover using Alclad2 metal lacquers and using pastels to weather a NMF plus other skills but time was against me, needing to step in at the last minute – that required a slightly different approach to building this Kinetic F-86F-30 Sabre so that I could have it ready for the workshop.
The main area that was possible to set aside and work on after the day is the cockpit and so you'll see that this isn't painted at all before the gloss black base coat goes on ahead of the various 'silver' metallic tones from the Alclad2 range. Usefully the instrument panel can slot in later, as too can the ejection seat (I usually leave these out till the end anyway to avoid risk damaging it).
Another good thing about the timing of this project is that I can put that horrid Kitty Hawk Jaguar aside for a bit and regain my sanity on a new project; don't worry, I'll be returning to it soon enough if you are following the story in Build Now.
A little bit of background on the F-86
I have a small additional personal interest here because one of my relatives, Col Frank Doyle was an F-86 pilot in the Korean War and went on to fly many other types later in his service; he flew P-51s during WWII. Sadly, Frank is no longer with us but perhaps this project is my small tribute to him and all his fellow US fighter pilots through the ages – respect to you Frank and colleagues.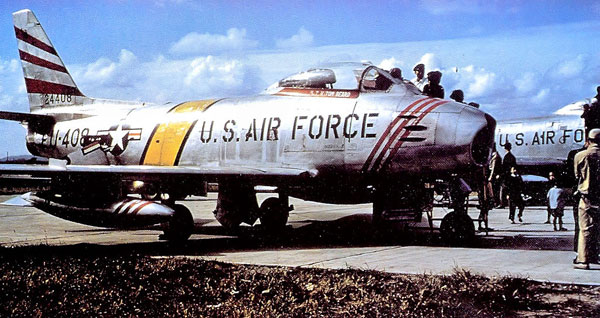 Here's a little bit of background on the F-86 just to set the scene
The North American F-86 Sabre, sometimes called the Sabrejet, was a transonic jet fighter aircraft. Produced by North American Aviation, the Sabre is best known as the United States' first swept wing fighter which could counter the similarly-winged Soviet MiG-15 in high-speed dogfights over the skies of the Korean War (1950–1953). Considered one of the best and most important fighter aircraft in that war, the F-86 is also rated highly in comparison with fighters of other eras. Although it was developed in the late 1940s and was outdated by the end of the '50s, the Sabre proved versatile and adaptable, and continued as a front-line fighter in numerous air forces until the last active operational examples were retired by the Bolivian Air Force in 1994.
Its success led to an extended production run of more than 7,800 aircraft between 1949 and 1956, in the U.S., Japan and Italy. Variants were built in Canada and Australia. The Canadair Sabre added another 1,815 airframes, and the significantly redesigned CAC Sabre (sometimes known as the Avon Sabre or CAC CA-27), had a production run of 112. The Sabre was by far the most-produced Western jet fighter, with total production of all variants at 9,860 units.
If you want to know more, try this really useful source at Wikipedia.
The Kinetic kit
Tom Potter has already made a great job of building this kit and you will find his full build in Finished Now – here. Here's a photo of Tom's lovely model…