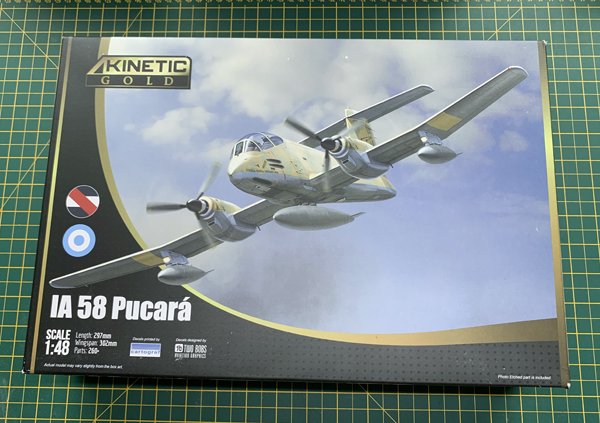 Full Review with Dave Coward
Here's a couple of pictures of the finished model..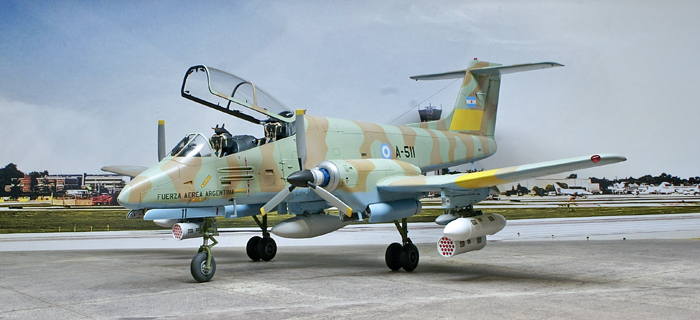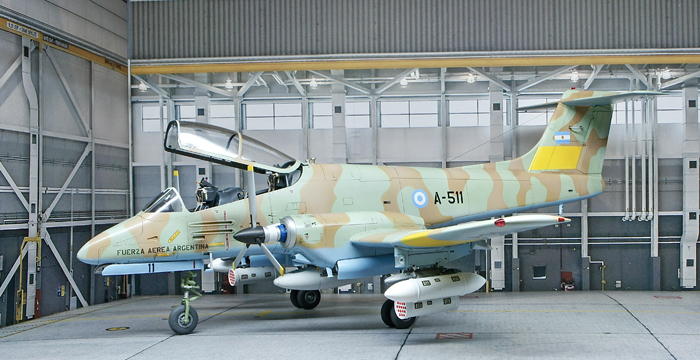 Background
From Wikipedia
The FMA IA 58 Pucará (Quechua: Fortress) is an Argentine ground-attack and counter-insurgency (COIN) aircraft manufactured by the Fábrica Militar de Aviones. It is a low-wing twin-turboprop all-metal monoplane with retractable landing gear, capable of operating from unprepared strips when operationally required. The type saw action during the Falklands War and the Sri Lankan Civil War.
The Falklands War
By the time of the Falklands War, about 60 Pucarás had been delivered. As one of the few aircraft of the Argentine service capable of flying operationally from the small airfields in the Falklands, as the runway at Port Stanley Airport was not long enough for FAA Skyhawks and Mirages to be deployed, it was decided to deploy a number of Pucarás to the Falklands, with four arriving at Port Stanley on 2 April 1982, with a further eight arriving on 9 April. Many of the Pucarás remaining on the mainland were moved to Puerto Santa Cruz or Comodoro Rivadavia in southern Argentina where they were closer to the Falklands if needed for reinforcements, and were used to perform coastal surveillance.
Most aircraft used in combat were armed with unguided bombs, 2.75 inch rocket pods, or 7.62 mm machine gun pods. Pucarás operated from Port Stanley airport and two small grass improvised airfields at Goose Green and Pebble Island. They were used in the reconnaissance and light-attack role.
Three Pucarás were destroyed and one of their pilots killed at Goose Green by cluster bombs dropped by 800 NAS Sea Harriers on 1 May 1982. Six more were destroyed in the SAS Raid on Pebble Island on 15 May 1982.
On 21 May a Pucará was lost to a Stinger SAM fired by D Squadron SAS (the first Stinger launched in combat) and another to 30 mm cannon rounds from Cmdr Nigel Ward's RN Sea Harrier, the latter after leading a successful two-aircraft raid on a shed allegedly used as an observation post by British forces. The aircraft was surprisingly tough, as Ward observed no fewer than 20 cannon hits before the target started to fall to earth. The other Pucará, piloted by Lt Juan Micheloud, made good its escape after being chased by Lt Cdr Alasdair Craig's Sea Harrier. Major Carlos Tomba, the pilot of the aircraft shot down by Cmdr Ward, survived the ejection and was recovered by friendly forces. On the 28 May whilst assisting 2 Parachute Regiment retake Goose Green, the Type 21 frigate HMS Arrow (F173) fired 161 shells from her 4.5" gun. This Naval Gunfire Support destroyed 2 Pucarás at Goose Green.
Two Pucarás shot down a Royal Marines Scout helicopter with 7.62 mm machine gun fire on 28 May, while it was on a casualty evacuation mission during the battle of Goose Green. This was the only confirmed Argentine air-to-air victory of the war. One of these Pucarás crashed into Blue Mountain on the return flight to Port Stanley and was destroyed—the body of the pilot (Lt Miguel Gimenez) was found in 1986, and was buried with military honours at Port Darwin by his family, the first Argentine relatives to visit the Falklands since the end of the war.
Also, on the 28 May 2 Para shot down a Pucará with small arms fire after it launched rockets on British troops (without causing any casualties), during the Battle of Goose Green. Lt Miguel Cruzado ejected and became a POW.
Captured aircraft
After the Argentine surrender, eleven Pucarás (four of them in flying condition) were captured by British forces. Six were taken back to the United Kingdom, as follows:
A-515 (ZD485) – Royal Air Force Museum Cosford.
A-517 – Privately owned. Currently for sale in Asheville, North Carolina, USA.
A-522 (8768M) – North East Aircraft Museum (on loan from the Fleet Air Arm Museum, Yeovilton).
A-528 (8769M) – Norfolk and Suffolk Aviation Museum (on loan from Museum of Army Flying, Middle Wallop).
A-533 (ZD486) – Boscomßbe Down Aviation Collection (Cockpit Section only).
A-549 (ZD487) – Imperial War Museum Duxford.