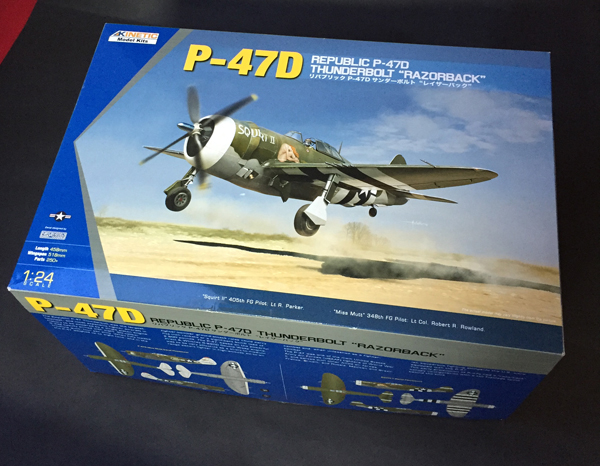 Full Review Build by Les Venus
Background
I love the 'Jug'. Many think it's an ugly aircraft when compared to the Spitfire, Mustang, Zero and Bf 109 but for me its ruggedness and sheer size and power make it a thing to behold. The 'Razorback' is my favourite version and given this it's no surprise that I have built the Jug in every scale accept 1:24.
When Kinetic said they were to release a version in the giant scale I got close to begging Geoff to let me build it! I had heard some bad things about Kinetic kits but I was certain and I said so that I believed the Razorback to be an upscale version of Trumpeter's 1:32 kit which I love and is my favourite kit; like so often when I go out on a limb, I was wrong and this is a new tool of course based on the old Vintage Fighters moulds of their 1:24th scale Bubbletop.
Dave Coward built this one for SMN several years ago and as ever, made an impressive job of it. (Geoff – here's a couple of pics of Dave's model…)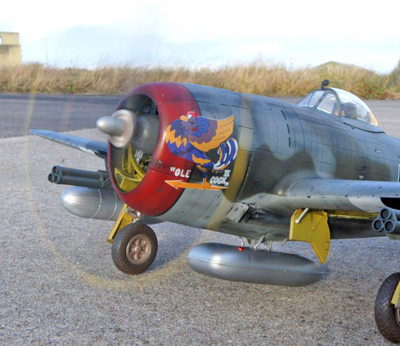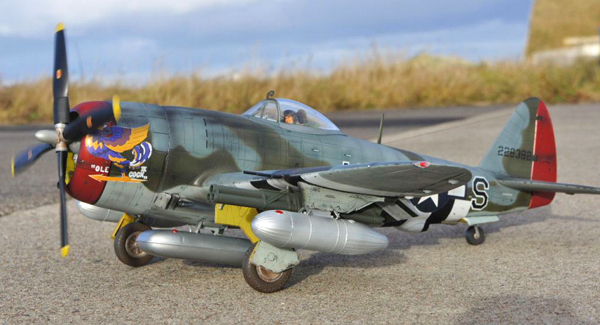 It seems that Kinetic have used the bulk of this kit but re-tooled a single fuselage for the Razorback. Indeed the Bubbletop spine and fin are on the sprues but can't be used without considerable surgery.
Geoff has already done a Here Now box review of the Kinetic P-47D Thunderbolt 'Razorback' 1:24 and it's worth another read to refresh yourself before reading this. What I would say is that the detail is too soft and lacks the precision and finesse one would expect of a kit this size and price. Panel lines arguably are overdone but if choosing an OD finish this won't be a snag, in Natural Metal, well that's another story. The Engine is the star of the show but more of that later. The cockpit lacks a lot of detail and in this scale looks a little toy-like. In short my initial reaction was disappointment but let's see how the whole thing goes.
Warning!
This is a very large kit indeed and it's a beast to handle in construction. More will come out on this later as anyone building this kit will need time, patience and a deep love of the aircraft.
The Plan
My plan was to build the kit from the box but in this scale it really needed seat belts so I took the only after-market option available from HGW. The cowling gills are only available closed in the kit so Jay Laverty (Mastercasters) let me have his wonderful resin version as well as resin wheels. Finally, the two decal options in the kit are great (in appearance…..more on this later) but both are in OD schemes, which is not, as those that know me, my preferred option.
At the time of the build there were no after-market decal options nor masks for a NMF P-47 so I searched around the net for a simple but eye catching NMF Jug and determined building an aircraft of the 63rd FS/56th Fighter Group; "Huckle de Buck". Next stop was Mal Mayfield of Miracle Masks who quickly made up the masks I needed in the scale. Now I hadn't used masks before so it was another new experience I had set up for myself. Oh well in for a penny…….!