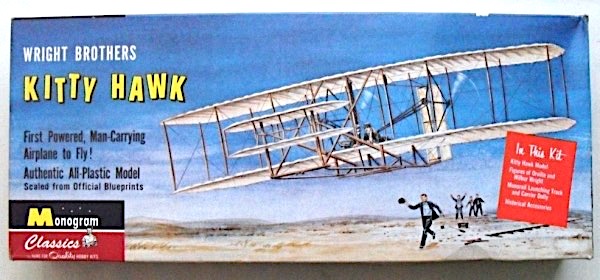 Feature Article with Tim Haynes
Geoff has kindly asked me to send in some details of some of my builds, and I really appreciate the opportunity to have them on SMN. Thanks Geoff, I hope you don't regret it as I've got quite a lot of previous builds that I can / will submit to you..!! (Ed…fantastic Tim! Keep 'em coming and thank you – we will all learn a lot from what do for sure :)…)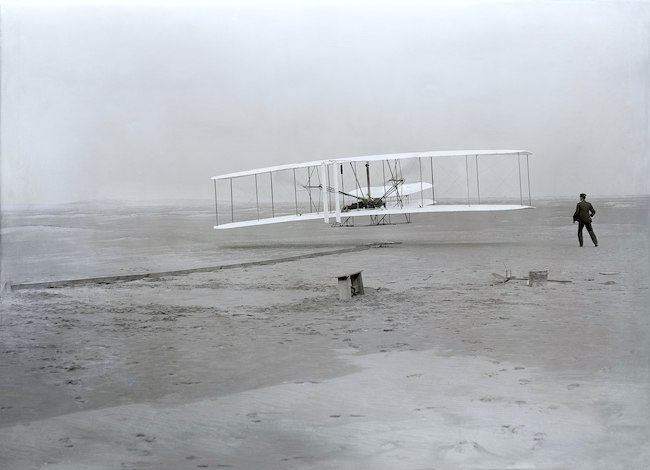 (Photo: The first powered, controlled, sustained airplane flight in history. Orville Wright, age 32, is at the controls of the machine, lying prone on the lower wing with hips in the cradle which operated the wing-warping mechanism. His brother, Wilbur Wright, age 36, ran alongside to help balance the machine, having just released his hold on the forward upright of the right wing. The starting rail, the wing-rest, a coil box, and other items needed for flight preparation are visible behind the machine. (Orville Wright preset the camera and had John T. Daniels squeeze the rubber bulb, tripping the shutter. 1903) Source Wikipedia
Background:
This is something I've had in the stash for a while, and eventually got around to it in Jan this year. The boxing is either the 1957 original or from the second issue in 1963 both of which look identical. Either way it's at least as old as I am and after a minimum of 59 years I think it deserved to get built.
Just before we get going, here's a quick look at how it all turned out…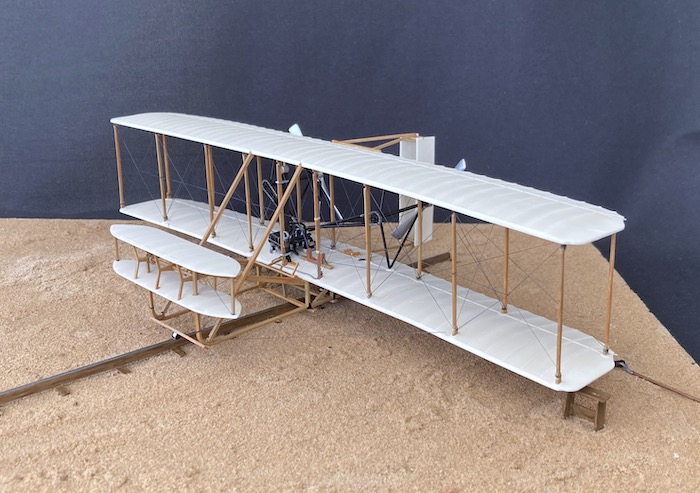 Originally I planned a diorama with it just taking to the air and Wilbur running along side. However this changed as the Wilbur in my kit was not well moulded, and then I was not happy with the options I could create for spinning propellers. The end result as you will see is the Flyer mounted on the rail prior to first flight awaiting the heroes to enter the scene on that day 17th Dec 1903.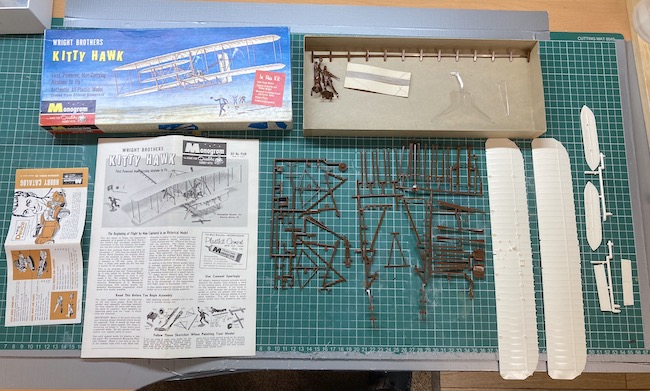 References:
X-Planes No13 The Wright Flyers 1899-1916 by Richard P. Hallion, Adam Tooby
Various web sites including;
· Smithsonian Air & Space Museum (Web site)
· Wright Bros Aeroplane Co Museum (Web site)
Extras:
The spares box!!