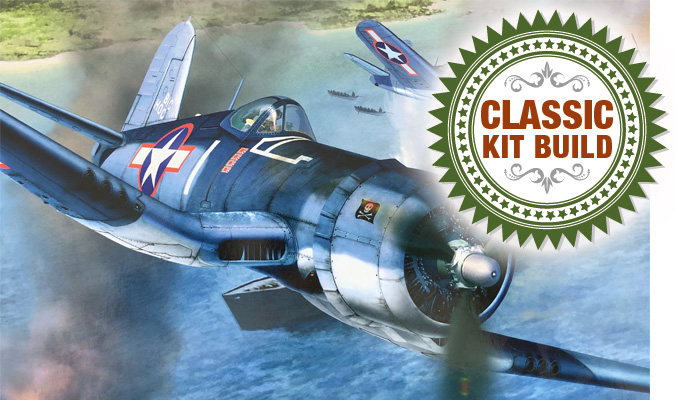 Classic Kit build with Geoff Coughlin
In-box Here Now review


Incorporating the light and sound set from Magic Scale Modelling (MSM)
The plan
I've had this kit a long time and have kept looking at it wondering if it is worth a quick build? Then I spoke with Richard at MSM and soon had their light and sound set for the Corsair. And then…? Well, what if we got hold of just a few accessories and try to make it look good using the minimum of extras? And that's how this project was born…
Accessories used:
Eagle Strike decals: Pacific Land-Based Corsairs (includes "Big Hog" included in the Revell kit boxing shown) (32008)
Quick Boost resin engine for F4U-1A Corsair (32036)
Yahu main instrument panel for F4U-1A Corsair (YMA3216)
Barracuda resin main wheels/tyres (BR32118)
eduard Placards for the F4U-1A Corsair (32829)
I do need to say that I have no knowledge whatsoever of electronics, wiring or any of that stuff and so it's with some trepidation that I am taking this one. My belief is that this mindset may apply to some of you out there and what I hope is that by taking the MSM set on and including it, I will learn a lot about what to and what not to do! (My pain may just be your gain :)
I've watched the MSM videos on their You Tube channel and from their website and these are useful, what I haven't been able to find yet is a clear wiring diagram for the lights and sound – basically an 'idiot-proof' diagram or diagrams that clearly show what I plug into what? Having said that, each pack is clearly labelled and along with the videos I'm hopeful that all will be clear when i get to it, again, we'll see!
---
As the project is now finished, I wanted to show you how it all turned out. The video shows the engine start up, run to shut down after about 3min 30 secs. Hope you like how it all turned out…"
video.
VIDEO DEMO – THE COMPLETED MODEL
---
The Revell kit (Kit ref: 04781)
I did an in-box browse back in 2014 when we received this kit and you can find that in SMN – here.
The box art is simply stunning in my view and will, combined with the low price, entice many to buy the kit. Let's be clear though, this is no Tamiya offering (that is a stunning kit, if at a hefty price tag). This Revell kit dates back to around 1970, is moulded in white plastic and had some new parts added in Revell's 1989 boxing. Panel lines are raised and detail is sketchy across the board. I do believe that if I add the accessories as planned and really work on the finish, then this could look good – let's hope so, especially in that scheme – I just love the red outlines to the stars 'n bars that completely transforms the subject for me.
Take a look at the attached videos for a closer look, along with these still images…
VIDEO DEMOS
---
---
---
Gallery Grid