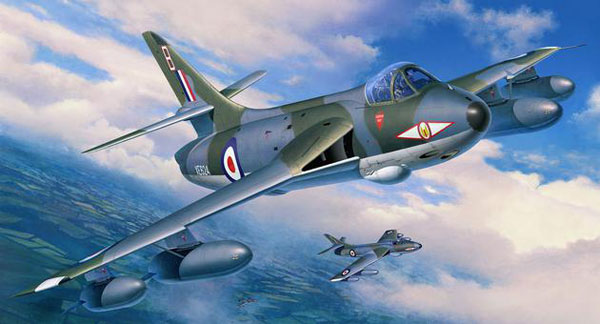 Feature Article by Dave Coward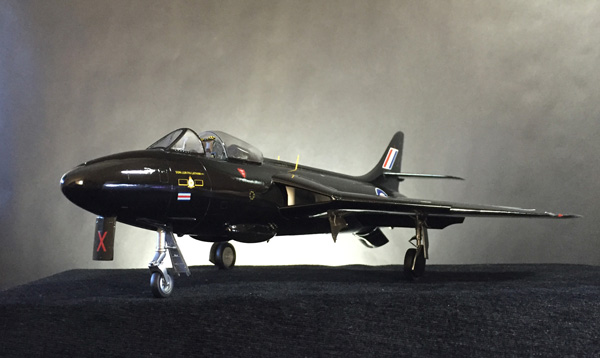 Quick intro from Geoff
I thought you'd like to see Dave's completed model right up front – how nice is that! Add a little bit of moody lighting and the Hunter shape in that Black Arrows No.111 Sqn RAF livery looks stunning to my eye :)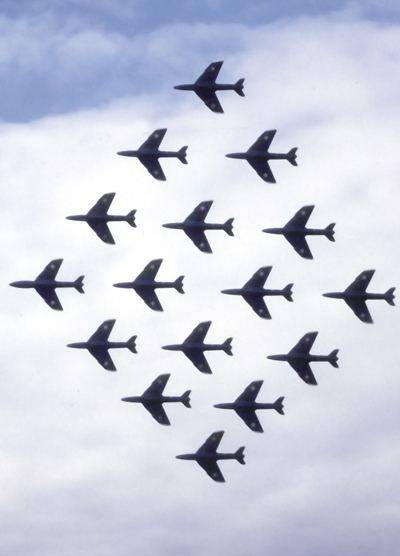 Background
I've made a couple of these kits in the past including a 4FTS trainer, a rather colourful civilian Miss Demeanour and a twin seat T.7 using the Fisher conversion set – all these, plus one or two from Geoff the SMN editor can be found in the Revell pages of Finished Now.
For a change I decided to make this kit as much from the box as I could just to see what it came out like. The one thing I didn't use out of the box were the main markings as I wanted something a bit different and I had an old set of Xtradecal decals which had a `Black Arrows Aerobatic Team` aircraft that I thought would be nice.
The Black Arrows, one of the predecessors of the current Royal Air Force Aerobatic Team, the Red Arrows, were an aerobatic demonstration team formed in 1956 by Squadron Leader Roger L.Topp, then Commanding Officer 111 Squadron ("treble-one"). One of the many memorable feats accomplished by the Black Arrows was the execution of a World record loop 22 Hawker Hunter formation in 1958 at the Society of British Aircraft Constructors' show at Farnborough[1] This was a world record for the greatest number of aircraft looped in formation, and remains unbroken to this day. After the loop the Black Arrows performed the world's first 16 aircraft barrel roll. Roger Topp handed over the lead of the Black Arrows to Squadron Leader Peter Latham in late 1958. Latham expanded the size of the team to 9 aircraft and led the Squadron for two years.
No. 111 Squadron were formed at RAF North Weald where they received the Hunter before transfer to RAF Wattisham in Suffolk. Until 1961, the Black Arrows were the RAF's premier team. In the early years of the 1960s the "Blue Diamonds" of No. 92 Squadron RAF and "The Tigers" of No. 74 Squadron RAF, equipped with the new English Electric Lightning, started flying. The large number of squadron display teams led to their replacement by a single unit from the Central Flying School.

In-box review
You can see the full in-box review of the Revell Hawker Hunter FGA.9/F.58 1:32 in Here Now.
Aftermarket Extras:
Xtradecal set X32071 – Now OOP