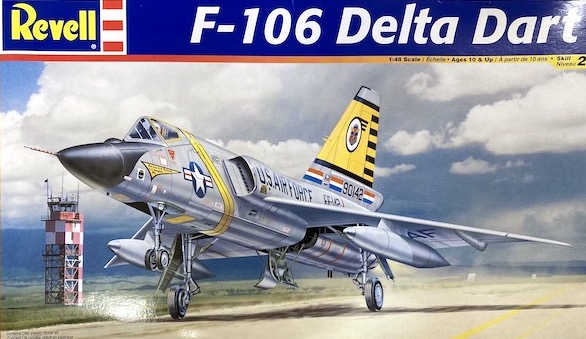 Featured build by Tim Haynes
Background
I picked this kit up at last year's (2023) Scale Model World in Telford, UK for a bargain price, and it was still in the cellophane! Over the past year I seem to have developed an attraction to the "Century Series" fighters and had been looking for an F-106 at a reasonable price for a while. This is one of those aircraft that looks fast standing still, and is arguably the US version of the English Electric Lightning. Both being designed as part of a weapons system and tasked as single seat Interceptors against the potential Soviet Bomber threat.
The Plan
I loved the scheme on the box art, 90142 / FE142 of the 456th Fighter Interceptor Squadron Castle AFB circa 1962 flown by Capt. B. B. Patterson, so that was a no brainer. However, it took me a while to decide on how I wanted the finished model to be displayed. My initial thoughts were to pose it just taking off with the undercarriage retracting as it accelerated away. This was not to be, because as I got into the build the potential difficulties in modifying the undercarriage and doors became more apparent. Don't get me wrong it would be relatively easy to do wheels up, but partially retracted……? So I went for a relatively clean look of a parked aircraft with missile bay doors and airbrakes closed, but cockpit canopy open.
And just before we get started, here's a quick look at how it all turned out…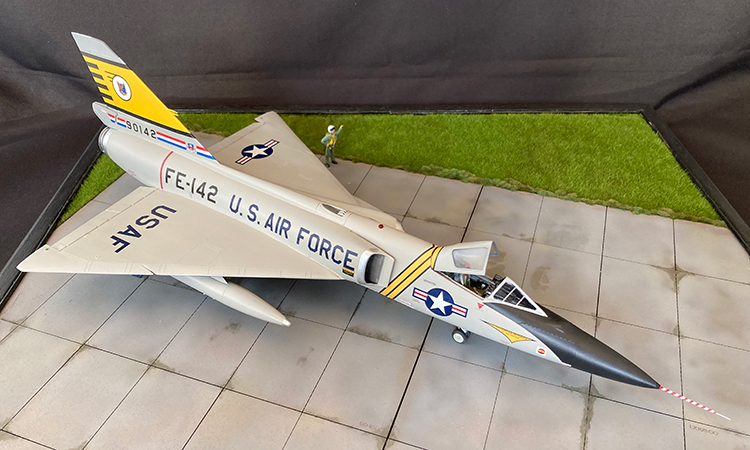 References
Once again my main reference source for this build was the good old Internet, with many pictures and sites available to get images from to confirm details.
Extras:
eduard EX126 – Flexible Masks for Revell / Monogram F-106
Quick Boost 48650 – F-106A Delta Dart Antennas for the Trumpeter kit
Quick Boost 48364 – F-106A Delta Dart Pitot Tube for the Monogram kit
I obtained the following items later in the build but did not take a photo
Reskit RS48 0074 – Wheel set for the F-106A Delta Dart
Master Model AM48046 – Brass Pitot Tube for the F-106 Delta Dart
New Ware NW AM0032 – Masks F-106A Delta Dart for the Trumpeter kit.