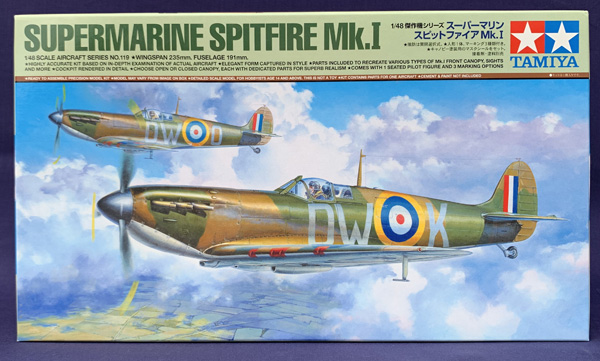 Full Review with Dave Coward
Here's a look at how it all turned out…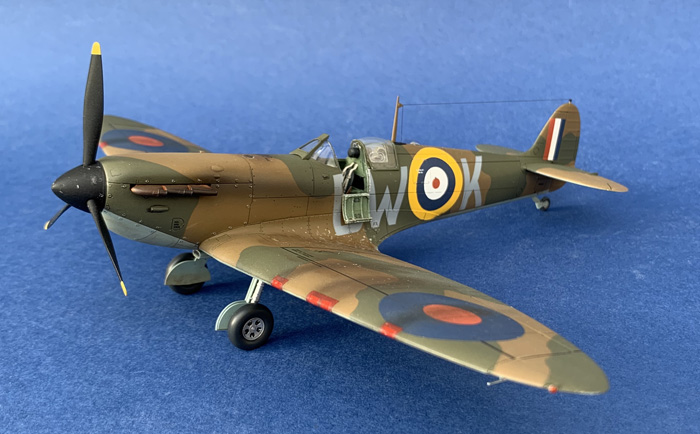 Background
Tamiya produced their original Spitfire Mk.I back in 1993 and although a well-produced kit that was easy to assemble it had several accuracy issues that let it down.
Move forward to 2018 and out of the blue Tamiya announced that they were going to release an all new tool 1:48th Spitfire Mk.I that pretty much took the modelling world by surprise. The kit covers the very early MK.I with the early canopy, gunsight and radio mast, through to a Dunkirk period aircraft and finally a Battle of Britain participant.
From Tamiya…
"The iconic Spitfire fighter was one of the backbones of the RAF in the desperate struggle for the skies during WWII, sporting a refined design and aesthetically pleasing elliptical wing, plus the proven Rolls Royce Merlin engine. It first flew in March 1936, and some two and a half years later in August 1938 the first production Spitfires – the Mk. I – started to reach units. This Mk.I would have a vital role to play in the Battle of Britain as the RAF and Luftwaffe played out a titanic struggle for the skies, and the successful fighting off of the Luftwaffe ensured that the Spitfire earned international fame that continues even in the modern day."
This is a 1:48 scale plastic model assembly kit. Fuselage length: 191mm, wingspan: 235mm
Superb accuracy is based upon in-depth examination of actual aircraft
Parts are included to recreate various types of Mk.I front canopy, sights, antenna bases and pitot tubes
The interior of the floorless cockpit is rendered in detail
Choose between open or closed canopy, each with dedicated parts for superb realism
Comes with 1 seated pilot figure and three marking options including for aircraft in the Battle of Britain and Operation Dynamo.
NOTE: eduard have just released a new tool Spitfire Mk. I as I write this but having not seen it in the flesh, I won't make any comparisons between the two kits. A full build of the eduard kit will follow along in due course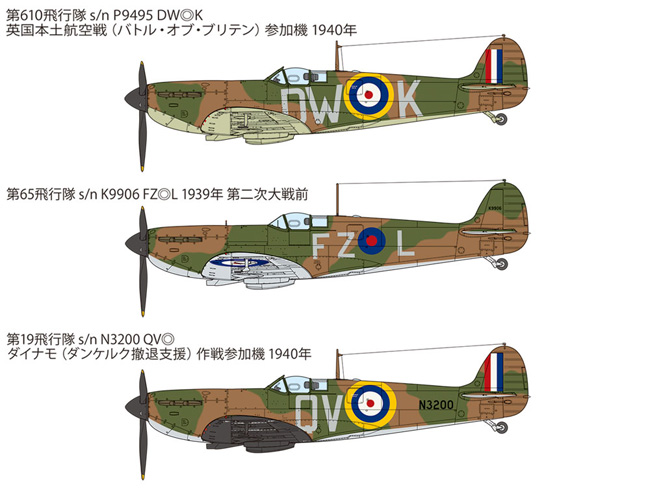 References used:
Wingleader Photo Archive No.1 Supermarine Spitfire Mk. I 1936 – The Battle of Britain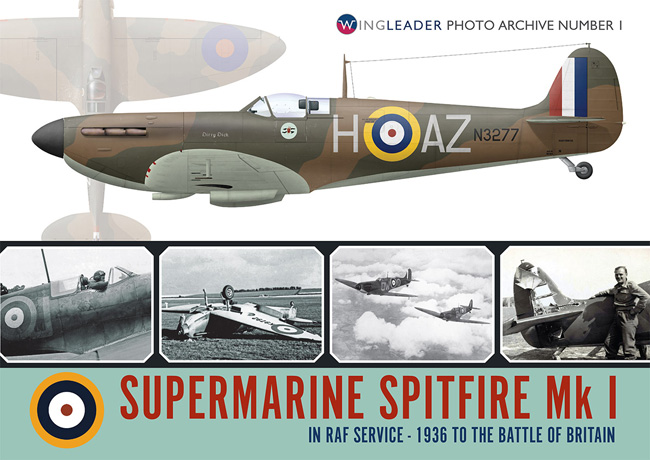 Aftermarket Extras:
eduard Colour PE Interior EDFE960
eduard Colour PE Seatbelts EDFE961
Maketar Spitfire Mk. I Mask Set
Topnotch Camouflage masks.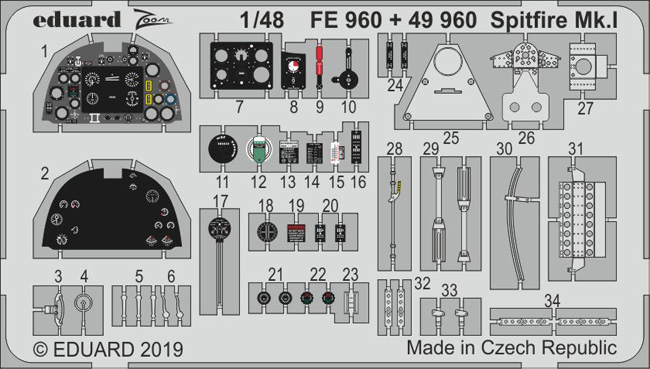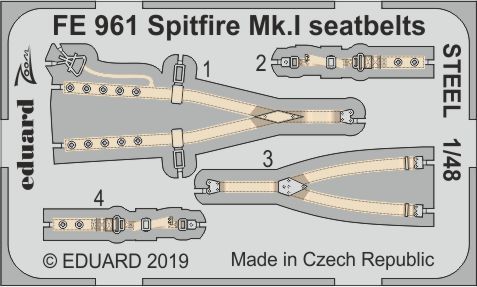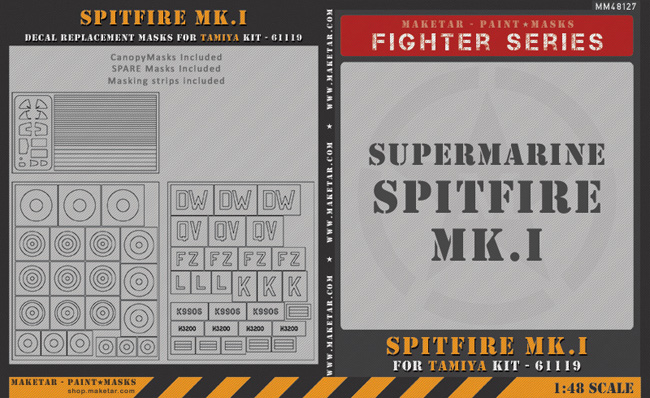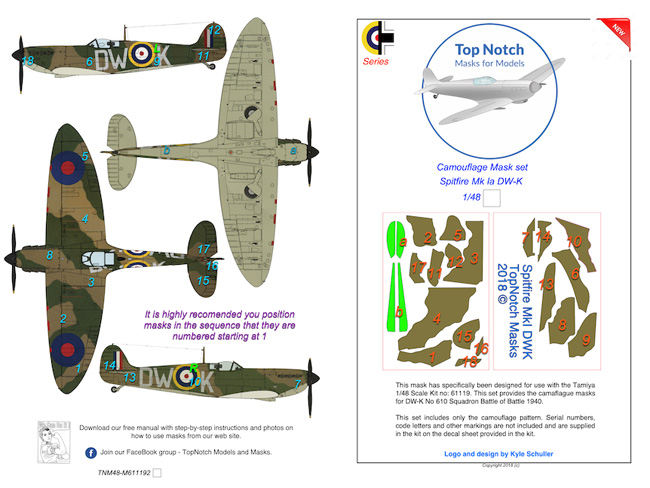 The Plan
The plan was to make DW-K P9495, the 610 Sqn Battle of Britain option, from the box but there was an error in Tamiya's colour call out for the lower camouflage colour – Tamiya say to use Sky as the underside colour but research indicated that this aircraft had a light blue underside.
In early June 1040 the RAF had issued an order to repaint all the early black/white/silver undersides in a 'Sky' colour but there had been some confusion as to what this colour actually looked like so there was understandably a lot of variation in the interpretation of what colour 'Sky' actually was. 610 Sqn (Spitfires) along with 32 Sqn (Hurricanes) were based at RAF Gravesend and used RAF Sky Blue No.1 to comply with this order and in addition overpainted all the lower markings including stencils and roundels, but more on this later. Furthermore, 602 Sqn removed (or didn't apply) serial numbers to their aircraft and this can be seen in period photos – it has been stated that the serials were removed from the photos by the censors but this is incorrect.
P9495 had a relatively short life. It was issued to 610 Sqn on the 2 June 1940 and received CAT 3 (beyond economical repair) damage during air combat with a Bf109 on the 12 August 1940 and subsequently was struck of charge on the 24 August 1940.