Authors: Maciej Góralczyk, Janusz Swiation, Arkadiusz Wrobel
Decals for Scale: 1:72nd, 1:48th and 1:32nd
ISBN: 978-83-62878-05-5
Price: From £15.00 plus P&P (Dec 11)
Review by: Dave Coward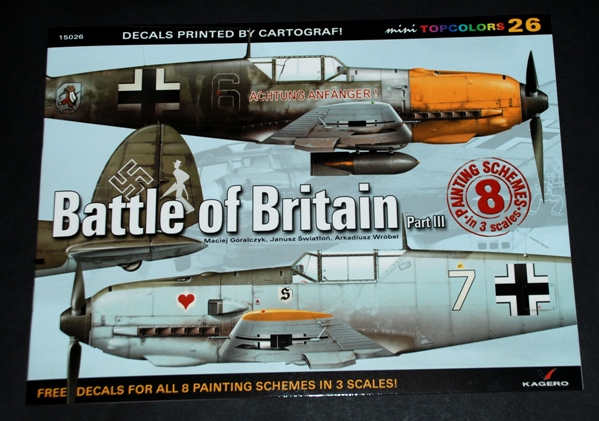 Initial Assessment
This bilingual (English and Polish) 20 page publication covers colour profiles of 6 Messerschmitt's, 1 Heinkel He 111 and 1 Messerschmitt Bf-110 and is the third in their Battle of Britain sets, this one covering only Luftwaffe subjects.
I'm not sure whether to describe it as a nice booklet with the bonus of a set of decals or a decal set with an extremely well-produced placement guide, but either way you can't help but be impressed by the quality.
The decals are produced by Cartograf and their quality is faultless, but be aware that they only cover the unique markings; you will have to use the kit decals for the national insignia and stencilling.
All of the fighters (Me 109's and Me 110) have 4 view drawings to show colour schemes and decal placement, while the centre pages open out to show a beautiful colour painting of the He 111 with a section at the side clarifying the location of the decals.
Each subject also has a brief history of the pilot who flew the plane and some explanation of the camouflage schemes used along with RLM indications.
Click on the thumbnails below to enlarge images.
The subjects covered are as follows:
Bf.109E-3 White Chevron of I./JG54, Eindhoven, Early summer 1940 – RLM 02/72 with a Mouse character on the port cockpit side.
Bf.109E-4 White 15 of 1./JG2, Beaumont-le-Roger, Summer 1940 – standard RLM 02/71/65 with patches of RLM 02 and hand brushed mottle in RLM 70. A `bonzo dog` on the port engine cowling.
Bf.109E-4 White 7 of 7./JG26, Caffiers, 11 Aug 1940 – Standard high demarcation 02/71 over 65 with yellow tail and wing tip flashes. A letter S on a shield adorns the port cockpit area and a red heart the nose.
He.111P-2 #2149 coded G1+JL of 3./KG55, France, summer 1940. A standard RLM 70/71/65 splinter pattern with a white silhouetted gentleman on the tail and another sketch on the port fuselage, thought to be Neville Chamberlain.
Bf.109E-4 White 11 of 7./JG3, Desvres, Sept 1940 – RLM 02/71/65 with additional mottling and an over painted set of old markings is evident on the fuselage sides. Yellow nose, rudder and spinner, plus Herzi and a wasp figure brandishing a spear on the engine cowling.
Bf.109E-4 White 8 of I./JG53, Etaples, Sept 1940 – RLM 02/71/65 in a two-tone pattern on the fuselage sides and yellow nose and rudder.
Bf.109E-4/B Black 6 of 5./JG51, Mardyck, Autumn 1940 – RLM 02/71/65 with over painted patches of dark green on the fuselage sides, an RLM65 nose gun cowling, yellow nose and rudder, and the words Achtung Anfanger! on the sides under the canopy.
Bf.110C-2 #3533 coded L1+LL of 15.(Z)/LG1, shot down at Socketts Manor, Oxted 27 Sept 1940. Finished in RLM 70/71/65 with a white nose and yellow spinners.
In Summary
This is a beautifully produced reference source that is specially aimed at the modeller and, when you consider you get a full set of decals in all three of the major scales, it is also very good value for money.
The only issue I have with it is it is so good you will just have to buy more kits to do the subjects featured!
I look forward to using the He 111 decals on the new Revell 1:32nd kit that I'm set to start, so keep an eye out for this in the coming weeks.
| FEATURE | STAR RATING (out of five) |
| --- | --- |
| Quality of Printing | ***** |
| Accuracy | ***** |
| Instructions | ***** |
| Decals | ***** |
| Subject choice | **** |
| Overall | ***** |
Dave C.