Author: Chris McNab
Cover: Hardback
ISBN: 978-1-84908-647-9
Review by: Bill Curtis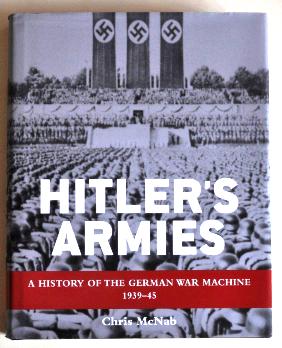 Our thanks to Osprey Publishing for supplying our review copy.

Initial Assessment
The jacket write up opens with: "The definitive work on the subject, HITLERS ARMIES charts the Nazi war machines history from stunning victories during the Blitzkrieg of 1940 to the hard fought campaigns in the North African deserts, the Soviet Union to its eventual retreat to the Fatherland."
The book comprises 424 pages of 200mm x 250mm, 37mm thick and is quite a weighty volume. It is divided into nine sections as follows:
Introduction: A Phoenix from the Ashes
Blitzkrieg: Hitler's War Machine Unleashed, 1939-40
North Africa and the Balkans, 1940-43
Operation Barbarossa and the war in the East. 1941-43
Italy and the Western Front, 1943-44
The Final defeats: Retreat to the Fatherland, 1943-45
Conclusion
Further Reading
Index
The book has a very easy to read text, which takes the reader through the various campaigns with photographs, colour artworks and maps, as is usual for an Osprey book. I found it a very comprehensive book giving details of development of the armies, equipment, field works and tactics.
The final stages of the war are covered with sections on the Hitler Youth, which were used to fight the invaders and of course had been used to form the Hitlerjugend Division who fought in France, the Bulge and the East.
Also covered is the Flakhelfer who manned the flak from 15 years old which started in early as 1943.
Next is the Volkssturm, which was the equivalent of the Home Guard in Britain and of note is a colour drawing of a cyclist with two Panzerfaust strapped to the handle bar and riding off to the front.
The author has published over 25 books on a variety of subjects covering Combat techniques, Napoleonic Armies and small arms.
Conclusion
I found it a very comprehensive book, not only from an historical point of view but also the colour plates depicting uniforms, insignia, field works and depicting the action of both vehicles and troops.
A good number of the pictures are new to me and show the various uniforms, equipment and environments the action took place. As you read through the book, I found little snippets of information and facts that were both interesting and new. Of particular interest was the training circular, based on experience of the Eastern Front, with its 30 points for junior officers which has relevance even for today's soldiers.
Most of the illustrations come from the Osprey archive as do a lot of the photographs which I think really enhance this book and will be used as a reference volume by history buffs and modellers alike.
Highly Recommended.
Bill C.