Author: Leigh Neville 
Format: Paperback     
ISBN: 978-1-84908-187-0
Review by: Bill Curtis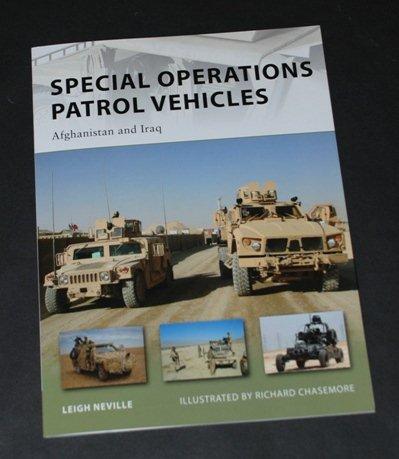 Our thanks to Osprey Publishing for supplying our review copy.

Initial Assessment
This is a New Vanguard book No 179 which has illustrations by Richard Chasemore and comprises 48 pages between Soft covers with 40 colour picture, 7 colour plates, a glossary and index.
The introduction covers the start of vehicles being modified for the special tasks and starts with the Long Range Desert group and Special Air Service vehicles used in the desert and later in Europe.
This is then expanded to cover other countries, such as the U.S.A and Australia, and briefly details the development through the after war years to the gulf war.
The text is well written and easy to read, giving a broad outline of the Special Operation Forces (SOF) vehicles types and operational uses. 
As a small book, the coverage is not in-depth due to the limitation of the Osprey format but I found it covered a large variety of types, both major and less well known.
I also found the glossary to be of great help, as the acronyms that the military use were beyond me without the help given for these vehicles.
The book is full of colour pictures of a great deal of the vehicles that are covered in the text, which also has colour plates totalling seven pages and the Hummer ECV is covered with a two page spread.
Conclusions…
This is a great book on a subject I was not familiar with.
I found it very interesting and of special note was the glossary, which was extremely useful.
I am sure modellers will find this volume of use, with all the kits of the vehicles that have been covered and also for the ones to come in the near future.
The Military historians out there will also find this book of use and I'm sure it will act as a primer for the subject.  
Highly Recommended.