Published by: Stackpole Books
Author: Steven Zaloga
Cover: Hardback
ISBN: 978-0-8117-0769-5
Review by: Bill Curtis (Jan 2012)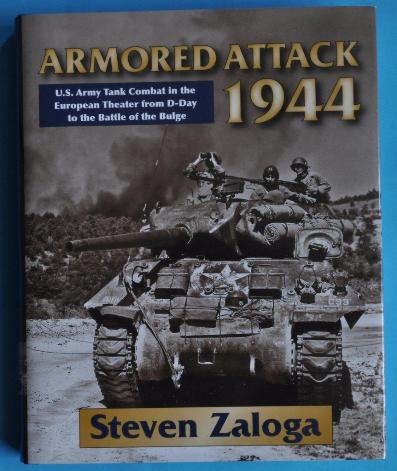 Initial Assessment
This is a hard-cover book measuring 210 x 260 mm and is 30mm thick, printed on good quality glossy paper and consisting of 503 pages including the index.
The book is a photo reference of the Americans in Europe covered in the following chapters:
Preparing for Overlord
D-Day: the Overlord invasion, The battle for Normandy, Operation Cobra: The Normandy breakout
Breakthrough to the Seine
On to Paris!
The other D-Day – Operation Dragoon
Toward the Reich
The Siegfried Line
Across the Vosges to the Rhine and finally
The Battle of the Bulge begins.
The book has 1,199 photographs of Sherman's, Hellcats' and other American vehicles, as well as German AFV's. The narrative is concise and the captions with each photograph are equally good, as one would expect from this respected author.
Click on Thumbnails to enlarge images.
Conclusions
This volume will be of value to both the modeller and history buff alike, as the pictures are for the most part clear and well printed.
A lot of the photos I have not seen before and from the modelling point of view, the pictures show the wear and tear as well as the weathering the vehicles and crews endured.
I found this a fascinating book, not only for the American vehicles but also for the inclusion of the numerous German vehicles and think this is a book which should grace many an enthusiasts' shelf.
I believe that the second volume will be published in the early part of this year and I look forward to seeing it.
Very Highly Recommended.
Bill C.
N.B. Thanks to Justin at Avid Reader for the loan of the book to review.