Author: Stefano Di Giusto     
Cover: Hardback     
ISBN: 978-3-96519-22-8
Review by: Bill Curtis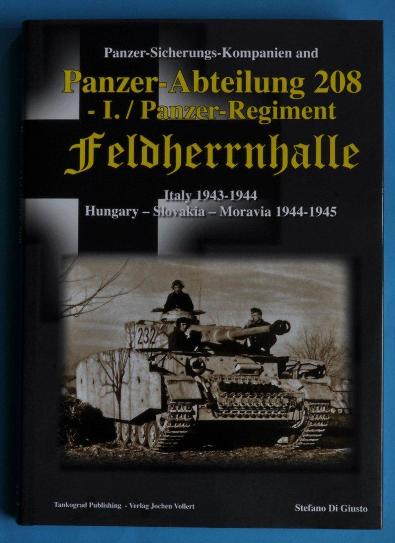 Initial Assessment
It may be fair to say that the main Panzer divisions and regiments have been well covered in many publications, whereas the independent Panzer Abteilung have been by and largely ignored.
These units were considered less prestigious and maybe, with less esprit de corps, it could account for the fact that no associations seem to be in existence or specific publications edited by former members.
The book itself is roughly A4 size with 232 pages of glossy paper and lots of photographs.
It covers the creation in 1943 in case Italy exited the war and from Sept 43 they were used to disarm the Italian armed forces, then to fight the partisans.
In early 1944 the three companies joined to form Panzer Abteilung 208, staying in Northern Italy until the end of the year when it was re-equipped with new weapons and moved to Hungary.
It took part in the defensive fighting and in the last successful offensive at Gran, then in March the Abteilung was renamed 1. / Abteilung Panzer Regiment Feldherrnhalle fighting the last battles in Hungary, Slovakia and Moravia.    
Conclusions…
This book tells the story of some units which have, up until now, been little known. It does this based on extensive research with contributions from former members.
The book has some 380 photographs, of which most have not been published before, reproduced documents, graphics and maps.
I found the text easy to read and of great interest, as I had not previously seen any information on these units. The joy for me is the photographs, which give one a glimpse of the men and their weapons and a small idea of how they lived and fought.
I was so impressed with the book that I bought it. It now sits in my library and will be well thumbed in the future.
Very highly recommended.
Thanks to Justin at Avid Reader for the loan of the book to review.