By Geoff Coughlin
Here Now in-box review
If you haven't seen my full in-box or want to refresh yourself about what's in this kit, plus one or two observations – good and bad, then you can see the review of HKM Gloster Meteor F.4 1:32 here.
References
You may have your own references to refer to when building this kit but the ones that follow are pretty good in my opinion:
Aero Fax guide – Gloster Meteor. This is useful for a complete reference to the type and there are some very useful photos – colour and black and white for the F.4 as well as all the other variants.
Aeroplane Magazine Special – Gloster Meteor
Pilot's Notes – Gloster Meteor Mk.III. This is great for some 3-view black and white photos of the cockpit. Interestingly, this books shows even the Mk.III Meteor cockpit to be 'black' rather than RAF Cockpit Interior Green; a fact borne out by at least three other photos I have seen for the F.4 and further corroborated by the photo below.
This photo comes from the walkaround photo set that lives in your SMN Photo Reference Library.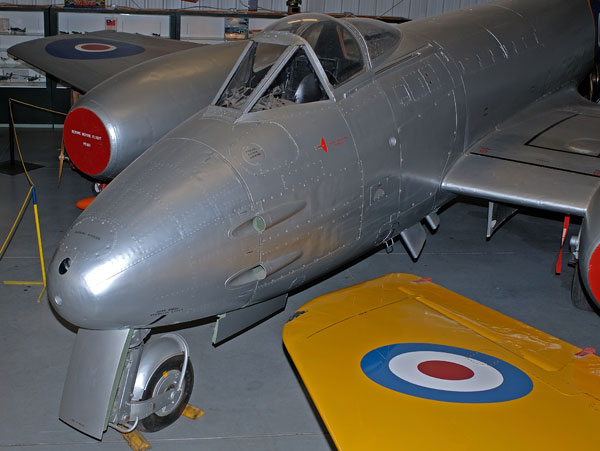 The plan
When you open the box there are surprisingly few parts – just three main sprues and some very nicely tooled parts. The Meteor is a favourite of mine and I was really excited to get on with this build. I recently saw in the latest Mag of the UK IPMS (International Plastic Modellers Society) that a contributor had early access to a sample and has already built it with very few issues and problems – citing great fit of parts amongst other plus factors.