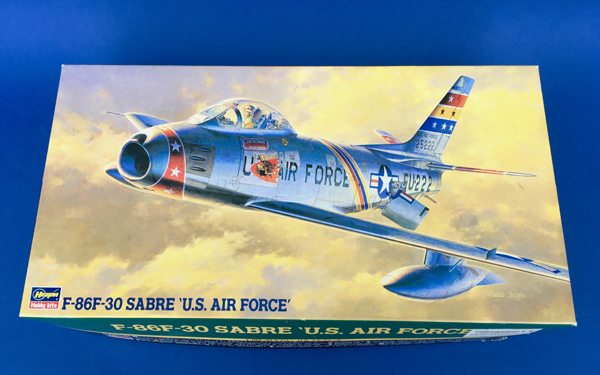 Feature Article with Dave Coward
Background
This model had been sitting in my 'stash' for a couple of years as I had picked it up second hand at a show and on getting home had found it had been started 'badly' so on the shelf it stayed until now. The reason for looking at it now was quite simply COVID Lockdown and my promise to start working though my stash whilst I had all this time at home. It was also good timing as Airfix were just about to release their new Sabre so having a look at this kit would allow me to compare the two kits especially as I've now got this kit and will build it in the near future so look out for that.
Just a couple of pics to show you the final result…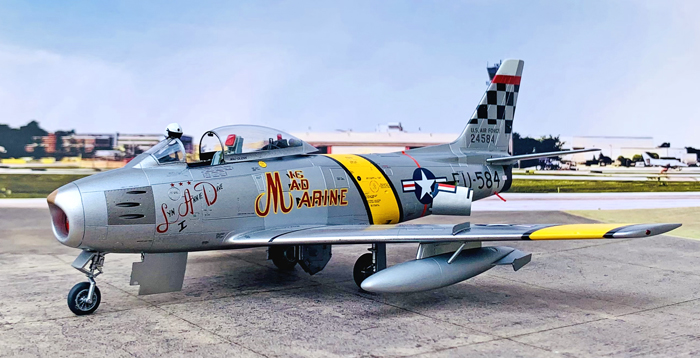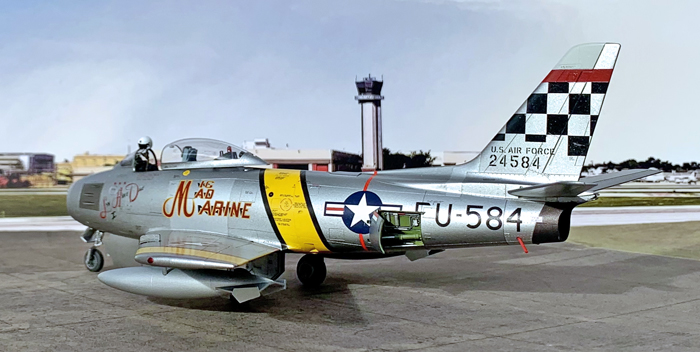 The plan was to build a Korean War aircraft and after having a look around I came across a picture of John Glenn standing in front of his F-86 'MIG MAD MARINE'. There are lots of good reference pictures of this aircraft and as it was an unslatted wing version it tied in nicely to this F-30 boxing.
Just a little info on John Glenn from Wikipedia.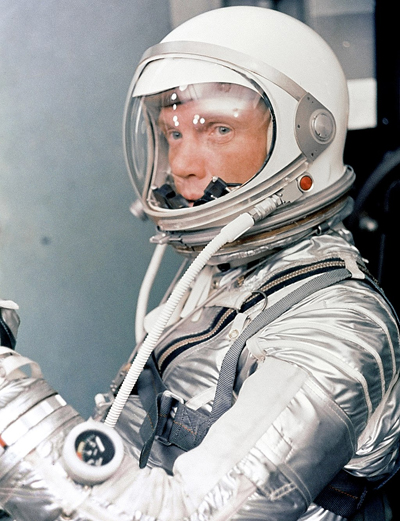 John Herschel Glenn Jr. (July 18, 1921 – December 8, 2016) was a United States Marine Corps aviator, engineer, astronaut, businessman and politician. He was the third American in space, and the first American to orbit the Earth, circling it three times in 1962. Following his retirement from NASA, he served from 1974 to 1999 as a Democratic United States Senator from Ohio; in 1998, he flew into space again at age 77.
Before joining NASA, Glenn was a distinguished fighter pilot in World War II, China and Korea. He shot down three MiG-15s, and was awarded six Distinguished Flying Crosses and eighteen Air Medals. In 1957, he made the first supersonic transcontinental flight across the United States. His on-board camera took the first continuous, panoramic photograph of the United States.
He was one of the Mercury Seven, military test pilots selected in 1959 by NASA as the nation's first astronauts. On February 20, 1962, Glenn flew the Friendship 7 mission, becoming the first American to orbit the Earth, the third American and fifth person in history to be in space. He received the NASA Distinguished Service Medal in 1962, the Congressional Space Medal of Honour in 1978, was inducted into the U.S. Astronaut Hall of Fame in 1990, and received the Presidential Medal of Freedom in 2012.
Glenn resigned from NASA in January 1964. A member of the Democratic Party, Glenn was first elected to the Senate in 1974 and served for 24 years, until January 1999. In 1998, while still a sitting senator, Glenn flew on Space Shuttle Discovery's STS-95 mission, making him, at age 77, the oldest person to fly in space and the only person to fly in both the Mercury and the Space Shuttle programs. Glenn, both the oldest and the last surviving member of the Mercury Seven, died at the age of 95 in 2016.
Korean War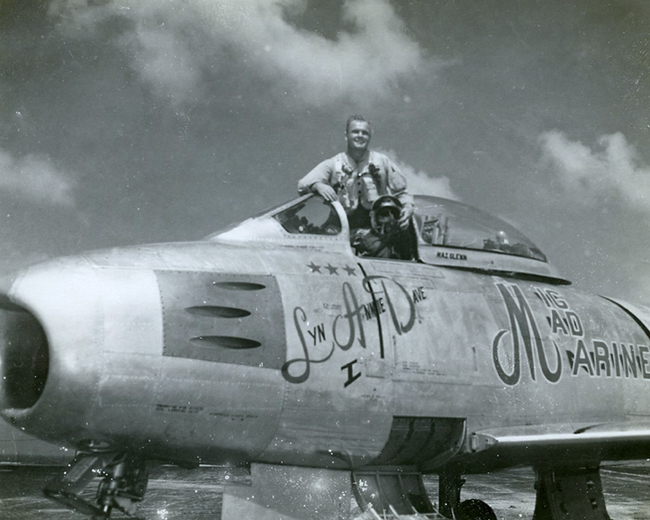 Glenn moved his family back to New Concord during a short period of leave, and after two and a half months of jet training at Cherry Point, was ordered to South Korea in October 1952, late in the Korean War. Before he set out for Korea in February 1953, he applied to fly the F-86 Sabre jet fighter-interceptor through an inter-service exchange position with the U.S. Air Force (USAF). Glenn reported to K-3, an airbase in South Korea, on February 3, 1953, and was assigned to be the operations officer for VMF-311, one of two Marine fighter squadrons there while he waited for the exchange assignment to go through. VMF-311 was equipped with the F9F Panther jet fighter-bomber. Glenn's first mission was a reconnaissance flight on February 26. He flew 63 combat missions in Korea with VMF-311, and was nicknamed "Magnet Ass" because of the number of flak hits he took on low-level close air support missions; twice, he returned to base with over 250 holes in his plane. He flew for a time with Marine reservist Ted Williams (a future Hall of Fame baseball player with the Boston Red Sox) as his wingman. Williams later said about Glenn "Absolutely fearless. The best I ever saw. It was an honor to fly with him."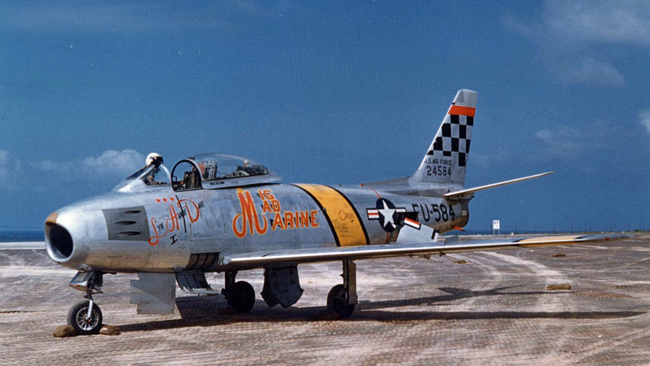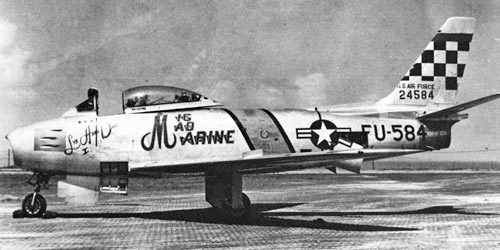 In June 1953, Glenn reported for duty with the USAF's 25th Fighter-Interceptor Squadron, and flew 27 combat missions in the F-86, a much faster aircraft than the F9F Panther, patrolling MiG Alley. Combat with a MiG-15, which was faster and better armed still, was regarded as a rite of passage for a fighter pilot. On the Air Force buses that ferried the pilots out to the airfields before dawn, pilots who had engaged a MiG could sit while those who had not had to stand. Glenn later wrote, "Since the days of the Lafayette Escadrille during World War I, pilots have viewed air-to-air combat as the ultimate test not only of their machines but of their own personal determination and flying skills. I was no exception." He hoped to become the second Marine jet flying ace after John F. Bolt. Glenn's USAF squadron mates painted "MiG Mad Marine" on his aircraft when he complained about there not being any MIGs to shoot at. He shot down his first MiG in a dogfight on July 12, 1953, downed a second one on July 19, and a third on July 22 when four Sabres shot down three MiGs. These were the final air victories of the war, which ended with an armistice five days later. For his service in Korea, Glenn received two more Distinguished Flying Crosses and eight more Air Medals. Glenn also received the Korean Service Medal (with two campaign stars), United Nations Korea Medal, Marine Corps Expeditionary Medal, National Defense Service Medal (with one star), and the Korean War Service Medal.