The English Electric Lightning | Lightning Preservation Group
Lightning Preservation Group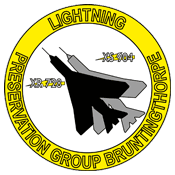 Unbelievably its 21 years since an English Electric Lightning jet fighter screamed over the boundary fence at Bruntingthorpe Airfield. Its fate, to face a cosseted retirement in the hands of a bunch of enthusiasts, who had banded together to form the Lightning Preservation Group (LPG) in the summer of 1987.
For the uninitiated the Lightning was the UK's front line fighter during the Cold War and served the   RAF for almost 30 years. The prototype, known as the English Electric P1, first flight took place on the 4th August 1954, followed by massive development work over the following 6 years; it entered RAF squadron service in 1960. Its role to defend UK airspace from any threat, was carried our without missing a beat, until 1988 when it was finally put out to grass. Just to take a moment reflect, this was the aircraft that stood at constant readiness, twenty four seven, whilst we slept safely in our beds against the threat of a Russian attack; a latter day Spitfire.
And you might well ask "why did the LPG wish to preserve a Lightning?" The answers are many and varied. Firstly it was an all British design and as such is the only "home grown" supersonic aircraft to have served with the RAF. Unique features such as 2 Rolls Royce Avon turbojets, vertically stacked within its slab sided fuselage and wings swept of some 60 degrees giving it an arrow head profile when viewed from above. The aircraft introduced what is known as an "integrated weapons system", where the radar and weapons are linked. Phenomenal performance with a rate of climb of 50,000ft per minute, an operational service ceiling of 60,000 ft (over 11 miles; 88,000ft, 17 miles actually recorded!) and a top speed of mach 2.3 which in motoring parlance converts to 1,500 mph. On retirement from RAF service after 28 years in 1988 there were still very few aircraft that could match the Lightning's performance.
So why retire it? After such a long RAF service life the airframes were stressed, and what is known as "airframe fatigue life" had been used up, the weapons and missile systems, although once state of the art, were now outdated.
During the Summer of 1987 the LPG made enquiries along the lines of "how do we buy a Lightning?". A new experience and not available at Tesco! Well, as in all these things, you quickly learn the ropes and the modus operandi of how you go about it. You have to apply to the Ministry of Defence (MOD) and ask to be registered on their tender system which involves an amount of paperwork (there's a surprise). Thereafter you are sent details of military hardware that you can tender for with sealed bids.
After a viewing day at RAF Binbrook, Lincolnshire, the last home of the Lightning, we sent our bid to the MOD. Being "new kids on the block" we didn't think we stood a chance of obtaining an airframe, as on the viewing day some 30 different groups and museums were present. It therefore came as massive surprise when we were informed that our bid for one of the seven airframes on the tender had been successful. We were now going to be the owners of our own jet fighter.
Naturally we had briefed the Walton family, the owners of Bruntingthorpe airfield, of our plans and they had given our project their blessing. Reality suddenly kicked in and we quickly had to become expert at making such arrangements for air traffic control and the fire service to attend the arrival of the aircraft. So on the 24th June 1988, a fine summer's day, Lightning XR728, made its spectacular arrival at Bruntingthorpe. What a strange feeling to see a supersonic jet fighter fly over a tremendous speed, carry out an unofficial display and a few minutes later, it lands, and ownership is transferred from the MOD to a bunch of civvies!
Initially the engines, two Rolls Royce Avon turbojets were to be recovered, but three days before delivery the RAF offered us the opportunity to keep them; yes please! So now we were into a completely new era with a supersonic jet fighter with engines intact. So we took advice and asked "what's the best way to preserve a Lightning?"; answer: run the engines every 28 days.
And that's what we've been doing for the past 21 years. It's not quite as easy as it sounds as the Lightning's maintenance level in RAF service equated to 20 hours maintenance to 1 hours flying, and that's with highly trained technicians. As with many other museums we are all volunteers without the necessary skills but we adopted a steep learning curve with RAF personnel showing us the complicated ropes. Fortunately our Engineering Manager's day job in industry has provided him with the skills required to deal with our complex machinery. And, until recently, all this has been carried out in the middle of a windswept airfield.
And so we move to chapter two of our story when the Group decide to acquire a second Lightning. After the RAF had stood the aircraft down in 1988 four aircraft went back to their birthplace, Warton Airfield in Lancashire which through the years had English Electric, British Aircraft Corporation and now British Aerospace as its owners. The Panavia Tornado was in production and the Lightnings were to act as high speed targets so the Tornados could test their radars. A wonderful and unexpected stay of execution until 1992 when the programme was completed.
Again we entered the tender system and success repeated itself with our bid being accepted and XS904 made the World's last military flight of a Lightning when it flew from Warton to Bruntingthorpe on the 21st January 1993.
The maintenance headache was now compounded but we have soldiered on and tackled the many and varied tasks to keep both aircraft in fully functional condition – just! Many people ask "will they ever fly again?" The answer is that due to the vast amount money required, the lack of spares, and Civil Aviation Authorities refusal to allow an aircraft, faster than Concorde, to fly on the civil register, the answer is an emphatic no. We do however do the next best thing by travelling down Bruntingthorpe's 2 mile runway at 150mph with both afterburners lit.
The third part of the Lightning story concerns a rare artefact from the Cold War that housed 2 Lightnings at constant readiness against the threat of attack from the Eastern Block. The normal layout of an RAF airfield would mean that at the point of the alert being raised to scramble, an aircraft might have to taxi up to 2 miles from the hangar apron to the runway threshold. Every moment is vital and to avoid this delay 3 front line RAF airfields had purpose built hangars constructed adjacent to the runway threshold.
These buildings, known as Quick Reaction Alert hangars, or shortened in RAF parlance to Q sheds,  were in the vanguard of the RAF's defence of UK airspace , 24 hours a day, 365 days a year. As the threat was from the East these Q sheds were based bordering the North Sea at Leuchars in Scotland, Binbrook in Lincolnshire and Wattisham in Suffolk.
In late 1993 we were made aware that the Wattisham Q shed was to be demolished in order that a new search and rescue hanger could be constructed. We were quickly on the case as the possibility of housing our 2 Lightnings in their purpose built hangar had been a long term dream of the LPG.
The acquisition of the hangar would fulfil 3 objectives: firstly the building is historic and unique in its own right, secondly it provides vital cover for both aircraft and thirdly it serves as a museum of the Cold War period, and the Lightning in particular.
After much begging and presenting our case to the MOD and Trafalgar House Construction, they donated the hangar to the LPG in early 1994. It's a fairly substantial building being 70ft deep, 110ft wide and 30ft high so this "gift" was generous indeed. It took much detailed work to dismantle the structure so it would be it a fit state to rebuild with, for instance, the steel upright footings having to be drilled out of toughened concrete to a depth of 18 inches. Next, we had to hire 5 forty foot trailers to bring all the assorted steel, cladding and folding doors to Bruntingthorpe.
Again our hosts at Bruntingthorpe, the Walton family, fully understood the historic importance of the Q shed and allocated a suitable plot of land for reconstruction. We then applied for planning permission, which thankfully attracted much support nationwide, so this ensured the approval was easier than we anticipated. All very fine until we received reconstruction estimates of around £250k from recognized building companies. This was way out of our reach so the Heritage Lottery Fund was approached as we appeared to tick all the boxes. There is no doubt that we did qualify on all fronts but as a lease wasn't available for the land we were to occupy so we couldn't pursue this route.
A massive fundraising campaign was then planned, the kingpin of the scheme being your name recorded on a "Donors Board" for a minimum £50 donation. Very similar to "buy a brick" with other schemes and it has worked incredibly well with over £100k being raised to date. By careful planning and "begging" the building, as of November 2009, is 85% complete with just the rear of the hangar to finish. We anticipate this should be completed by the year end or early in 2010.
It's been a long but satisfying haul and our 14 members have proved just what amateurs can achieve if they have the determination.
If you wish to view our progress please look at our website www.lightnings.org.uk and link to our message board where you will find the Q shed rebuild story under "update on current project status".
We are in attendance most Saturdays with some 3 public open days per annum so Forum members are always most welcome to visit us.
Just as an aside, in the mid-sixties the Royal Saudi Air Force purchased some 42 Lightnings, that, at the time, was the largest ever export order the UK had ever received. This project continued into the eighties with the Tornado contract and is now current with the Typhoon Eurofighter. The Royal Kuwait Air force also purchased 14 Lightnings.
Richard Norris, Lightning Preservation Group Tel: 01234 378827