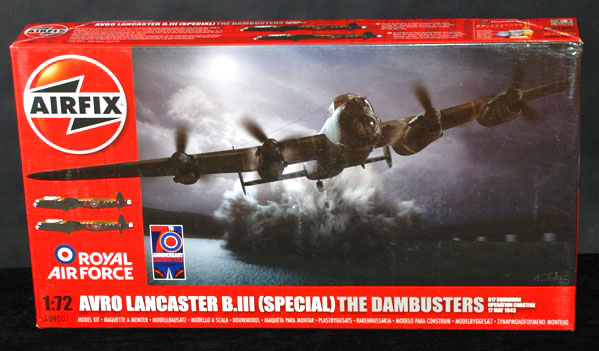 Special Feature Article by Andy Goodwin (May 2013 : 30th Anniversary of the "Dams Raid")
"Operation Chastise" Can Andy Goodwin start and finish his build of the new Airfix Avro Lancaster in 30 days from take off in Build Now to landing in Finished Now?
Here's something to get you in the mood – as if you need any encouragement!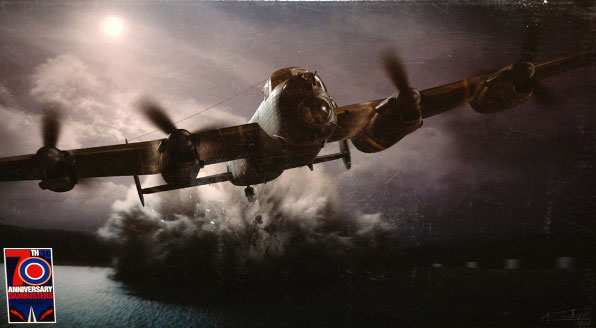 Sneak preview of the Finished model!
First to go
At 9:28pm (local) on Sunday May 16th 1943, a green Aldis lamp flashed from the runway control caravan at RAF Scampton, the famous Cathedral in Lincoln City just 3 miles to the south. The quiet purr of four Rolls Royce Merlin engines grew to a loud roar as RAAF Flight Lieutenant 'Norm' Barlow, DFC, pushed the four big throttle levers fully open. His specially modified Lancaster, ED927, coded AJ-E 'Easy' began to roll down the grass runway, slowly gaining speed before lifting off and becoming the first aircraft of the now famous 617 Sqn to depart for "Operation Chastise".
Barlow was one of those experienced pilots specially selected to join 617 Sqn for this now legendary, but at the time highly secretive, mission to destroy the hydroelectric dams of the Ruhr Valley. He had already completed a tour of 30 missions deep within enemy territory and with six weeks of intensive training in low-level flying, he and his six crew were glad to actually be getting on with the job-in-hand. They could now concentrate and focus on this job, flying at extremely low level to and from the target. Unfortunately, their aircraft struck power lines and they would never reach that target. Flt Lt "Norm" Barlow, age 32, together with his crew of six, died at 11:50pm near Haldern, Germany.
Here I go…
A comprehensive Here Now review has been written about this kit, so feel free to peruse that just to remind yourselves what we've got here. I can tell you that I am impressed with the box contents, and the package as a whole, and I have been itching to build this kit since it was first announced by Airfix. Luckily, I got my foot in the Editors door first this time. First thing was to decide which aircraft I was going to portray. I think that my intro explains why I have decided on "E-Easy".
This build begins on the evening of 25 April 2013 and I have 3 weeks until the 70th anniversary of this daring and costly raid. A lot of great men were lost and it is my aim to present the model to you, finished, on this anniversary date as a tribute to all involved in "Operation Chastise".