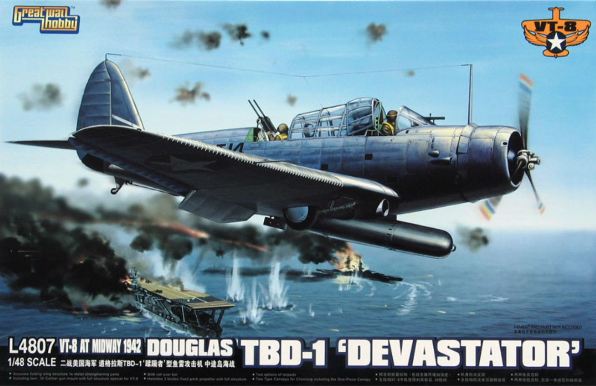 Review by Dave Coward
Our thanks to The Airbrush Company Ltd for supplying our review sample. Get this impressive kit here now at: www.airbrushes.com
Background
The Douglas TBD Devastator was a torpedo bomber of the United States Navy, ordered in 1934, first flying in 1935 and entering service in 1937. At that point, it was the most advanced aircraft flying for the USN and possibly for any navy in the world. However, the fast pace of aircraft development caught up with it, and by the time of the Japanese attack on Pearl Harbour the TBD was already outdated. It performed well in some early battles, but in the Battle of Midway the Devastators launched against the Japanese fleet were almost totally wiped out. The type was immediately withdrawn from front line service, replaced by the Grumman TBF Avenger
References used:
On Target Special: Wings of the Fleet – US Navy & Marine Corps Aviation 1919-1941
The internet
Aftermarket Extras:
Devastator Barclay No 8 Scheme masks by Miracle Masks (See Here Now, Aircraft – Other)
Construction…
This is Great Wall Hobby`s third aircraft kit (if you don`t count the sub variants of the Fw-189 and P-61) and having made the previous two I was interested to see how this kit has developed from the previous. An initial look in the box looked very promising and this review can be found in the Here Now Section along with a review of the paint masks that will be used.
Cockpit… as ever!
As ever we start with the cockpit and it is very nicely detailed straight from the box with PE seat belts and individual instrument decals. The fit of the parts is excellent and the instructions are clear and logical in their sequencing and illustrations. The cockpit can be assembled into 3 sub-assemblies and each can be painted separately before fitting together and then into the fuselage halves. A quick bit of dry fitting showed and excellent fit all round with no `alterations` being required. There is also some PE for the torpedo/bomb aimer hatch and some more for around the rear machine gun housing. The clear parts for the bomb aimer hatch fits very well but do take a good look at the instructions in order to get this positioned properly !! (Hopefully the pictures will also help you).
Painting the interior…
… and cockpit is reasonably straight forward with the use of Gunze Sangyo Interior Green, a dark wash, some dry brushing and the details are picked out using Vallejo paints. Otherwise there is not a lot more to be said here as everything is very straight forward.