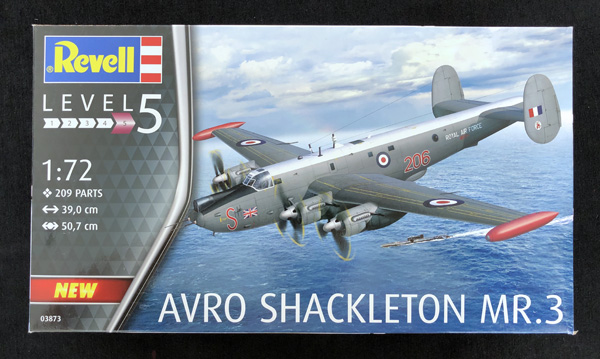 Full Review with Michael Scott
Here Now In-Box Review from Geoff Coughlin
---
A note from Geoff C…
It's great to have this excellent build in from Michael and what a nice job he's made of the Revell kit :)
It's also good to be able to show you a photo right up front of the finished project and so here it is…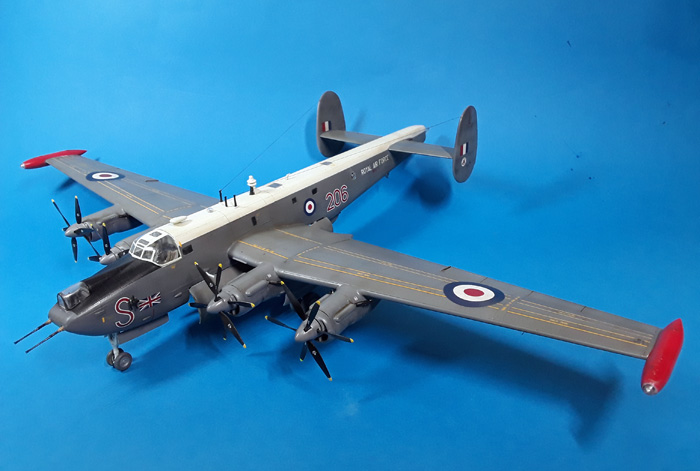 Over to you Michael for your story on this one…
---
Revell Shackleton
In recent times we have been blessed by both Airfix and Revell producing kits of the venerable Shackleton. Airfix with boxing of the AEW2 and MR2. Revell with their boxing of the AEW2. Now in their latest release we have the nose wheel MR3 from Revell.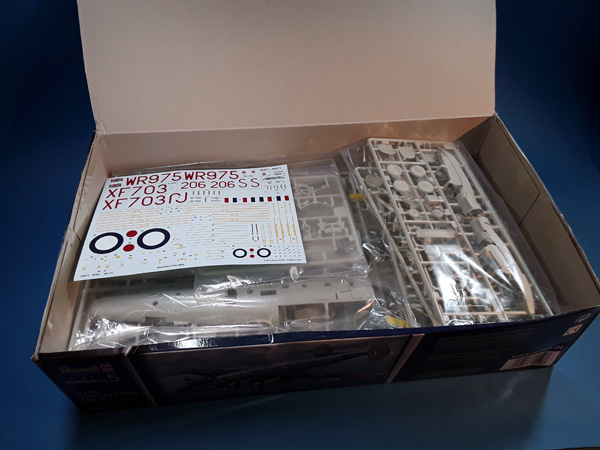 After completing his review of the kit, Geoff has very kindly asked me to build it. A task I am embarking on with relish. I am not going to linger too long on the box and contents as this is very well covered in Geoff's excellent review.
The kit comes in a strong, glossy, side opening box (please not a side opening box!!!). I find that once the sprues are out of the plastic bags the chances of losing parts in a side opening box are much increased. As with any Revell kit I build, I end up taping up the side flaps and cutting a lid in the box top. The box art is lovely and there is also a photo of the completed model.
On removing the contents, you find the parts are moulded in crisp, light grey plastic. There is flash on the sprues, several sink marks on the wings and the rivet detail fades slightly on the fuselage join. The clear parts are rather thick and not overly clear, more reminiscent of a 30-year-old kit than a recent release.
Instructions are in the new style A4 booklet. The kit includes decals for two options. One from 206 Squadron RAF Kinloss, Scotland 1965 and the Second from 42 Squadron RAF St St Mawgan Cornwall 1970. As I plan to build this model OOB I have decided to build the aircraft from. RAF Lossiemouth. My reasons for this choice are the red wing tip tanks that add a bit of colour and because I won't have to paint all those prop blade tips red, white, red!