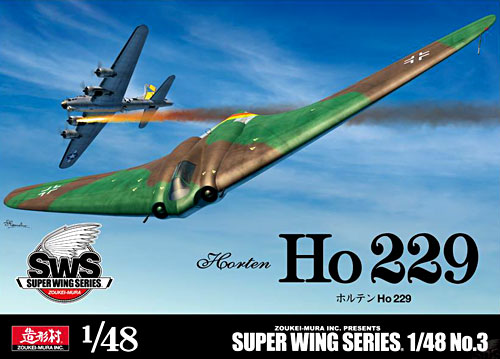 Full review by Dave Coward
Background
The Horten H.IX, RLM designation Ho 229 was a German prototype fighter/bomber initially designed by Reimar and Walter Horten to be built by Gothaer Waggonfabrik late in World War II. It was the first flying wing to be powered by jet engines.
The design was a response to Hermann Göring's call for light bomber designs capable of meeting the "3×1000" requirement; namely to carry 1,000 kilograms (2,200 lb) of bombs a distance of 1,000 kilometres (620 mi) with a speed of 1,000 kilometres per hour (620 mph). Only jets could provide the speed, but these were extremely fuel-hungry, so considerable effort had to be made to meet the range requirement. Based on a flying wing, the Ho 229 lacked all extraneous control surfaces to lower drag. It was the only design to come even close to the 3×1000 requirements and received Göring's approval. Its ceiling was 15,000 metres (49,000 ft).
The only surviving Ho 229 airframe, the V3—and indeed, the only surviving World War II-era German jet prototype still in existence—has been, until very recently, at the Smithsonian National Air and Space Museum's Paul E. Garber Restoration Facility in Suitland, Maryland, USA. In December 2011, the National Air and Space Museum had moved the Ho 229 into the active restoration area of the Garber Restoration Facility, and it is currently being reviewed for full restoration and display. The central section of the V3 prototype was meant to be moved to the Smithsonian NASM's Steven F. Udvar-Hazy Center in late 2012 to commence a detailed examination of it before starting any serious conservation/restoration efforts and has been cleared for the move to the Udvar-Hazy facility's restoration shops as of summer 2014.
Aftermarket Extras:
Eduard fabric Luftwaffe WWII fighter seatbelts
OWL Radar Aerials FuG 220 SN-2c/d for Junkers Ju 88G DN
Construction
Read a full in depth review of the Zoukei-Mura Horten Ho 229 1:48 model from the box in Here Now.
ZM initially produced a 1:32nd version of this kit and this has been fully reviewed in SMN with it's in-box review in Here Now, plus a full-build article by Aaron Scott in the Zoukei-Mura pages in Finished Now.
I have the unbuilt 1:32nd kit and a quick comparison of the contents of the boxes shows a very similar make up of parts and with the build of the 1:32nd kit being very positive it would be interesting to see how this smaller scale version compares – so on with the build.
The kit builds up very similar to the 1:32nd version in that it has a scale internal framework that is covered with an outer transparent plastic shell. I do find this a little gimmicky and it does have its issues which I will go into later. But first let's get on with the internal framework.