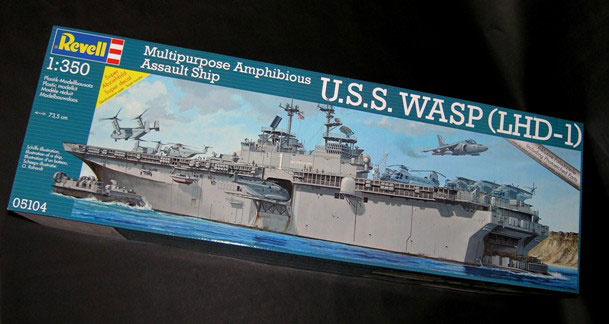 Kit Ref: 05104
Short feature article by Lou Carabott
A note from Geoff…
Now this isn't a case of déjà vu, oh no, but you may have seen that when we started SMN Revell sent us the original release of this kit and Gareth did a good job giving us an insight into the kit, what was included and then a build – you can see that here in Finished Now. Here's a photo of Gareth's completed model.
You can see the Here Now box review on USS Wasp, and also my Here Now review of subsequent release of the USS Iwo Jima.

Before we get going…
Lou has completed some stunning maritime modelling projects over the years and I am truly proud that he has agreed to share some of his insights into how he has created them here in SMN.
This build comes hot on the heels of his extraordinary work building and adapting/correcting and adding plenty of photo-etch to his Tamiya USS Enterprise CVN-65 in 1:350 scale. That too you can find in Finished Now, but don't forget to come back, you'll get sucked into that build for sure!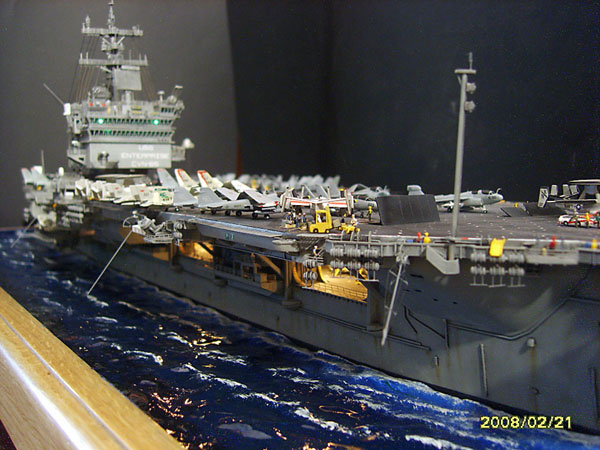 About this USS Wasp build
This isn't going to be a full blow-by-blow account of the whole build, we didn't all have the luxury of planning that far ahead, rather it is a brief overview by Lou C. where he highlights the main work and points out areas that he thinks you'll find interesting. This build is designed to go over only about 3 parts at most, so you'll soon be able to see the full story and how Lou achieved such a great outcome.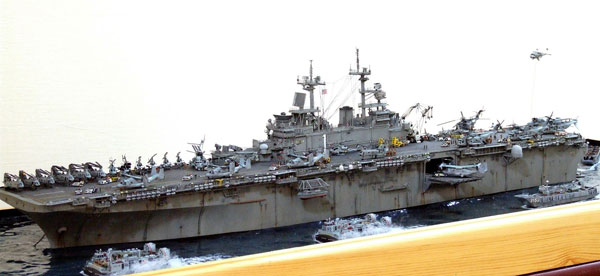 ZOOM - Move your mouse over image
Here are 4 more photos of Lou's completed USS Wasp LHD-1…