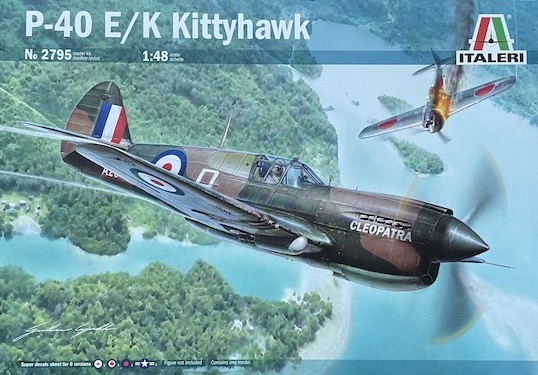 Short Feature Article with Geoff Coughlin
P-40 Kittyhawk Mk.III, No.112 Squadron RAF, Nutella (Italy) 1944
Just before we get started, here's a quick look at how it all turned out…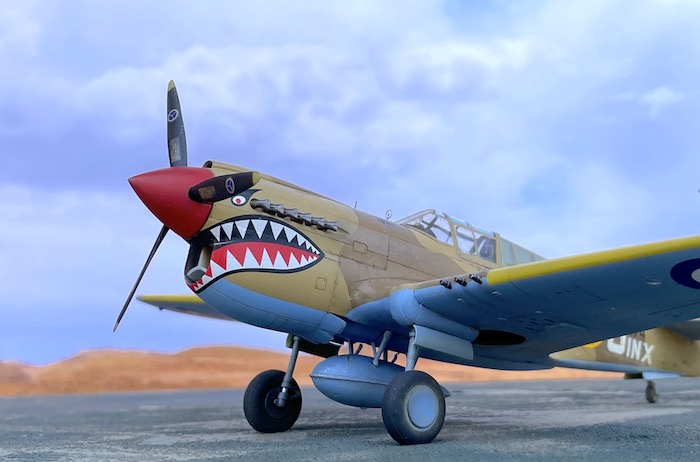 This is a very short build article to share a build I did for a friend of mine and one of his many recent projects and so is much shorter in words and has no videos. I love the subject as it always reminds me of the Airfix 1:72 kit I built at least twice when I was a kid and it brought such joy. That old Airfix kit will feature as an SMN Classic Kit Build when I can slot it in, so watch this space!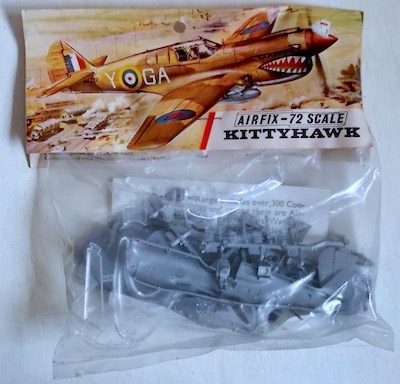 No. 112 Squadron was a squadron of the Royal Air Force. It served in both the First World War and Second World War and was active for three periods during the Cold War. It is nicknamed "The Shark Squadron", an allusion to the fact that it was the first unit from any Allied air force to use the famous "shark mouth" logo on Curtiss P-40s.

(Photo: 1943. A Curtiss P-40/Kittyhawk Mark III of No. 112 Squadron, Royal Air Force taxiing through the scrub at Medenine, Tunisia. The ground crewman on the wing is directing the pilot, whose view ahead is hindered by the aircraft's nose.
During July 1941, the squadron was one of the first in the world to become operational with the Curtiss Tomahawk, which it used as a fighter and fighter-bomber. Inspired by the unusually large air inlet on the P-40, the squadron copied the "shark's mouth" logo painted on some German Messerschmitt Bf 110s of Zerstörergeschwader 76 earlier in the war. (This practice was later followed by P-40 units in other parts of the world, including the Flying Tigers, American volunteers serving with the Chinese Air Force.) In December, the Tomahawks were replaced by the improved P-40 Kittyhawk, which the squadron used for the remainder of its time with the Desert Air Force, often as a fighter bomber.
The squadron was the first Allied unit to use the "shark mouth" marking on the P-40, in mid-1941).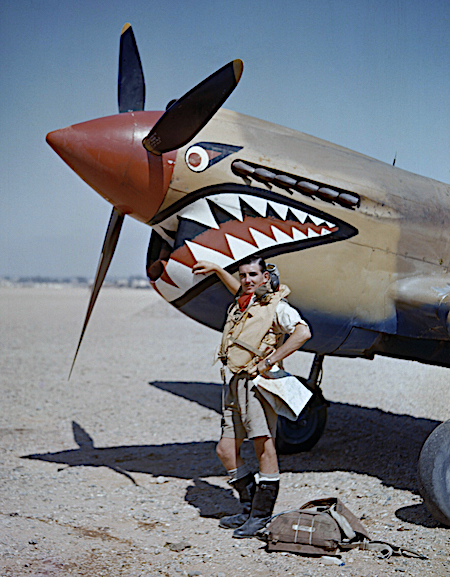 (Photo: Flight Lieutenant A R Costello of No. 112 Squadron RAF standing by the nose of his Curtiss Kittyhawk Mark IA at Sidi Heneish, Egypt).