Here's a quick guide to my approach…
Use a new scalpel blade to cut the stitching from the etched fret. Cutting onto a firm cutting mat will avoid the length ending up misshapen. Remove a length
Offering up the lengths to their intended locations will show you that SW has erred on the side of caution and made most sections slightly long. This is useful as I used the extra to hold the length with tweezers while applying the cyano
I found it better and easier to apply the cyano to the PE, rather than the model and applying the glue by rolling a cocktail stick (with the cyano on it) lightly along the length of one side of the stitching
Gently locate the length in position on the model, using the back of the tweezers to gently press down and secure.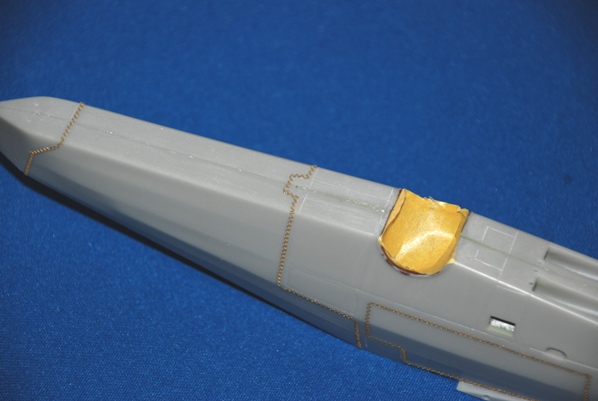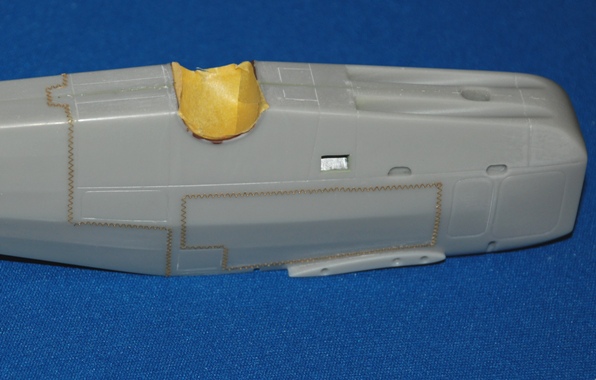 Here you can see a couple of images showing the PE stitching progressively going on and, eventually it's done.
Tailplanes and lower wings
Having applied all that stitching the danger now of course is that you can easily pull it off if you're not very careful. The risk is reduced if you used thin cyano to join the PE but I also wanted to check that all the prep work had been good and so it's out with the primer.
The original intention was to use Alclad grey primer but that had just run out so it is out with the Tamiya medium grey acrylic paint and on that went, but only after I had added a few more parts to the fuselage so that at least the model is beginning to look like the real thing! Not sure if it does yet, but it soon will as this project takes centre stage on my workbench until it's completed.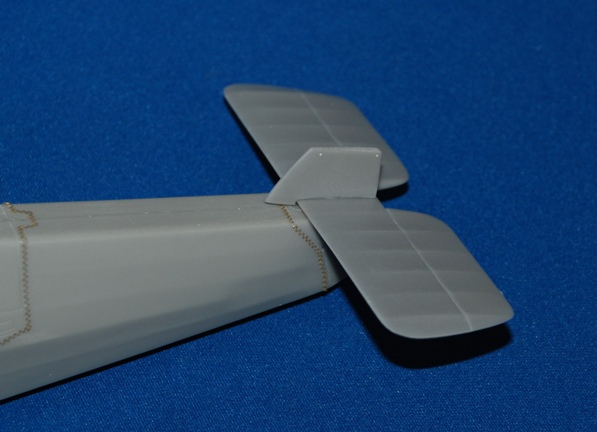 The tailplane does seem to sit at an odd angle and it seems equally odd that the fin leading edge doesn't come down to join the fuselage top at the front edge. I guess that there was some reason for this in the design of the type but it's a bit disconcerting when you make the model. There are three small holes on the top of the rear fuselage into which the tailplane locates and during the build to date one of the small resin locating pins had dropped off and the holes didn't seem to be quite big enough.