Main painting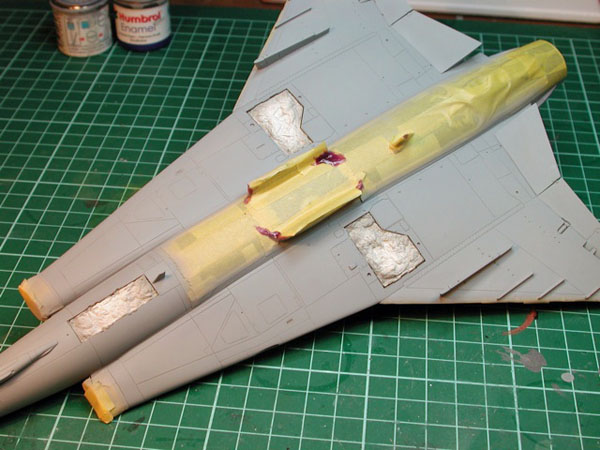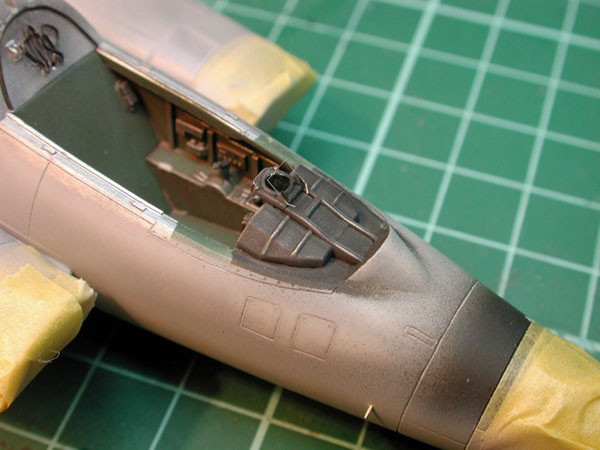 With the under surfaces dry, it's time to finish up the cockpit so it can be masked up. The HUD has been fashioned from clear acetate film (discard the kit part, it's way too thick). The shroud has also received a light dry brush to bring out the detail.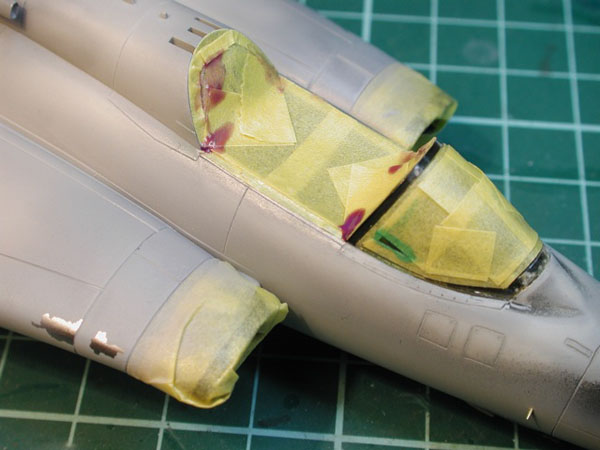 The windshield has been glued in place (using thin Super Glue) and masked. The cockpit tub has also been masked. I'm a bit worried about the paint chipping evident on the engine intake. This may cause me some grief when I mask up for the upper coats. Time will tell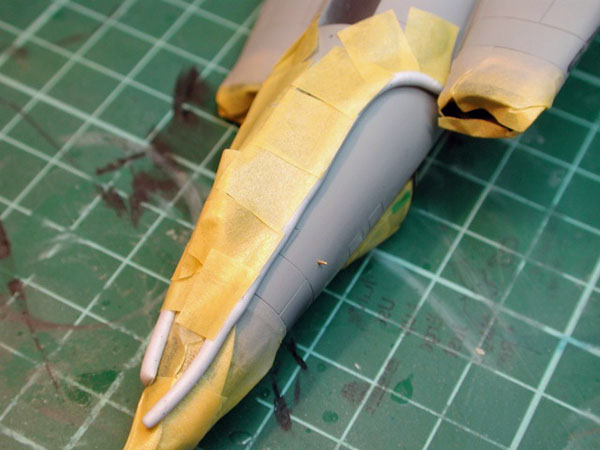 With the lower grey dry, it's time to mask up for painting the upper surfaces. Here I am masking the curved demarcation line on the nose section (just below the cockpit). Snakes of Blu-Tack have been used, with backfill of Tamiya tape.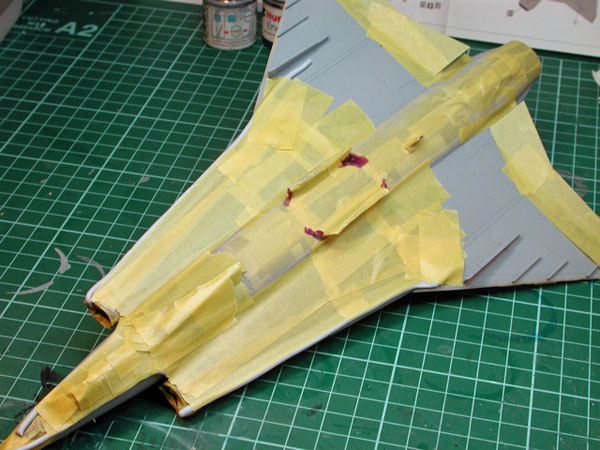 The lower masking is complete. Extra tape has been used in the forward fuselage area as I will need to bring the airbrush lower on the sides as the camo wraps over the leading edge and partially underneath.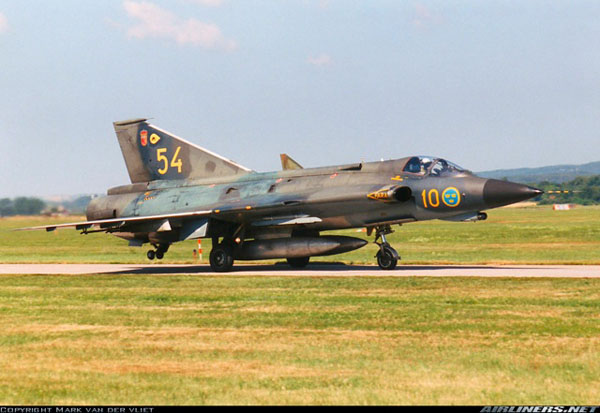 When looking for reference material for my build, I came across several photos of Drakens. This photo was one I liked as it showed a weary Draken with faded paint, visible repairs and generally looking run down. The colours used when painting my model would be based on this photo, rather than the Hasegawa instructions.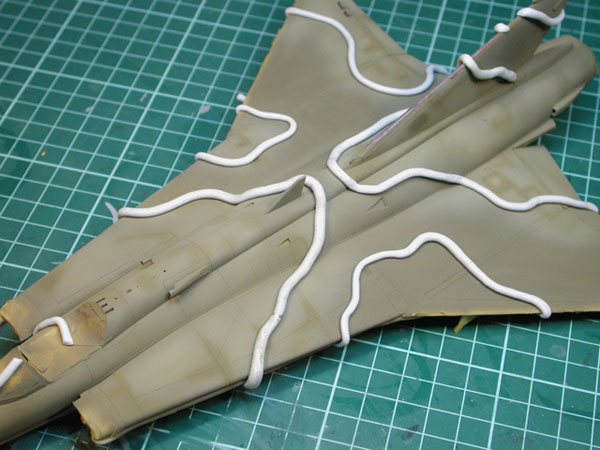 First coat was Humbrol H155 (Olive Drab). Once this was dry, it was time to mask the demarcations for the second camo color. You may notice that I have done some preliminary fading of the paint using a lightened (heavily thinned) mixture.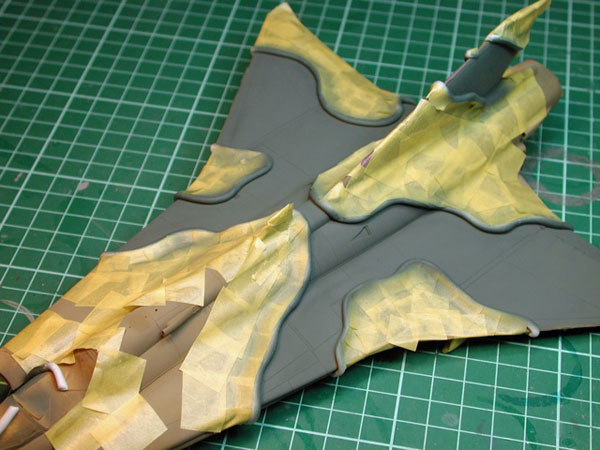 The second camo colour has been applied. This is a custom blend of roughly these proportions. H30 (Dark Green) Two Parts + H25 (Blue) One Part On reflection, I probably would have added more blue (and possibly darker), say H15 (Midnight Blue).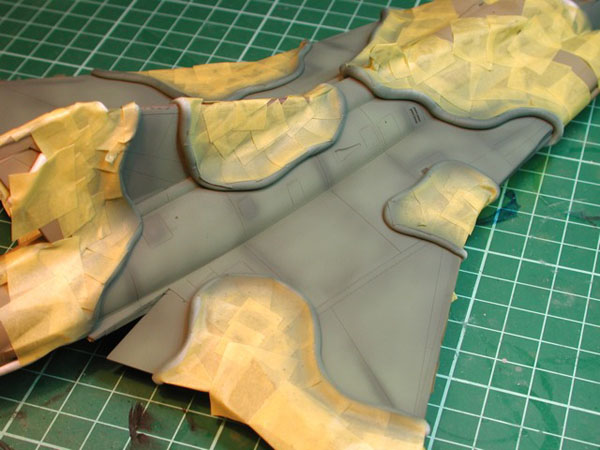 As with the first colour, I have done some initial fading of the paint.
With the masking removed, I went back to my references and decided to increase the intensity of the weathering. Right now it looks overdone, but I believe that when I apply the decals and panel line wash and oil wash, the fading should look about right (fingers crossed).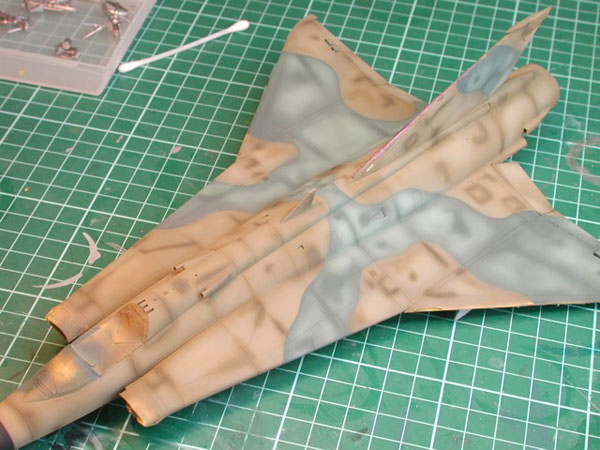 The masking has also been removed from the lower surfaces. The Alclad metal paints really do look fantastic.