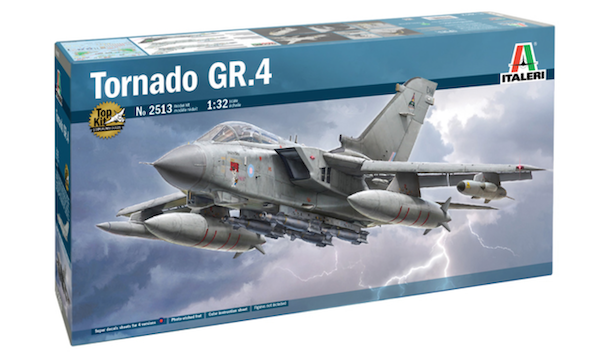 Full Review with Dave Coward
Kit ref: 2513
Background
Being designed for low-level operations, the Tornado required modification to perform in medium level operations that the RAF adopted in the 1990s. The RAF's GR1 fleet was extensively re-manufactured as Tornado GR4s. Upgrades on Tornado GR4s included a Forward looking infrared, a wide-angle HUD (Head-up display), improved cockpit displays, NVG (Night vision devices) capabilities, new avionics, and a Global Positioning System receiver. The upgrade eased the integration of new weapons and sensors which were purchased in parallel, including the Storm Shadow cruise missile, the Brimstone anti-tank missile, Paveway III laser-guided bombs and the RAPTOR reconnaissance pod. The first flight of a Tornado GR4 was on 4 April 1997. The RAF accepted its first delivery on 31 October 1997 and deliveries were completed in 2003. In 2005, the RSAF opted to have their Tornado IDSs undergo a series of upgrades to become equivalent to the RAF's GR4 configuration. On 21 December 2007 BAE signed a £210m contract for CUSP, the Capability Upgrade Strategy (Pilot). This project would see RAF GR4/4A improved in two phases, starting with the integration of the Paveway IV bomb and a communications upgrade, followed by a new tactical datalink in Phase B.
References used:
Basically, I used the internet a lot to find pictures of the subject I wanted to model. I'm also very fortunate that I work at a place that has a Tornado as a Gate Guard that I go past most days so I could stop and check anything and take photographs as required.
There's also an extensive inside and out walkaround for the Tornado GR.4 in your SMN Photo Reference Library.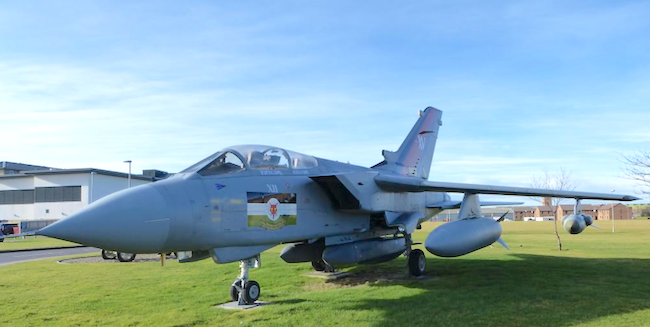 The Tornado Sig webpage is also a good source of Info:
https://www.tornadosig.com
Aftermarket Extras:
eduard ED32981 Interior PE
eduard ED32275 Seat Belts
eduard 3DL32001 3D Decals
eduard 632171 Resin Wheels
eduard EDJX270 IT Face Interior / Exterior Mask
Master MR32-033 Brass Pitot Tube & AOA Probes
Aires (Quickboost) Ejection Seats 2131 MB Mk10 Resin Ejection Seats
eduard ED632126 Litening Pod.
The Decal Options
The first thing I needed to do was to work out which subject I was going to do as the kit has four options of which the last one had some subtly different configurations to it. The first three are earlier GR4's with the earlier antenna configuration and the last one is a late GR.4 with the TCAS (Terrain and Collision Avoidance System) fitted along with the TARDIS (Tornado Advanced Radar Display & Information System).
Chris Evans has done a really nice earlier non-TARDIS / TCAS version that I recommend having a look at for another perspective on this kit.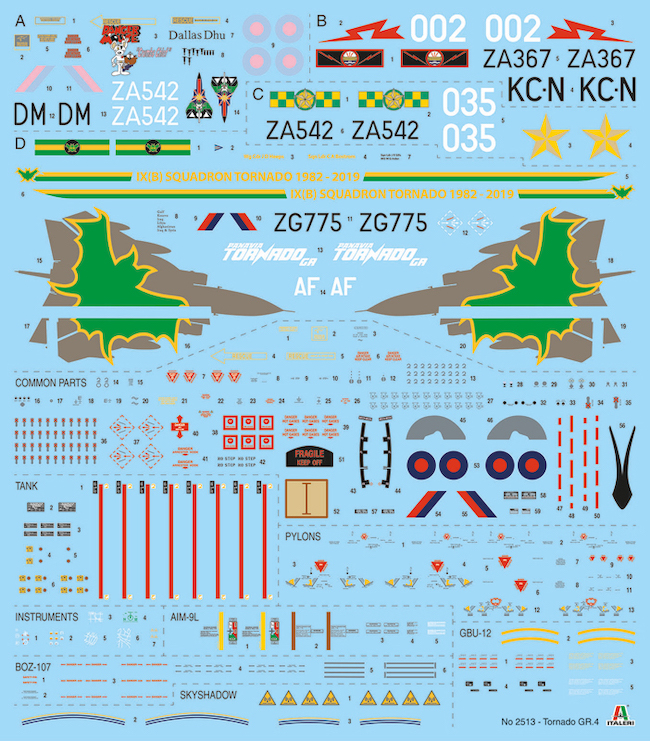 I did really like the idea of the Late IX (B) Sqn aircraft with the commemorative tail and it would go nicely with my 9 Sqn 1:32 Lancaster as a display of new and old. The decals themselves are printed by Cartograf and their colour density, registration and detail is excellent. Additionally, there were some really good reference pictures of this aircraft at this website.
https://www.dynamicvectors.co.uk/photography/farewell-to-a-legend
Here's a picture of my finished model just to give you an idea of what it looks like.