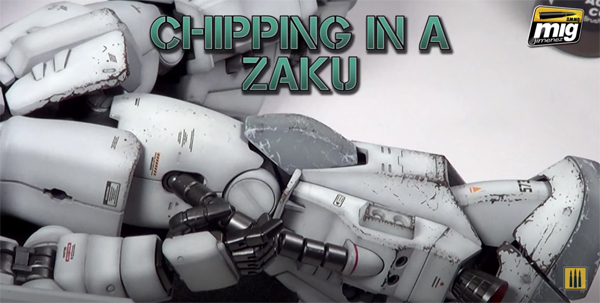 Chips and Scratches
with Mig Jimenez


---
A note from Geoff C…
If you are able to create realistic chipping and scratches to your models, it can make the world of difference and transform a model that might look almost toy-like into a piece that has action and realism all over it!
In this video that follows, Mig shows exactly how to apply realistic chipping effects that you can apply to any type of modelling project. Here he shows you how to do it on a Zaku figure and of course you can equally apply this approach to any subject you like – armour, aircraft, vehicles, other Sci-Fi etc etc.
The complete weathering process for any subject has several laters and stages and so this video focuses on the chipping element – see many other entries in your Son Techniques Bank for more on all aspects of weathering and finishing your models.
Over to you Mig…
---
VIDEO DEMO
---
See the links below for more on chipping and the products that I am using…
Mig J.
ONLINE SHOP: http://www.migjimenez.com/en/
A.MIG-044 CHIPPING
A.MIG-203 FS 36375 LIGHT COMPASS GHOST GRAY