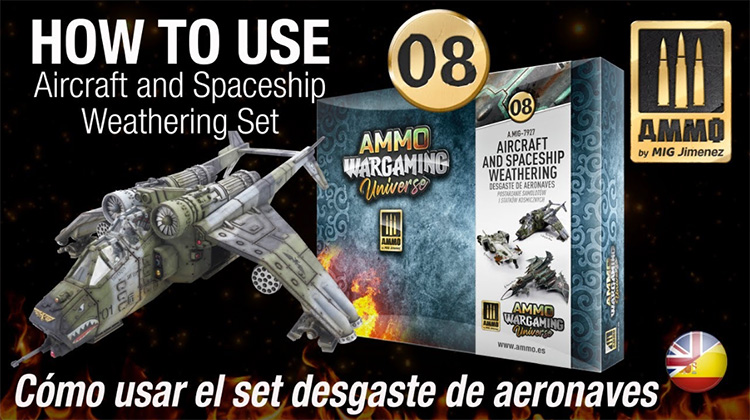 With Javier López de Anca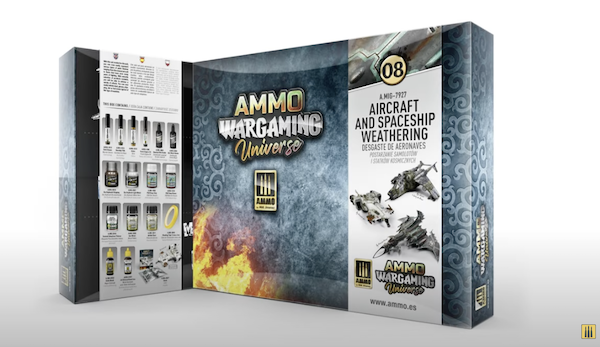 Info from AMMO
Weathering is a fun way to add an interesting backstory to your wargaming aircraft, with a wide range of possibilities from details on the panels, to the most intense effects of paint chipping and scratches. The new Aircraft and Spaceship Weathering set, exclusively from AMMO Wargaming Universe, includes everything you need to easily create a series of realistic effects on all types of military aircraft subjects.
In today's video, Javier López de Anca shows you how to use this new and versatile set with a detailed step by step tutorial where you will find some of the weathering effects that can be applied using an Astra Militarum Valkyrie from the Warhammer 40,000 universe as an example. You will be able to see how to apply enamel washes, chipping effects, splashes, oil stains and much more. Each of the techniques shown can be applied to combat aircraft of any subject or army in any scale, adding endless possibilities. We hope this video will help you in your next wargaming projects.
Get your AMMO Aircraft and Spaceship Weathering set here: https://bit.ly/3ZyADa8
If you have any questions about the content of this video, we invite you join our Facebook group, which can be found here: https://bit.ly/3ymlJqx. Where you can share your questions with a large community of modellers from around the world!
---
VIDEO DEMO