Weathering aircraft
with Aaron Scott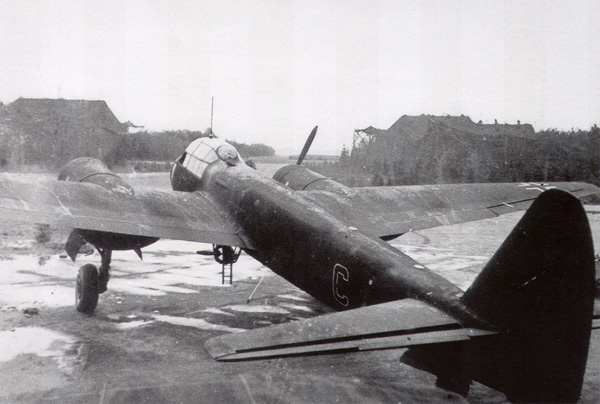 A note from Geoff C…
Inevitably photographs of models are hardly ever as good as viewing the real model, despite our best efforts ;-I We do all work really hard at the Mag though to bring you the best quality we can :)
Ok, that said… when I saw Aaron's 1:32 scale Revell Junkers Ju88C-2 in the flesh I was blown away – really stunning scale modelling. The main thing that, for me, had the wow-factor is the subtle, yet highly realistic hard weathering he has managed to achieve. You can clearly see the depth to the finish – much like the weathering effects on the real aircraft would have evolved.
He readily agreed to offer his approach so that others may benefit and have a go – so here you are and thanks Aaron again for sharing another great technique. For sure, this isn't a 'new' technique but it is definitely one that can be used whenever you are looking for a more worn, weathered effect on your finished model – whether it be a Junkers Ju88C-2 or a Star Wars Speeder Bike!
So, how do you do it?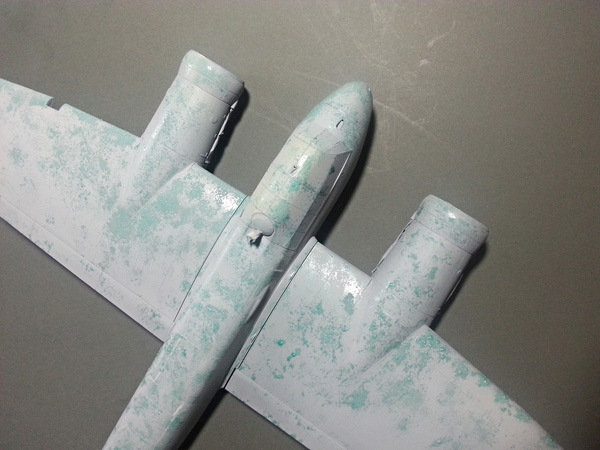 Before we get to the salt bit, some preparation to do first. You can change the base colour depending on your subject, but it's good to prime your model as it creates a great base for your paint.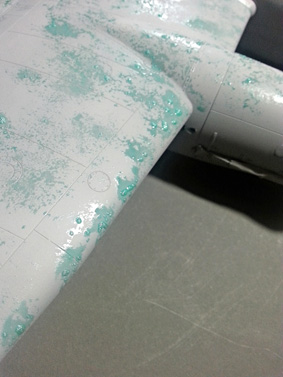 Over to you Aaron…
First off the Halfords grey plastic primer was given a smooth with an old polishing pad. (you can also use Micromesh polishing pads or soft nail buffers – the light grey soft side). This mid grey is an ideal place to start. I then took some masking fluid (AMMO of Mig Jimenez and also AK Interactive supply it) and several bits of torn sponge and dabbed around areas of wear and bleaching.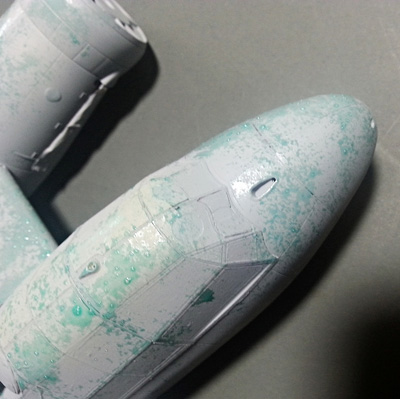 I then took RLM66 and sprayed it over the top. Then the masking fluid was removed (harder than I thought it would be) with various toothpicks and sanding sponges used to remove the masking to leave a nice starting texture…