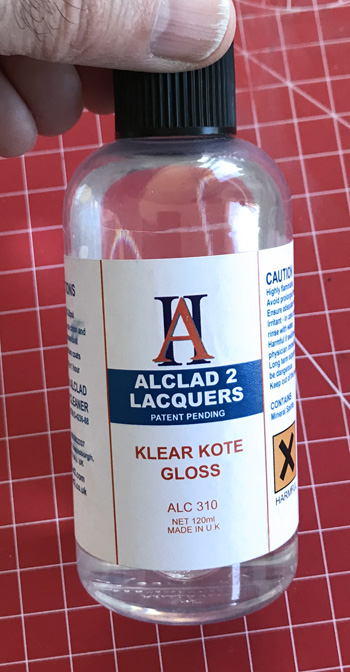 Airbrushing – Metallic Finishes
with Geoff Coughlin


Spraying Alclad2
There's a complete how-to for spraying Alclad2 metallic lacquer paints in your SMN Techniques Bank under Model Painting and Airbrushing (Airbrushing – Metallic Finishes).
But what about spraying Alclad2 varnishes?
That's what this entry is about and specifically how to spray Alclad2 clear varnishes over Alclad2 metallic lacquer paint finishes.
There are of course many other options for spraying Alclad2 clear varnishes over other paint finishes and we'll look to cover some of these elsewhere in your SMN Techniques Bank over the coming months.
Target project: Hobby Boss J-29B Tunnan, Swedish Air Force.
Here are a couple of photos of my completed project so you can see how effective the combination of Alclad2 metallic base, lacquer (paint) and top coat of Klear Semi-Matte varnish.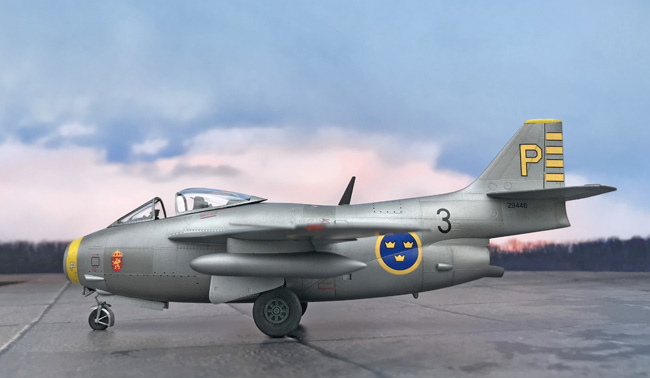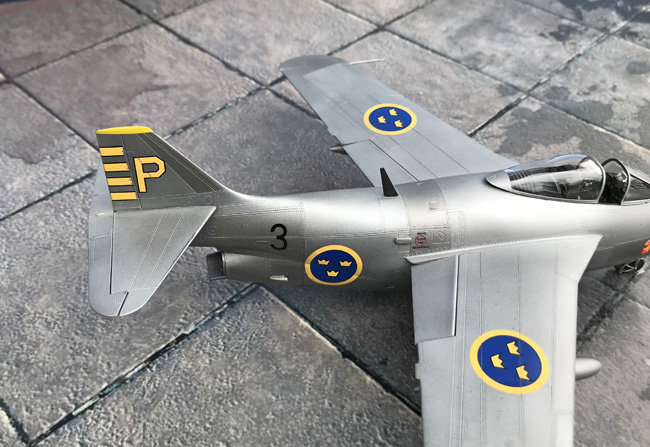 What follows are 3 videos taken from the huge 'Video Build' for the Tunnan full build project that you can find in Aircraft-Finished Now (HobbyBoss pages). There are in fact 37 HD video demos covering that whole build and it is well worth a look for seeing all the other stages of the build.
The model has been primed with Alclad2 Gloss Black Base and the metallic finish is Alclad2 Dull Aluminium (ALC-117)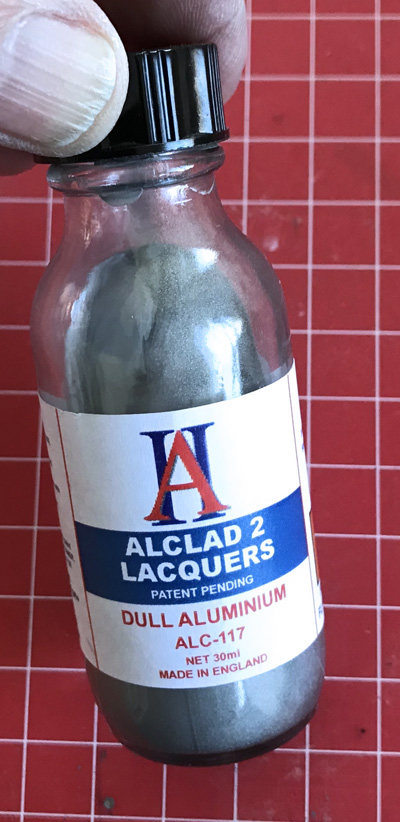 There are a number of Alclad2 clear varnishes ranging as you would expect from gloss to flat and so it's worth taking a look at the Alclad2 website when you get a moment – the range of products is vast!
My opinion is that Alclad2 offers the best range and quality metallic paint range out there and is my default-to range every time.
Problems with applying a clear varnish over metallic finishes…
The fact is, that should you apply just about any other varnish (other than Alclad2 clear varnishes) over just about any metallic finish, it's likely to kill all the subtle tonal effects of the metallic paint. Obviously this is not good :(
This is why we'll be covering much more on varnishes and what works best with what and I have to tell you right up front that one of the simplest solutions is to try and stick to the manufacturer's own products. Inevitably there are choices here and I have and do deviate from this rule of thumb from time to time but that's for another entry in SMN.
Problem solved!
Back to Alclad2 metallics – they have been specially formulated to work well with the Alclad2 clear varnishes and the great thing is that with careful use, the metallic effects that you have created will shine through even when over-sprayed with their clear varnishes.
So how do they work and how do you use them?
For me, this is well illustrated in the following videos that come from the Target Build above, my HobbyBoss Saab J-29B Tunnan in 1:48.
It starts with good prep and application of the Alclad2 metallic lacquer over their gloss black or grey primer (see separate entries in your SMN TB for that). By the time I get to the decal stage, the metallic lacquer (paint) is smooth enough to usually take the decals without the need to apply a gloss varnish. So, you see, the clear varnish is really just for (or primarily for) getting the decals to look painted-on.
The metallic lacquer creates pretty much the effect I'm after and it's all about making the sure the decals look like painted on markings. The tell tale sign of the decal of course is usually that it has a shinier look to the surrounding metal and looks like just what it is – a decal! That's what we need to change – we need to blend in any visible carrier film and seal that in before finally applying by usually lightly spraying (misting) on the final clear varnish such as matte, satin, or gloss or any of the other variations in the Alclad2 range.
Here are some of the clear varnish products available in the Alclad2 product range: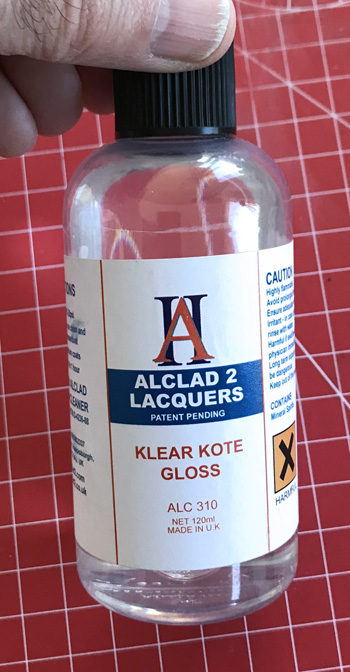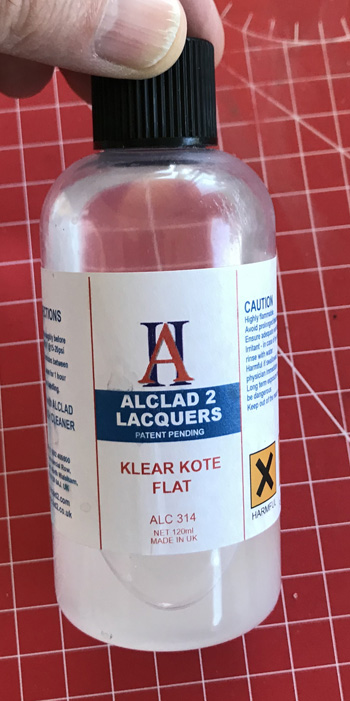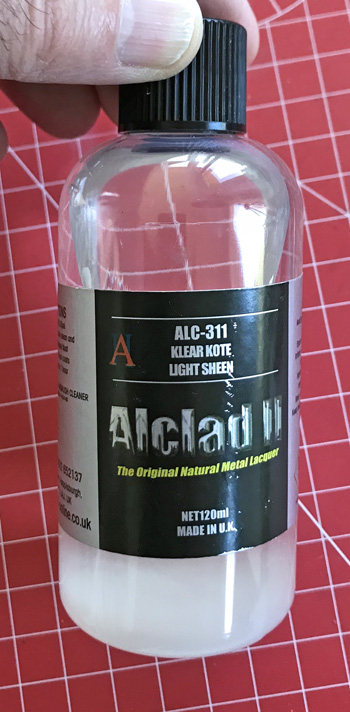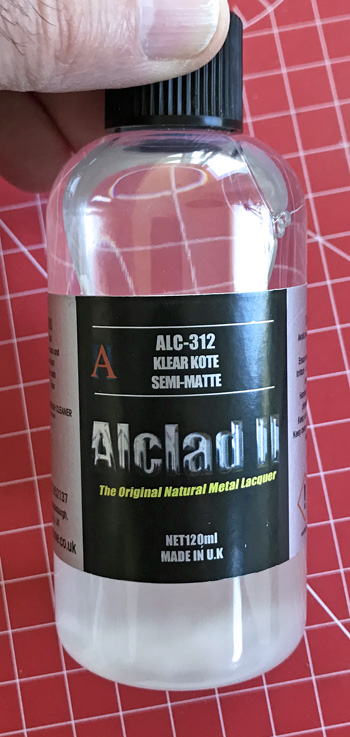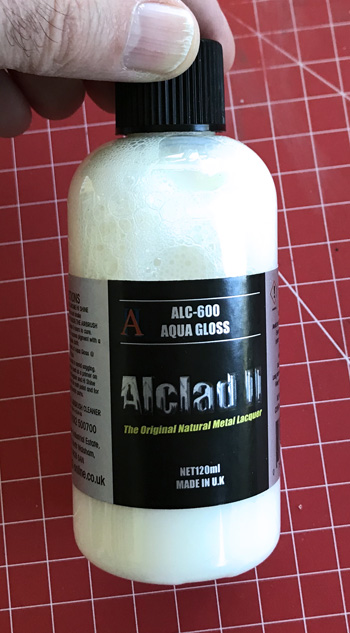 Now take a look at the following videos and this should show you how I work through the above steps – any questions at all, just drop me an e-mail and I'll be happy to help.
VIDEO DEMOS
---
---
---
---
Here are a couple of other projects where I have used the combination of Alclad2 metallic lacquers and their clear varnish.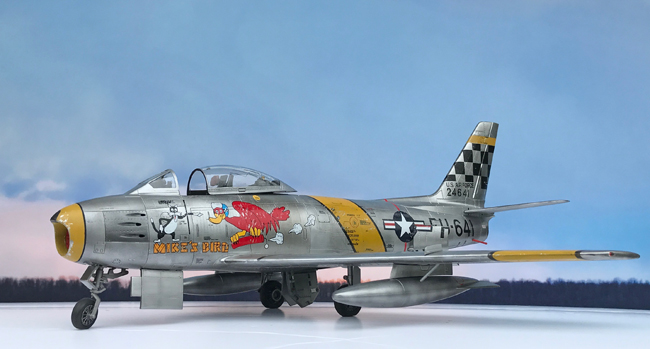 (Photo: Kinetic F-86 Sabre in 1:32)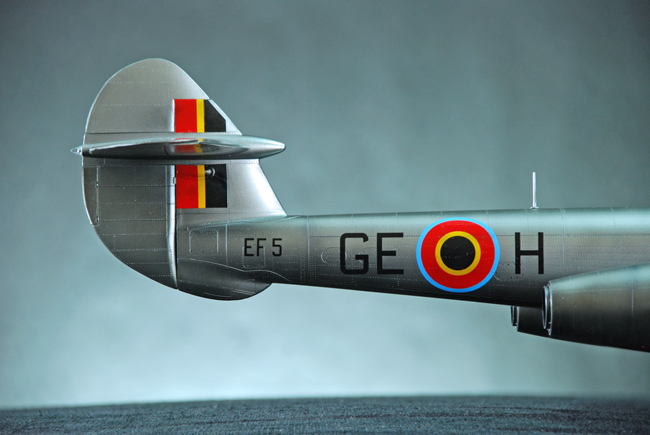 (Photo: Hong Kong Models Gloster Meteor F.4)
Both of the above are full build articles in Aircraft Finished-Now, just click on the manufacturer link for each to get to the usual pages that have all our completed builds for each manufacturer.
Just before I go…
You can of course just use Alclad2 clear varnishes to create different reflective areas and panels on your model, whatever your subject. A lower psi pressure in your compressor, say, 12-15psi can help control where your varnish goes, especially when you come in closer to about 3-5cm (2 – 2.5ins) from your model. Be careful to spray lightly and not too 'wet' (heavy) and keep your airbrush on the move to avoid pooling (excessive build up of varnish in one place).

Until next time…
Geoff C.