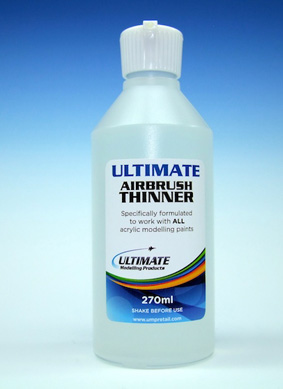 Reference number: UMP002
Review by Bill Curtis (December 2014)
Price around £5.99 GBP (at time of review)
Our thanks to Ultimate Modelling Products for supplying our samples although this bottle is courtesy of Bill C – thanks Bill! Get this astonishing thinner here
A note from Geoff…
Thanks to Ultimate we now have a great selection of their products and we'll be reviewing them over the weeks here, in Here Now – Tools and then of course as we use them in the builds you'll see here in Build Now and Finished Now. In the meantime and to be honest, at any time, check out the Ultimate Modelling Products page here in SMN for an insight into what's on offer, plus links direct to their website where you can buy everything – I recommend a visit very soon! Geoff
Over to you Bill…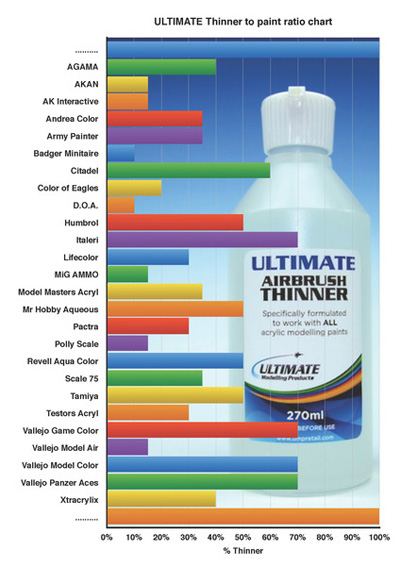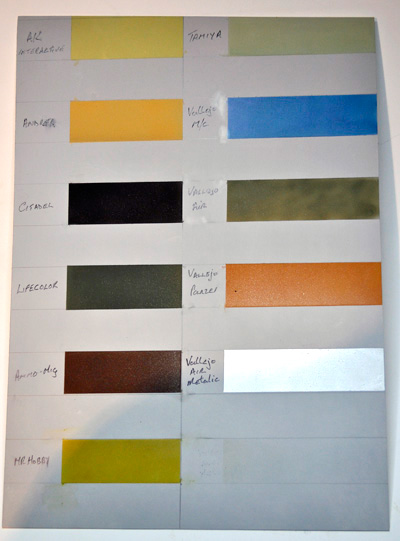 Initial assessment…
I read about this product on the internet and being a doubting Thomas thought the claims for this thinner were too good to be true. How could a single thinner actually work with the likes of Lifecolor, Tamiya and Andrea / AK / Mig?
Well, I decided to send for some and try it out and collected one of each type of paint I am currently using with the addition of a metallic. I masked off a sheet of white plastic card which had been sprayed with Mr Surfacer 1200.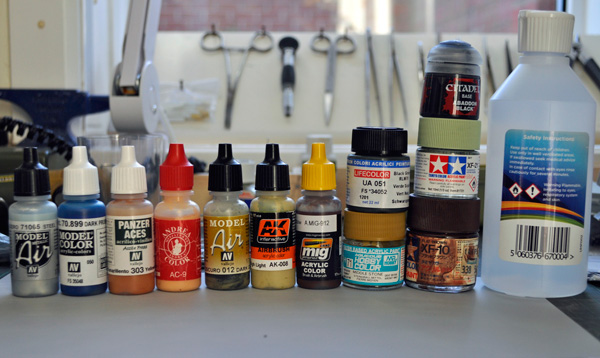 I started with Tamiya mixing the appropriate amount of thinner (see chart above) and sprayed it onto the sheet – a smooth flow was achieved at about 15 to 18 psi.
Next came the Lifecolor and again thinned with about 30% thinner mixed and poured into the airbrush and the result was the same as the first paint.
This was followed by the other acrylic paints and all came out with a nice spray and I played with the pressure and % of the thinner and found that as with all thinner if you put in too much it tends to run but there is some leeway with the percentage mix.
Lastly came the metallic paint which I find normally a little difficult with acrylics as the pigment is somewhat grainy but this thinner worked exceptionally well with a smooth finish as a result.
Paints used on this test Left column AK Interactive, Andrea, Citadel, Lifecolor, Ammo of Mig, Mr Hobby Aqueous; right column Tamiya, Vallejo M/C, Vallejo Air, Vallejo Panzer Colors, Vallejo Metallic Silver.
Conclusions
I am converted as this has performed as it says on the advert. I have only tested ten paints but am sure that all the rest will perform equally as well. This will be of use as now one bottle of thinner will be all I require for all the acrylic Paints in the arsenal allowing less storage space and using only one medium for all paints makes life that much easier.
At present if you are part of the International Scale Modeller web site you will get a 10% discount, (www.intscalemodeller.com).
This will definitely be my thinner of choice from now on.
Bill C.
SMN Quick Summary Star rating out of 5
| FEATURE | STAR RATING (out of five) |
| --- | --- |
| Quality of tool | ***** |
| Instructions/mixing chart | ***** |
| Subject choice | ***** |
| Overall | ***** |