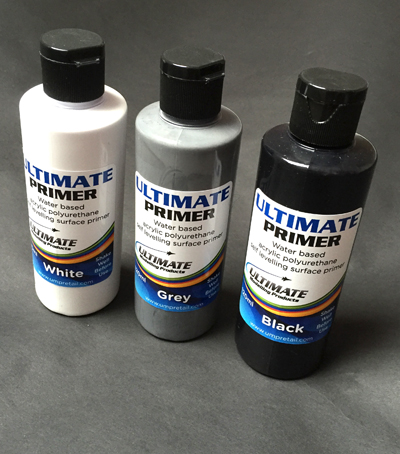 Grey, Black and White available
Price around £5 or £9 depending on bottle size
Review by Geoff Coughlin (March 2016)
4 VIDEO DEMOS
Our thanks to Ultimate Modelling Products for supplying our review samples – get these great primers from Ultimate Modelling Products
What are they?
These new primers from Ultimate Products is a collaboration between Ultimate and Badger in the USA whereby Ultimate is bringing in the Badger primer and making it available to the UK and European market. The product is from the Badger compound STYNYLREZ and the Ultimate Primer is a water-based acrylic polyurethane self-levelling primer.
What I like about these primers is that it comes ready-thinned so that you can just spray it or apply with a brush straight from the bottle. Take a look at the following HD video where you can see me spraying the Grey primer to give you an idea of how it goes on and covers.
The test I have shown you in the video is a good one I feel because you can see there are multiple surfaces to cover – resin and plastic.
Hand-painting some of the grey is shown below, so that you can see how that goes on and dries too.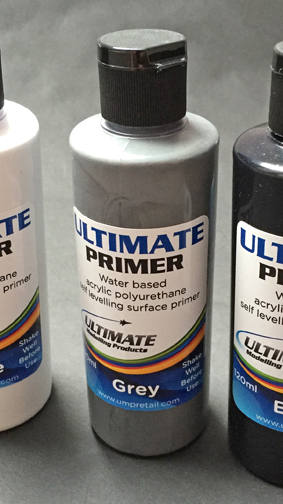 The range…
Grey, is perfect for the kind of use you can see in the video and laying down a good base of primer will help your paint adhere well later on and of course show up any areas of imperfection before that stage. Nothing worse than seeing imperfections on completed models and I bet that's often because the modeller has tried to get away with applying the top coat of paint straight onto the model. I know… believe me, I have done it many times but I am becoming a convert to the idea of laying down a thin coat of primer to check all the prep has been successful.
Black is just great for the base onto which thin metallics and lacquers like Alclad2 can be applied. I invariably apply the grey as above and then black if I'm going down the 'silver-machine' road and it works well.
White is a good base of you are applying translucent colours like yellow and red especially, apart from other uses you may have.
Spraying the Ultimate Grey Primer…
In this short test the airbrush is set to 20psi – Ultimate suggest anything between 20 and 30psi and this makes sense as the primer is quite thick.
The bottle is shaken well and some squeezed into the airbrush cup and away you go – keep an even distance as usual and build up the base layer in thin coats. The coverage is so good, however, that I don't think I'll need to spray any more that you can see in the video :)
A nice even, smooth finish is achieved with minimum effort – how good is that. When completely dry (overnight is best) you can polish the surface using Micromesh polishing cloths or other buffers, tissue and soft dusters. Your top coat of paint goes over this.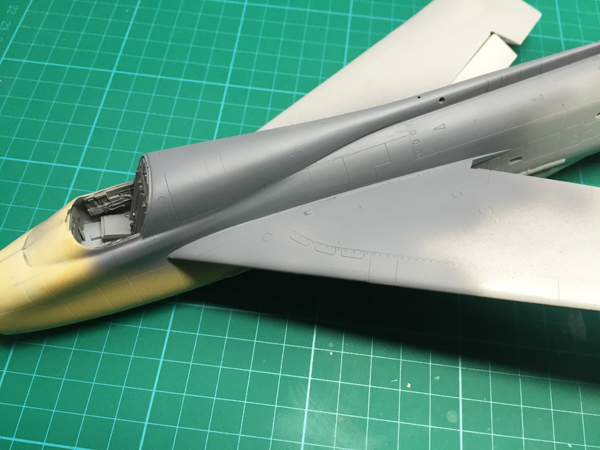 I'll add some black too later, leaving this grey base to dry thoroughly overnight.
Hand-painting Ultimate Grey Primer…
The video pretty much says it all really – see that below. The key thing is that using broad flat brush the primer lays down very well – going on thinly and evenly. You will see brush strokes in the video but the surface is flat – the self-levelling properties of the primer work well in this respect. Allow about 30 minutes and you can paint another coat and I reckon two or maybe 3 thin coats of hand-painting will create a nice smooth even finish.
For me though, having the airbrush is ideal because, as you've seen above, coverage is excellent, can be done in one sitting and is much quicker than the hand-painting approach.
Brushes are easily cleaned using Ultimate Airbrush Cleaner. I tried out my solvent spray can cleaner and also water and a combination of both these also worked well, but I do recommend Ultimate's own brush cleaner, it works very well as you'd expect.
Spraying Ultimate Black Primer…
Just before we spray the Ultimate Black Primer I want to buff up the grey primer layer. In this example I am preparing for a 'silver' finish and to see if the Ultimate Black will go over their Grey.
As you can see, Micromesh polishing cloths are good for ensuring the grey is very smooth. The good thing is that the self-levelling properties of the grey base layer are excellent and little polishing with the Micromesh is needed.
On with the Black…
This product sprays untwined straight from the bottle – just a vigorous shake to make sure the primer is mixed well. A few drops and the Ultimate Black Primer sprays on smoothly at 20psi – you can go up to 30psi with ease.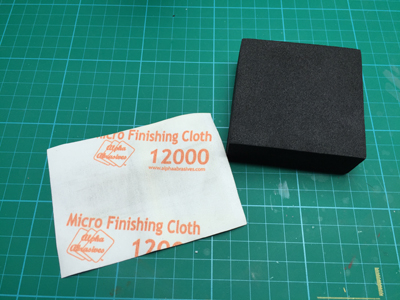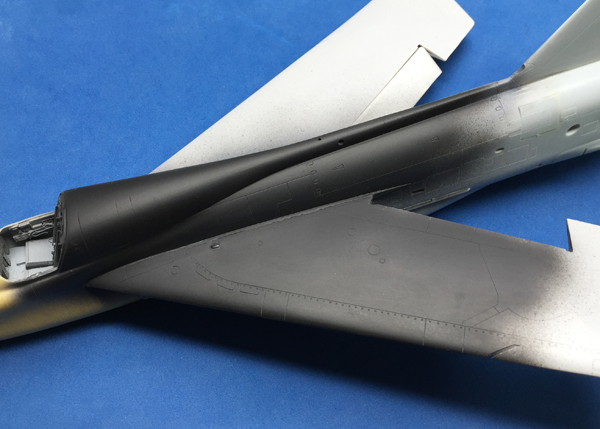 A nice smooth layer is achieved that has a flat black finish. This can be polished using Micromesh and in the final part of this sequence I will just test to see if you can spray Alclad2 over the top. Of course, this is if you want to apply a metallic finish…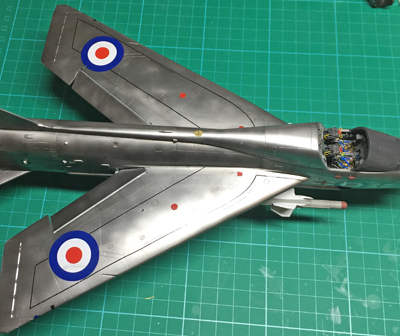 … if not, simply leave it at the grey primer base level and away you go and/or use the black perhaps to add some pre-shading effects before spraying your top colours in nice thinned layers – up to you really depending on your purpose.
An impressive product for sure.
Geoff C.