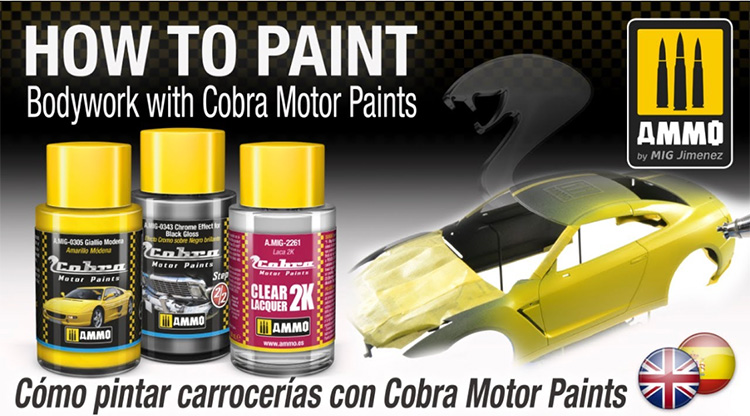 Bodywork
With AMMO of Mig Jimenez and modellers:
Join Josu Jiménez, Manuel Gil, and Enrique Calderón
Here's some info from AMMO…
Welcome to our new video where you'll dive into the world of Cobra Motor Paints! In this incredible range of paints specially designed for scale vehicle painting, you'll find 62 vibrant colors, 2 clear coats, and 2 auxiliary products that will take your projects to the next level.
Join Josu Jiménez, Manuel Gil, and Enrique Calderón as they guide you through a step-by-step process on different car bodies. Discover the various techniques and ways to use the Cobra Motor Paints range, uncovering all the secrets and tricks to achieve astonishing results.
With Cobra Motor Paints, you'll achieve smooth and uniform application, obtaining a high-quality finish on your vehicles. Whether you want to replicate the original colors of a classic car or experiment with custom effects, these paints offer you a wide range of creative possibilities.
In this video, Josu, Manuel, and Enrique will show you how to use Cobra Motor Paints on different car bodies. They'll demonstrate how to paint base colors and achieve the final gloss with the Clear Lacquer 2K, and much more, allowing you to achieve realistic and professional results.
Don't miss this opportunity to immerse yourself in the world of Cobra Motor Paints and discover how to take your scale vehicle painting projects to the next level here: https://bit.ly/44AK4Js
You have any questions about the content of this video, we invite you join our Facebook group, which can be found here: https://bit.ly/3ymlJqx. Where you can share your questions with a large community of modellers from around the world!
---
Video Demo from You Tube