Reference numbers: Russian Green (A MIG-2009) Tracks (A MIG-2007)
Bottle Size: 60 ml
Price around €4.50 ($5.00USD, £3.52GBP)
Review by Bill Curtis (March 2016)
Our thanks to AMMO of Mig Jimenez for supplying our review samples. Get them here now!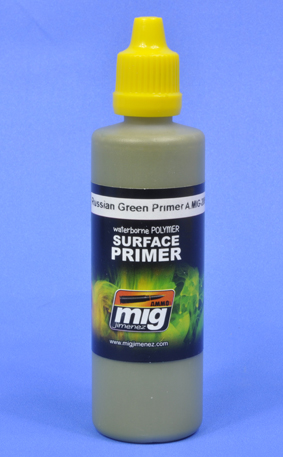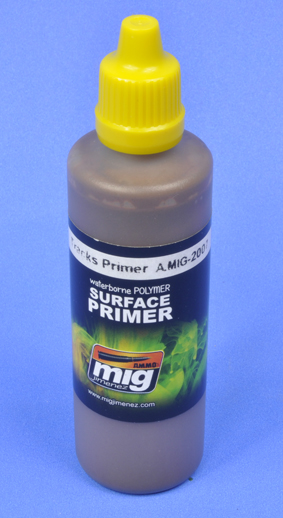 Initial thoughts…
When I was asked to review these products I initially said no thanks as I had had some problems in the past with acrylic primers. I was persuaded to try them and I am happy that I did as both of these products spray well without thinning to a hard finish.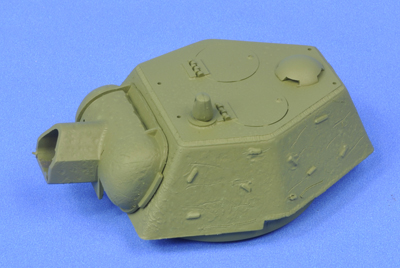 I believe the secret to using them is two-fold; the first is to shake the bottle well. There is a ball bearing inside which as you shake can be heard, do not stop when you hear it but continue for a good long time (It will be worth it). The second is in the application, mist on the paint initially with just a hint, progressing around the subject and build up the paint slowly and as the colour starts to become apparent one can lay it on slightly thicker but don't over do it.
The text on the bottle advises to leave to dry for one day but I applied some heat from a hair dryer to speed things up and to see if I got any adverse reactions, nil so far.
Next I applied an enamel wash over the side surfaces to see if it lifted or had other effects, nothing… so I applied another slightly heavier than normal and the paint stood up to this as well.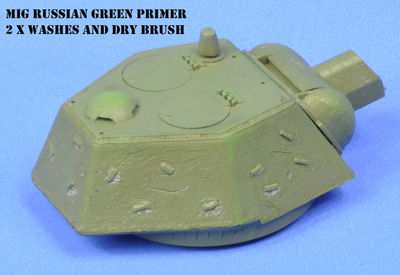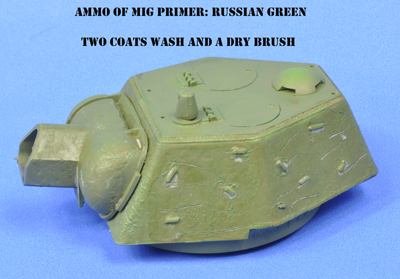 Moving on… I dry-brushed over the paint (after the washes had dried) and used the brush heavier than was normal practice but the primer was unaffected.
I turned the turret over and with sandpaper took off some of the paint and as with some other this did not roll up but only came off as per normal sanding.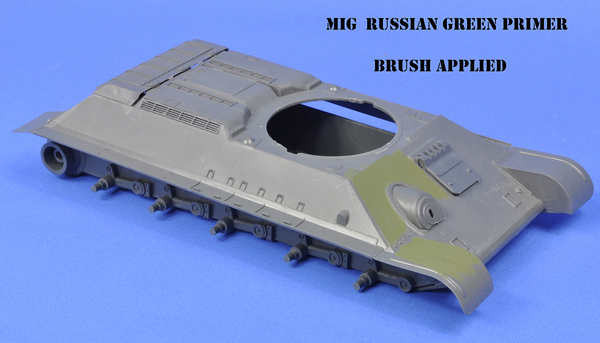 I applied the green to a turret that had not been washed but had been handled a fair bit, so for this primer to adhere as it did is for me was really good.
Onto the track primer…
When I sprayed the track I applied it slightly heavier than the first time and it went down well and dried to a nice finish.
Although the bottles contain information on shaking and drying it doesn't mention the application manner which I think would be a useful addition.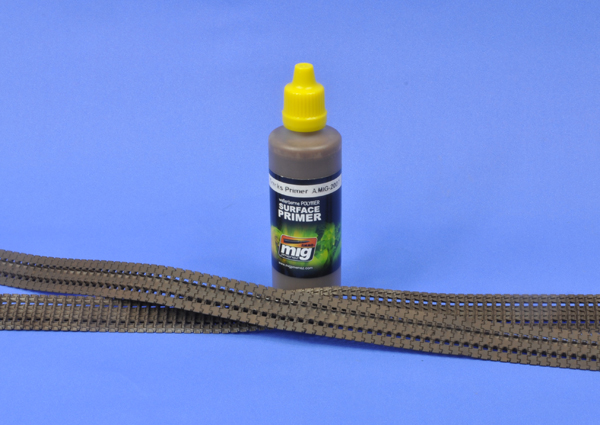 Conclusions
My primer of choice has been for some time Mr Surfacer 1200 which dries to a nice even hard coat but has the drawback of a high odour during application and drying. Mig's primer does not have this problem; the airbrush cleaned up with water initially and was followed by Ultimate Airbrush Cleaner for a finished job.
So overall how do I rate this product? Superb! and I will be using it as the finish is great and with the added bonus that the colour is the base coat colour of the vehicle, saving time and layers of paint. I have tried a quick check using it with a brush and it applies very well building up layers to get a nice solid colour finish.
So I can honestly say that Mig has come up with a first rate product that I for one will be using in future and I hope you will give it a go and am sure you will be as pleased as I am with it.
Very highly recommended
Bill C.