back | page 1 | 2 | 3 | 4 | 5 | 6 | 7 | 8 | 9 | 10 | 11 | 12 | 13 | 14 | 15 | 16
Well it's that time I guess!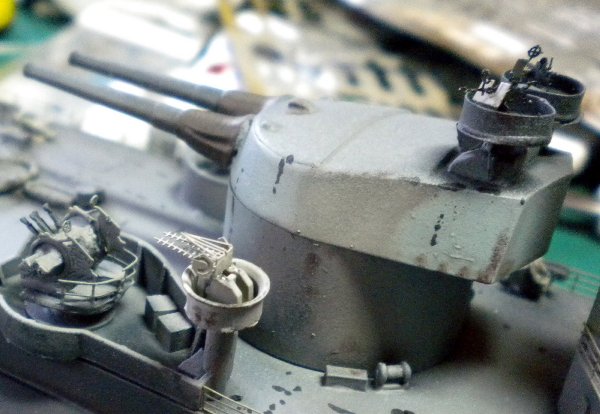 Rigging, radars and well, rubbish really! The brass etch on this kit is really first class; the issue is that this modeller is not yet up to the product! Moreover, as an old geezer "me eyes ain't the same as they used to be guvnor" so rigging was also leaving me in a cold sweat! The fire control radars and the air radars on top of the masts were next up for construction – they are tiny and yes they need bending too. The fire control radars went ok and they are the fiddlier and there are four of them; two on the forward twin Bofors and two larger ones on the rear Bofors. They each comprise three very small parts and it's really easy for them to ping off and never be seen again unless as one did it lands in your eye and then you see nothing else for two days! Be careful out there!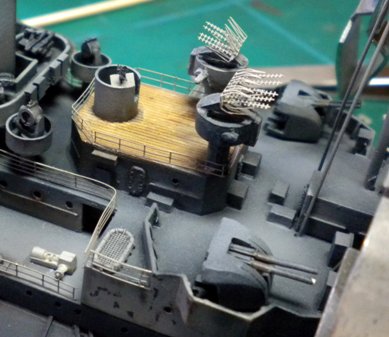 The end result on these was acceptable and whilst I have given you some close up shots…..ouch….on the completed in the flesh so to speak they do look quite good given my hamfistedness.
The Airborne radars are another matter and as you know this is my second attempt. Now there are two of them and they sit atop the mast and they are beautiful bits of brass engineering and only require two folds each. The snag is that I never on both occasions managed to get the angles to line up exactly on either side of what is the most delicate of brass supports. Again and I have to stress that it in no way reflects on the kit, simply on the incompetence of this idiot modeller! I am sure you will make a better job of it because they deserve it as its sublime work by WEM.