back | page 1 | 2 | 3 | 4 | 5 | 6 | 7 | 8 | 9 | 10 | 11 | 12 | 13 | 14 | 15 | 16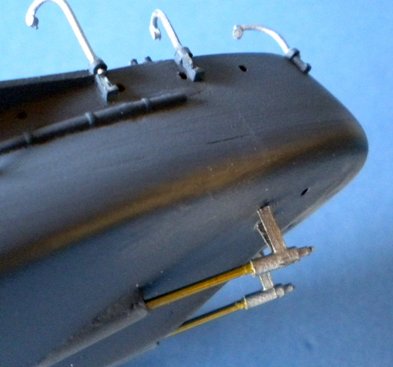 Back to the Hull…
Next up was to be some painting but before that I decided to fix the drive shafts for the props to the hull before painting. This needs some small lengths of brass rod cut to size and fitted to the support brackets then gluing to the hull.
Painting starts for earnest!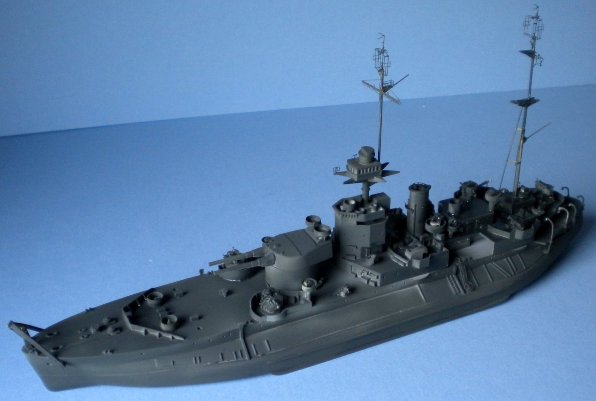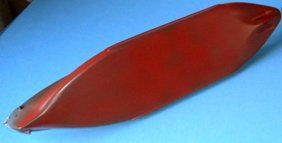 Before work started I decided to re-prime the whole model but this time using Tamiya NATO Black which makes a great pre-shade especially, in this tiny scale. The hull needs to be painted anti-fouling red below the 'waterline'. Now I didn't get my supply of WEM paints so decided to use my own mixes which saw me mix 60/40 Tamiya Red and Hull Red to get the shade to scale likeness; well in my eyes anyway.



Next up is to mask the red and paint the black cheat line; for this given that the camouflage was going to be a very dark grey I used Tamiya black which gets 'toned down' by its later proximity to the hull camo…..you'll see what I mean later. Finally some more masking tape to paint the ships vertical surfaces Tamiya medium grey with a dash of Tamiya IJN grey (90/10) which seem to be close again for me to WEM RN 20 on my chosen scheme 1943 Admiralty Medium Disruptive Pattern.