back | page 1 | 2 | 3 | 4 | 5 | 6 | 7 | 8 | 9 | 10 | 11 | 12 | 13 | 14 | 15 | 16
Rigging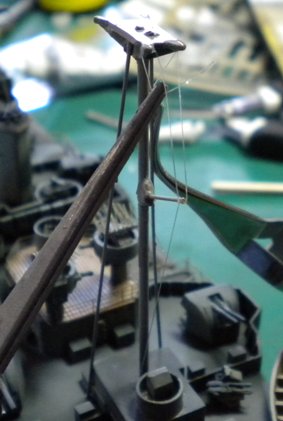 After my horrible experiences with trying to rig the Fletcher in 1:144th scale you can imagine my horror at the thought of doing the same with a 1:350th scale kit and all the associated sticky out bits just waiting to get pinged off in the process! I can tell you I had to lay down in a dark room chanting a mantra before beginning.
I guess the main issue here and this is a gripe with WEM, there's no rigging diagram. There's a representation on the painting guide and the rigging can be picked out on the photo of the real thing in the instructions but that's it. Yes research etc would be the answer and perhaps this is what's supposed to happen but at £140.00 for a kit and given its superb manufacture…? There must have been considerable research by WEM and I feel a little peeved that neither a diagram for the rigging or as I said before the railings for the deck or the ladders on deck and masts is included!
I decided I'd go with what I could see on the photo and the painting guide and my chosen materiel was 2lb nylon monofilament fishing line and some medium cyano.
Working slowly is the key and I started with the rear mast and used self closing tweezers to create some gentle tension while the glue hardened. Anyway after the rear was done satisfactorily it was onto the main mast above the bridge which is a lot more complete. The wires running from the yard arm to the bridge should all be fixed onto the yard arm first, it's obvious where and then onto the star-shaped spur under the bridge. It took over 2 hours to get this right and about 7 attempts but I got there in the end and the result was ok. Finally I put on the wire between masts and it was job done.