back | page 1 | 2 | 3 | 4 | 5 | 6 | 7 | 8 | 9 | 10 | 11 | 12 | 13 | 14 | 15 | 16
Details…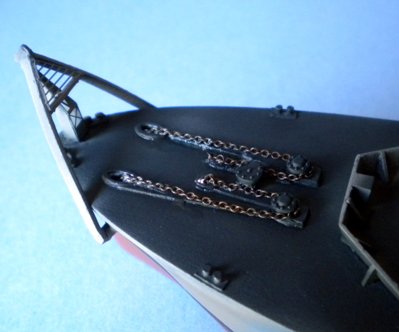 There is still a lot to do and truth is this is the tough bit because there are so many little things I can knock off….and have! But to ensure the paint looks uniform it was in my view best to assemble in this way.
There are representations on the etched sheet of the anchor chains although no mention is made of this. It could be used but instead I used real chain from MDC which really is a nice touch on the bows. I also did some detail painting on the 5-inch guns and Orlikon mounts.
OOOPs factor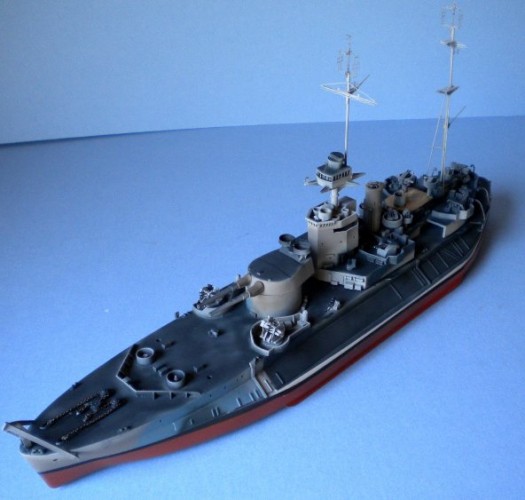 I always have one of these! This time I noticed in retrospect that there is a thin grey strip of hull colour between the dark grey and the cheat line. So out with the tape again and a quick correction.
Varnish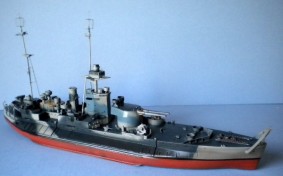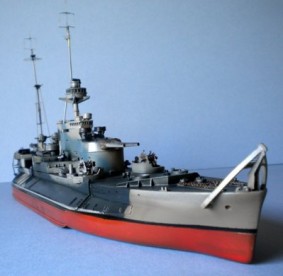 Finally for this session is used Alclad gloss varnish to seal all the paint and join it together then I washed the ship with a black oil wash which lifts out the detail.