back | page 1 | 2 | 3 | 4 | 5 | 6 | 7 | 8 | 9 | 10 | 11 | 12 | 13 | 14 | 15 | 16
Back to the hull and superstructure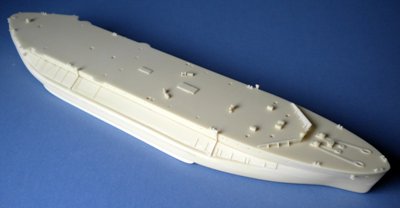 The hull now dry its looks good I swiped the join with a MDC sander and put it to one side while I assembled the major superstructure components all of which are in resin and of the highest quality. I could have glued the superstructure to the hull but won't do this until the end as I think painting and weathering will be easier if they remain apart for now. I did give both the once over with Halfords primer and the results I hope speak for them self.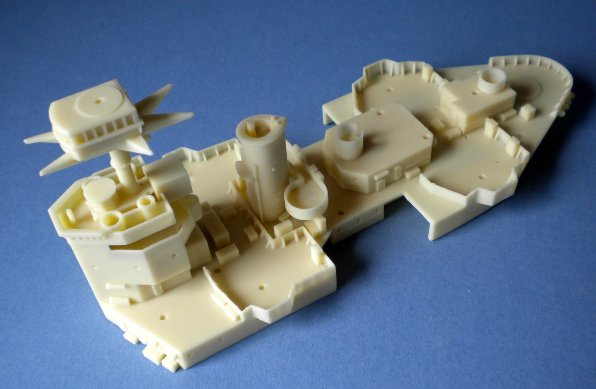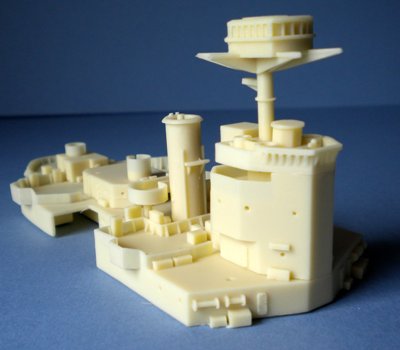 The 20mm Orlikon mounts on top of the 16-inch turret are assembled from brass and again in my view the wrong choice of materiel. WEMs resin maker is an artist and you can see they can mould complete shapes exceptionally well. No matter how hard I tried I couldn't create the quality of a resin item with effectively a two dimensional piece of brass and I don't understand why it's been used for what are two very prominent features on top of the turret.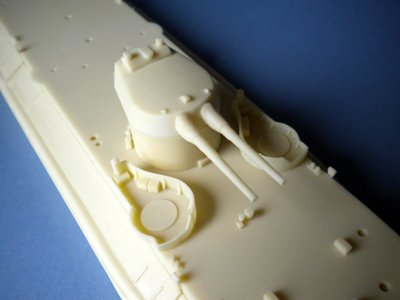 Anyway while this was all drying I fixed the 4-inch turrets to their places on the superstructure.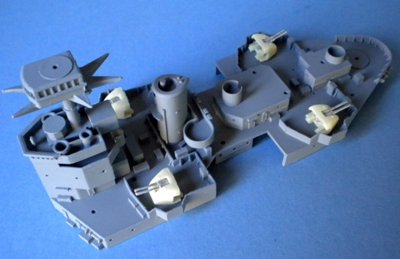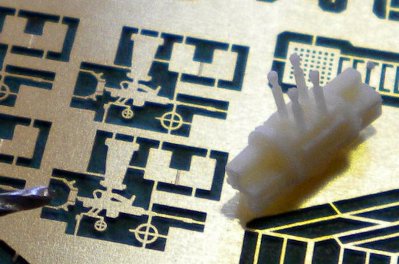 A final note to end this first session is on the Orlikons themselves which are part of the etch fret…….why oh why has WEM done this as they look ridiculous. Again look at what the resin guy has done with the 8-barrelled Pom-Pom and ask why on earth was brass chosen for the Orlikons? It's really spoiled the quality of the model already and I think could so easily have been avoided.