back | page 1 | 2 | 3 | 4 | 5 | 6 | 7 | 8 | 9 | 10 | 11 | 12 | 13 | 14 | 15 | 16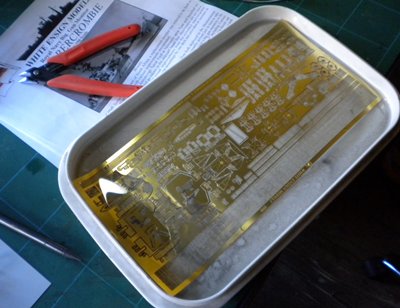 Preparation…
The instructions recommend that the brass is washed with white spirit or turps to remove any residual release agent that could hinder painting later. This is good advice and was my first task. I used a big tray filled with odour-free turps and gently cleaned the brass fret with a soft brush. Whilst I had the turps out I did the same with all the resin and white metal and dried it all on a paper kitchen towel.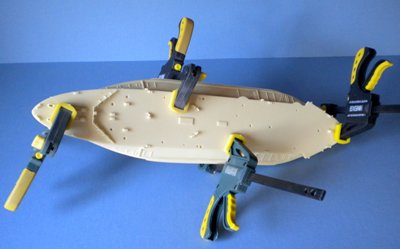 Hull Construction…
I had already decided to make a full hull version but if you wish a waterline option is available…..Matt and Ian will be pleased!
I used a scalpel to remove the very small casting pips then coated the lower hull with Cyano before clamping the top to the bottom and leaving overnight to dry.
Major Armament Construction…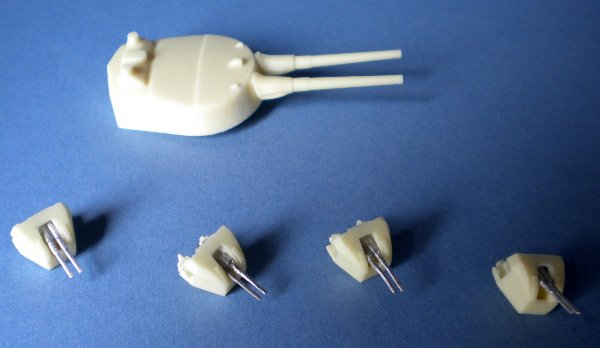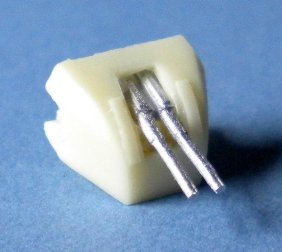 Whilst the hull was drying I constructed the big 15-inch gun turret, which is just a matter of removing very small casting pips and gluing the barrels to the turret. Take your time and ensure the guns are level from top and sides as it's easy to get them out of shape. I then cleaned up the white metal 4-inch guns and inserted these into their resin turrets. I found the white metal soft and without exception every barrel was miss-shaped and needed to be straightened. I did this as best I could but in truth should have replaced the barrels with brass rod. Given the sublime quality of resin moulding I can see no reason why white metal has been used at all. In my view, the metal is very crude and hasn't got a good finish. It is definitely not up to the brass and resin in the kit and the lets the kit down. It's that ha'peth of tar moment?