back | page 1 | 2 | 3 | 4 | 5 | 6 | 7 | 8 | 9 | 10 | 11 | 12 | 13 | 14 | 15 | 16
Recap
Make no bones about it this is a quality kit that probably represents the very best in multi-media ship modelling. My comments wherever negative are simply a representation of the expectations that WEM present to the modeller when the box is opened. So when confronted with less than that standard it shows. It doesn't diminish what is a great model just makes it more frustrating… but hey that's this hobby for you.
I am enjoying this kit and the next stages have added to that but I am acutely aware that I am working to and sometimes beyond my limitations. It's not the kit it's the scale which for my old eyes is just below the waterline so to speak.
So with my excuses already primed what's next…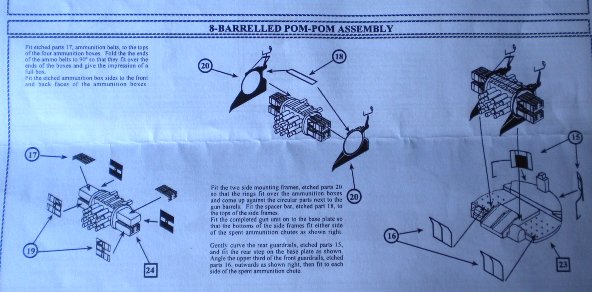 8-Barrelled Pom-Pom Assembly
I think this is one area of the kit that shows WEM at their best and at the same time an area of slight carelessness at the same time? Don't you love a paradox!
The photo shows the 'order of play' for assembly of this beautifully produced part of the ship. The quality of the resin its sheer delicacy, coupled with some beautifully produced brass is genuinely breathtaking. The issue is that the assembly sequence is just wrong!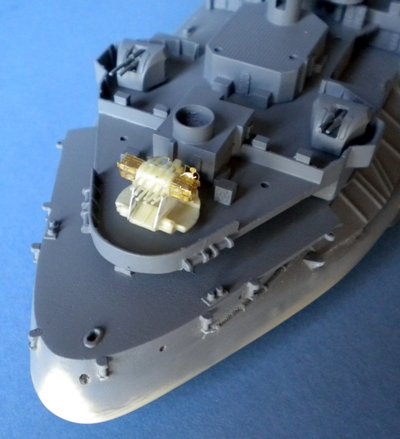 The brass gun mountings Parts 20 have holes in the side which go either side of the gun assembly. The hole is just big enough to do this. The snag is that WEM would have you fix the gorgeous brass ammo parts 17, 19 and 24 before doing this which trust me means then no amount of shoving will enable you to fit parts 20 as they should. The result, two scrap bits of brass which I had to make in scrap plastic and which are nothing like as good a the parts supplied. So you've been warned fit parts 20 first then 1, 19 and 24 second.
Anyway even with my scratch built stuff it still looks great on its stern mounting and is one of the kit highlights and certainly adds huge interest to the model.
The 4-barrelled Pom-Pom assemblies are a simpler affair and go together with ease but be careful the guns are as delicate as you can imagine but again look fantastic in their mountings just forward of the 15″ gun turret.