back | page 1 | 2 | 3 | 4 | 5 | 6 | 7 | 8 | 9 | 10 | 11 | 12 | 13 | 14 | 15 | 16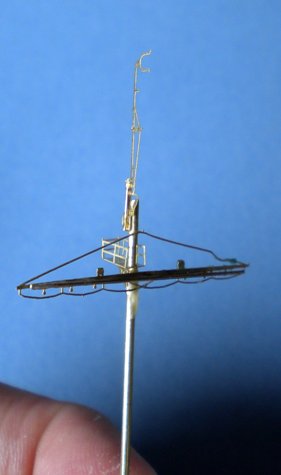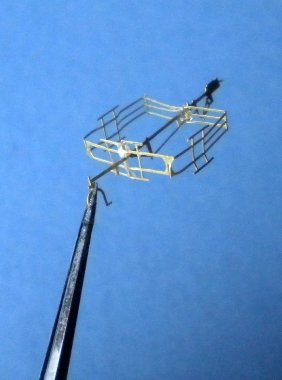 Mast towers and radars……
I'll tell you now this is the biggest challenge so far and for me I have failed to do it absolute justice. I have seen what Mat Barron and Ian Ruscoe can do with brass and it leaves me open mouthed with their skill. I am getting better but still fall short of their capability and the end result. On the up side you have to start somewhere and I am glad that I have been able to do so with such great quality brass………thank you Dave and team at WEM for this.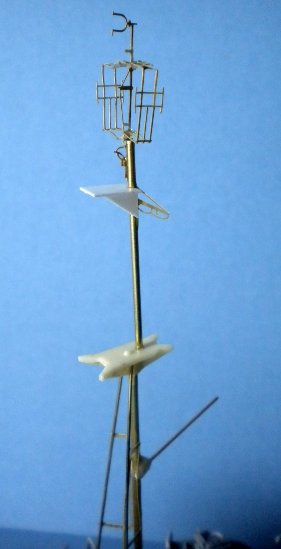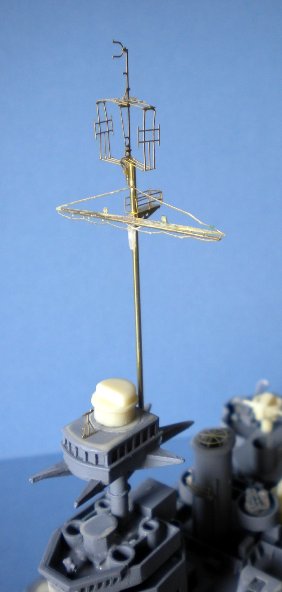 There are two masts to construct which will need you to cut brass rod for the masts and WEM give you the dimensions for this. It's the fitment of the radars that is the biggest challenge as they are so delicate and little if any surface area on which to glue. Similarly the same applies to the yard-arm on the mainmast which I used 'artistic licence for and attached with a small bit of Milliput as I couldn't do anything else. Solder is what's needed but I don't have the equipment. Still it looks ok but as I said is not as good as it deserves to be.
Anyway I will let you judge with a few shots of the model at this stage now I am going for a lay down in a dark room for an hour!