Repairing, reinstating and creating surface detail
with Geoff Coughlin
Target modelling project for this demonstration: Airfix 1:48 North American P-51D Mustang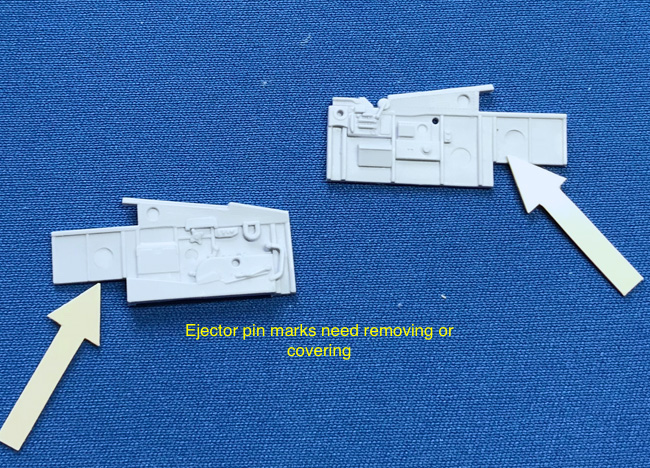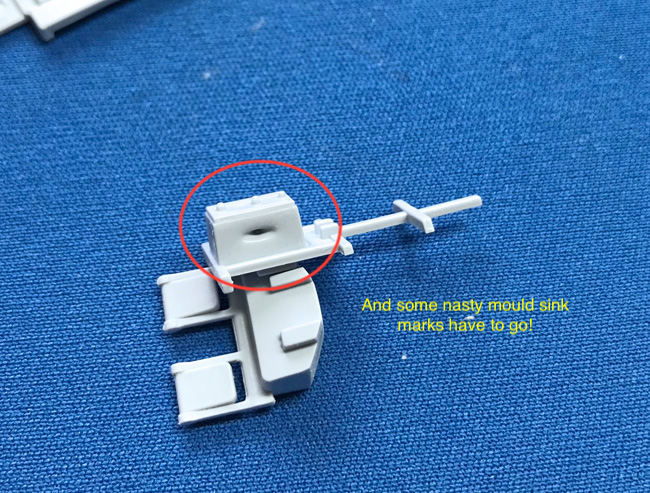 The problem
Sometimes during the ejection moulding process when parts are ejected from the mould you can get imperfections in the plastic parts that you may need to eliminate and improve because if you don't you can get some unsightly effects that can spoil the eventual look of that part of your finished model.
Question time
The first question to ask yourself is – are you bothered? Maybe not and if so press on, although, as your skills and experience develop you may become frustrated that you didn't attend to these things at the time as the finished look of your model leaves you disappointed in some way. I just think that preparation is everything – take care of it and you give yourself a fair chance of being pleased with your completed model. Try and cut corners, ignore what's in front of you and get ready for disappointment! Taking a bit of time to take care of these modelling issues at the time is all part of the preparation process.
The second question to ask is 'will the defects be seen on the finished model?' And, if the answer to that is 'No', then you might just get away with not doing anything about them at all, saving time and unnecessary effort. Try some careful dry-fitting of the parts if you can to see if the (annoying) marks will be visible and decide after that.
The final consideration then is when you believe the marks will be visible and you want to do something to eliminate or mask them and that's what this entry in your SMN Techniques Bank is going to address.
2 main choices
Ok, so you decide you want to get rid of the ejector pin marks and/or sink marks. The basic choices are to either fill, sand and buff the affected area or find a way to mask the defect so that it won't show on your completed model.
---
---
Filling
This is my least preferred method, mainly because the ejector pin marks are often in difficult-to-get-at areas and trying to fill and sand (especially) is likely to damage the surrounding detail. This approach does work well though on flat, exposed areas. Filling does take more time to finish than masking that follows below.
The filling remedy I use (there are other options as ever) is to mix some cyano glue with some talcum powder (60-40 glue to talc) and use that to fill the defect or affected area (see your SMN TB – Glues and Gluing for how to do this). Leave to dry thoroughly overnight and sand and buff to restore the nice flat surface.
Masking the defect
I like this approach a lot and it usually works very well. The main advantages are that it's quick, clean and easy to achieve making it one of my 'go-to' techniques when I want to make good quick progress with my project. The result is very effective and is near impossible to spot on your finished model :)
---
---
Materials you need for this fix:
• small sheet of metal foil – e.g. from a wine bottle top or an aluminium fizzy drink can. You can of course use thin plasticard too instead of metal foil (I would still fix it in place using cyano as shown in the demo to avoid any risk of distortion if you use too much liquid poly to attach the mask).
• scalpel – to cut your mask from the foil and trim any excess away
• Tamiya masking tape – to make a template for your metal foil plug (mask)
• cyano glue – to fix your mask in place
• cocktail stick – to press your tape mask into the corners/edges of affected area. Also to spread your glue evenly across area where your mask is to be attached.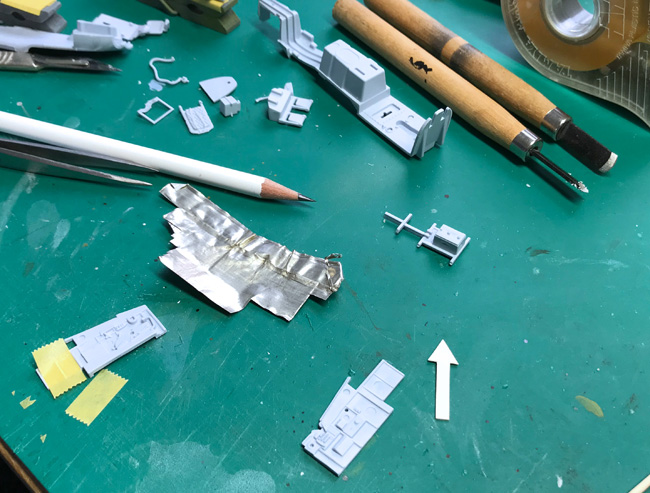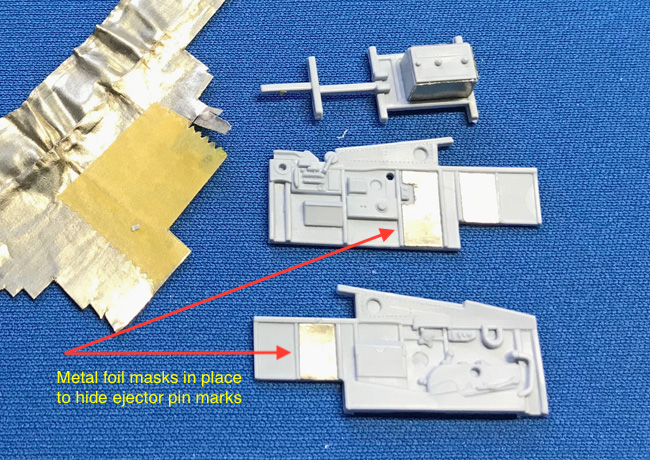 ---
---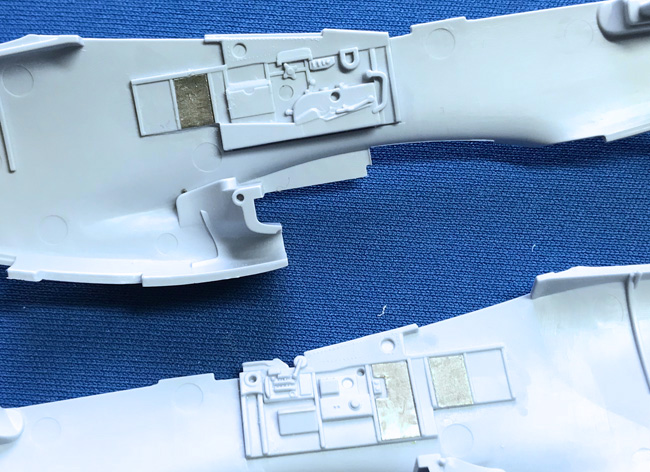 You can see the masks in place here and they neatly hide the defects and so you're ready to paint. In this demo I have deliberately not primed the treated cockpit as I want to create some variation with the new panels looking slightly different to the others adding contrast to the finished cockpit. Just a bit of artistic licence really and along with a wash using Ammo of Mig Jimenez Dark Panel Line Wash, some dry-brushing and detail painting the cockpit looks pretty good I think.
What you see here is a cockpit 100% out of the box – still some parts to go in from the Airfix kit but what you see here comes totally from the kit.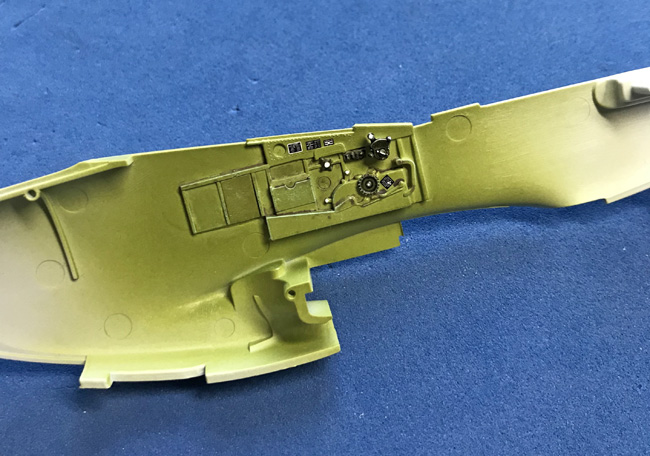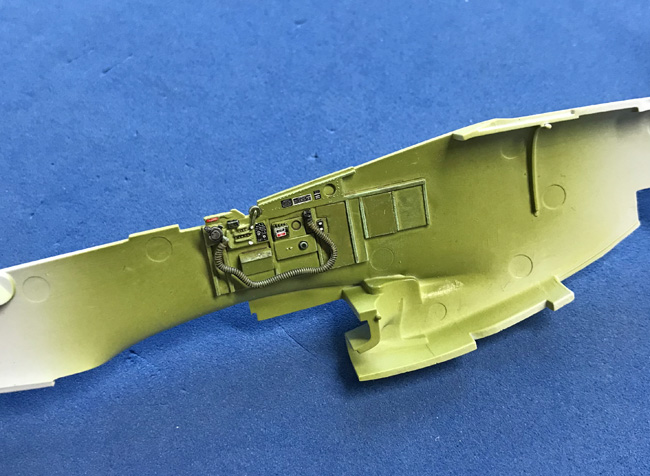 Final thoughts
I just happened to be building this new-tool Airfix kit when I spotted the problem and so it's given me a chance to demonstrate the techniques for you. You'll notice that in fact, the cockpit side wall ejector pin marks probably wouldn't have been visible anyway and so in truth the second question asked at the head of this piece would apply.
The sink marks are another story – they were disappointing on a new-tool kit from a main manufacturer although, as I hope you'll agree, the fix is quick and easy.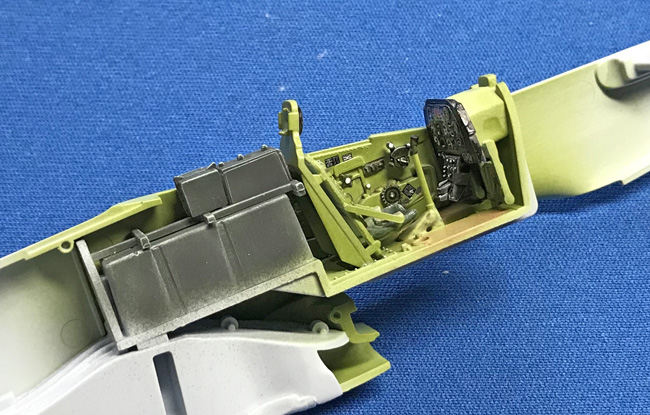 Good luck!
Geoff C.