Repairing, reinstating and creating surface detail
with Geoff Coughlin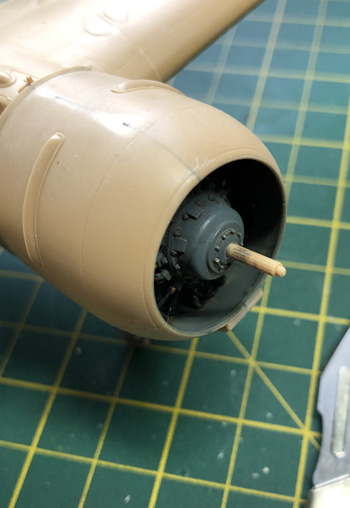 The problem
With some model aircraft, especially those with big radial engine cowls, you get the cowl supplied in two (or more) parts. This is fine is the design allows you to assemble the cowl, clean it up and paint it before sliding it over the completed engine that sits within.
Sadly, this isn't always possible, for example in the big build project we have for the impressive 1:32 Henschel Hs129B-2 from Zoukei-Mura. As I type this project is well advanced in Aircraft-Build Now and you can follow it all there – every step of the way. When the build completes though it will move to the Zoukei-Mura pages in Aircraft-Finished Now as usual.
Here's what you can do…
The two-part engine cowls are split horizontally and this may be for very good tooling-design reasons but as stated in the instructions, the cowl actually splits horizontally on the real aircraft. This means that you just close up the cowls and say goodbye to all but the front aspect of each engine as nothing else will be visible.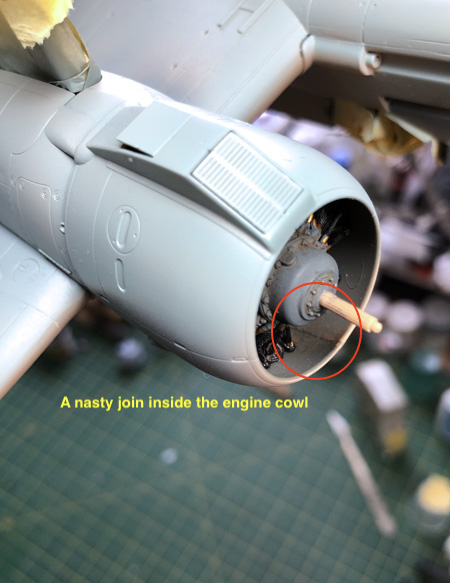 A neat trick…
Adding the cowls, even though they are a very good clean fit means that you have an unsightly join line inside the bottom and top of the cowl. The bottom join is clearly visible and if left untreated would really spoil the look of the model when you look inside in my view.
You could try and fill it, but this isn't really practical given you have a painted interior of the cowl, not to mention a fully painted, detailed engine! These would almost certainly get damaged.
So… what to do?
Time for a neat little trick – mask the the internal joins and re-paint to hide the join!
It's a very simple trick that is quick and easily done. Simply cut a length of Tamiya masking tape long enough to wrap around the inside of the engine cowl immediately inside the opening and wide enough to run back to the face of the engine cylinders.
Carefully position the masking tape strip inside and using a rounded, blunt paint brush handle or similar, gently press the tape into position, being very careful not to press down on the joins.
Then just hand paint the interior cowl colour (in this case RLM 02) and it's job done – no more join on the inside of your cowl :)
---
VIDEO DEMO
---
I'm sure someone else has thought of this already but if it's new to you, great stuff, try it out in all sorts of areas on your models where this approach may be appropriate.
As you can see that from any sensible distance that you would look at your model and peer inside the engine cowl, those joins become invisible :)
See you soon…
Geoff C.