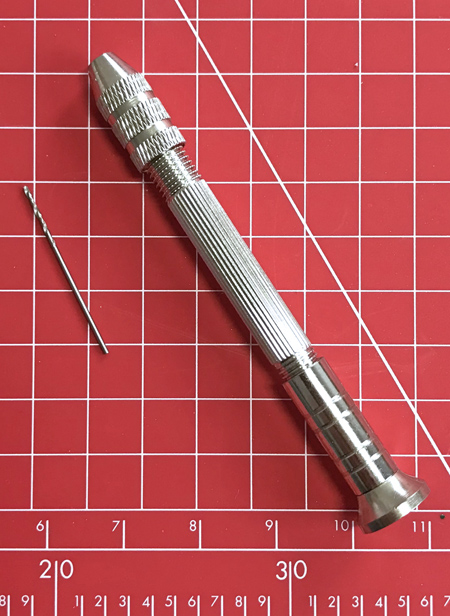 Drills and drilling
with Geoff Coughlin


The Humbrol pin vice drill is currently available as part of their Humbrol Medium Tools Set (AG9159)
What is a pin vice drill?
You can see this really useful tool and how it works in the following video. Essentially it is a metal body, a bit like a pencil with an adjustable drill chuck at one end in which you secure different size drill bits and a rotating circular disc that pushes back into your hand when you use it to drill out holes.
It's much easier to show it to you than explain it, so take a look at this short video…
---
---
Pin vice drills have multiple purposes and here are some of the main uses I have for it:
• drilling out locating holes that are marked on kit parts, usually for optional additions like stores pylons on aircraft
• enhancing recessed rivet details on larger scale models
• opening up gun barrels and exhaust stacks
• anything else where you want a nice clean hole!
Pin vice drills are available from many sources and in different sizes to suit different modelling tasks and so it's worth looking around to expand your collection. Humbrol have chosen a sensible small to medium size chuck and in their set they include a 1mm drill bit.
Look out for some really inexpensive sets of small drill bits that you can use for multiple modelling tasks.
Good luck!
Geoff C.