This short entry covers the use of polystyrene cement, typically coming in either a tube or, as you'll see here by Revell in a blue plastic dispenser that has a needle applicator to apply the cement exactly where you need it.
To be honest, I have very limited use for this kind of cement these days – there are just better products like Tamiya Extra Thin Cement and Quick Setting cement for everyday tasks when I want to stick plastic together. Take a look at the following video and also the others in this section of your SMN Techniques Bank under: TB-MC-GG-Glues the choices and how to use them (LINK)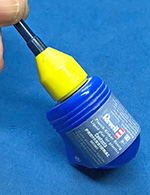 Revell Contacta Professional Mini – classic polystyrene cement also supplied in tube form. My use of this is pretty much restricted to using it to attach wheels to undercarriage legs. It's ideal as the glue is quite thick and can be applied exactly to the locating hole and/or leg pin attachment point. The model is usually able to be placed on its undercarriage and then each wheel carefully adjusted using tweezers or the like to finely tune the angles and positions of the wheels before leaving well alone to fully dry overnight.