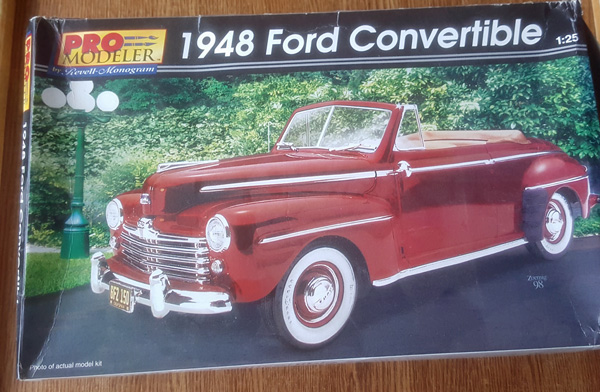 Feature Article by Geoff Brown
A note from Geoff C…
It's great to feature another of Geoff's excellent vehicle builds and with more on the way very soon Vehicles is looking better all the time – especially as this is still such a new area to SMN :)
Here's a shot of Geoff's completed Revell / Monogram 1948 Ford V8 Convertible.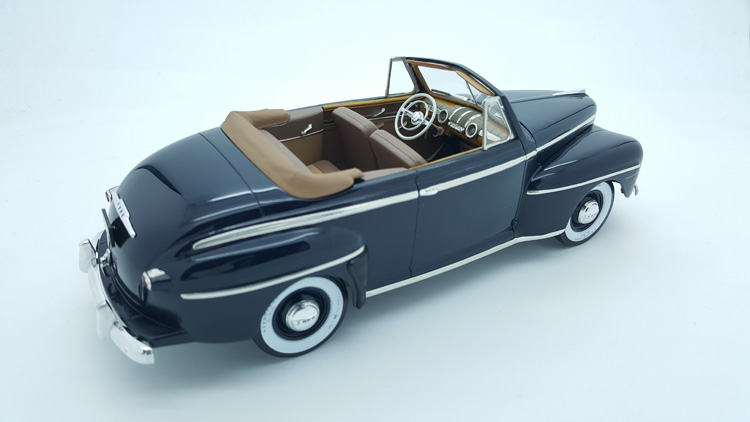 The only reason in me buying this kit was that I'm a huge fan of the Back to the Future films, and this is the closest model kit available to the 1946/47 Ford V8 that Biff drives in the films.
Even though Biff's car in the film is gloss black with a red interior, I wanted to go with a totally different colour scheme to that and after looking at the colours available for that year, I settled on a dark blue. The official colour is called Barcelona blue and at the time I wasn't aware that I could now order the proper colours through MCW Lacquers, based in the U.S. At one time they were unable to ship there paints overseas, so working on colour chips I got my local paint supplier to mix up the paint for me – the closest he had on his colour chips was BMW Dark Blue, so I went with that and had it mixed up in acrylic lacquer.
As with most of my builds, I started with the painting of the body and all the other body parts, all parts were first soaked in warm water with dishwashing soap added to remove any grease and mould release agent. Once it was washed and dried I started on removing any mould lines and re-scribing the panel lines so they didn't disappear under a few coats of primer and top coat.