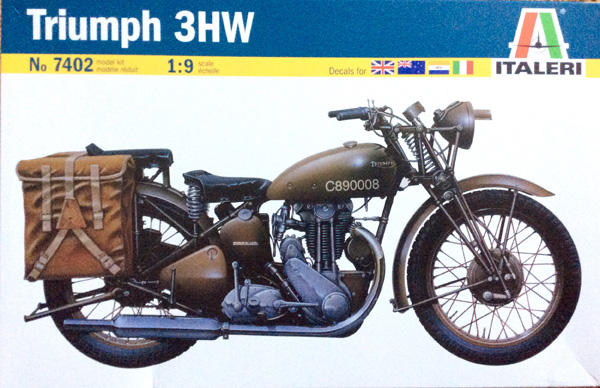 Short Feature Article by Graham Thompson
The Kit
Kit description from Italeri:
"At the start of the 2nd WW, Great Britain did not have all the technical equipment needed for such a conflict, therefore a lot of vehicles were ordered urgently. Motorcycles, mainly used by the well known DR "Dispatch Riders" for communication between different units, were converted from civilian bikes with small changes, like military colour and the addition of frames for the canvas bags. Triumph proposed in short time the model 3HW, based on the civilian "Tiger 80", with an overhead valve engine and parallel forks.This model served on all fronts where the British Armed Forces fought, such as Africa, Europe and Asia. After 2nd WW these motorcycles were delivered to many other nations, such as Italy and Greece, where the Triumphs served for a long time thanks to their reliability and robustness."
---
This kit is a 2015 re-release of the original ESCI kit which dates back to 1972 as far as I have been able to ascertain. Does the kit's 45 years show? Well, in places sadly it does but nowhere near as bad as it could be. The moulds have stood up well.
It has to be said that the detail at this scale is superb possibly due to the simple design of a pre WWII design compared to the modern motorcycle. Having owned descendants of this bike in the late 1970s and having worked on a similar model to this at that time I can say that I recognised parts from the real thing.
Some things are a bit of a pain though. I did worry, unnecessarily, about the vinyl seats, especially the large main 'saddle' and the vinyl drive chain. Not that they were poorly moulded or lacking detail, it is just that vinyl is not the best for painting. However, I need not have worried and all went well.
I decided straight away that I wanted to depict this model as a factory-fresh bike ready to be delivered to the army stores. This meant that I could attach the Triumph decal on the tank but no unit markings. This is one of the decal options. It also meant I could comfortably paint in British Green No3, I chose to use Mig Ammo acrylic paint for this. It also meant I could employ a bit of artistic license with regard to the plated exhaust and polished alloy engine/gearbox covers. Actual references for how these looked from the factory are not easy to find and is confused by the many different versions of restored bikes that are all over the internet.