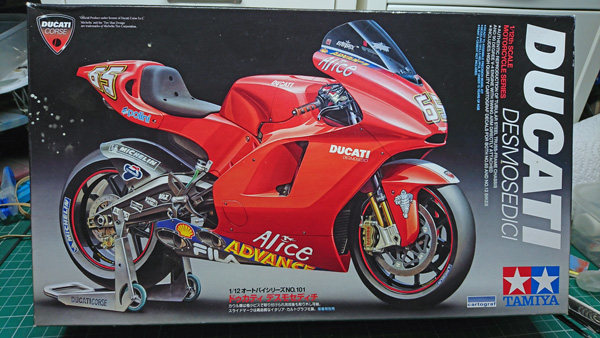 Feature Article by Graham Thompson
This is a superbly engineered kit from Tamiya. I know that we have come to expect very high standards from Tamiya and are not often disappointed. This kit was released, I believe, in mid 2005 so it will soon be 12 years old but it just fits perfectly. I promise you, if something doesn't appear to line up or fit together, check to see where you went wrong because it will not be the kit's fault.
A bit of blurb from Tamiya about this kit…
Italian Quality and Style
Desmosedici is a compound word made from the Italian for sixteen, "sedici" and the name of Ducati's trademark desmodromic valve design. The DOHC 16 V4 engine is composed of two 90 degree L twin components held together in a tubular steel truss-frame, with swing arm and rear shock pivots directly attached to engine in a truly original fashion.
The sleek and powerful bike was piloted in its debut 2003 MotoGP season by L. Capirossi, former 125 and 250cc class title holder, and World Superbike Champion T. Bayliss. The GP4 really showed its stuff during its 2003 debut season, taking 3rd place at Suzuka and winning 1st at Catalunya. Maintaining the same basic structure in 2004, Ducati brushed up everything from the engine to the body to make an even higher performance superbike.
While the Desmosedici GP4 had a difficult first half of the season, it began to show results towards the end, with L. Capirossi winning 3rd place in round 15. T. Bayliss also took 3rd in the final round, ending Ducati's season on a high-note, and promising further excitement still to come!
About the Model
• Detailed 1/12 assembly model kit of the 2004 Ducati Desmosedici
• Model accurately depicts trademark Ducati style, such as truss-frame and V4 engine with rear suspension swing arm directly attached to crank case
• Accelerator, clutch and brake wiring masterfully depicted with plastic tubing
• Synthetic rubber tires look and feel like authentic racing slick tires
• Side and seat cowling can be removed after assembly allowing full display of engine
• Due to sponsor's request, white marking decals are not included with this kit.
I have dabbled in bike kits before without great success. They have been OK but never quite as good as I would have liked. I bought this kit a few years ago now with the aim of getting the upgrade fork set and the Malboro decals that this bike famously carried and do not come with the kit. I never got the fork set but I did get the decals.
For some reason, I kept putting this kit back into the stash. I never thought I could get the finish or the quality of build that the kit deserved. I was right to leave it as I have slowly developed an improved skill set, still a way to go though, but more importantly I have learned to be patient and chill out when building and this has paid off in bucket loads with this kit. OK, the build isn't perfect but I can honestly say that I am pleased with it. (…you should be Graham, I love it! GC)